Red-ball mini tennis coaching in Steel City school
First school in Jharkhand-Bihar to adopt the sport in its curriculum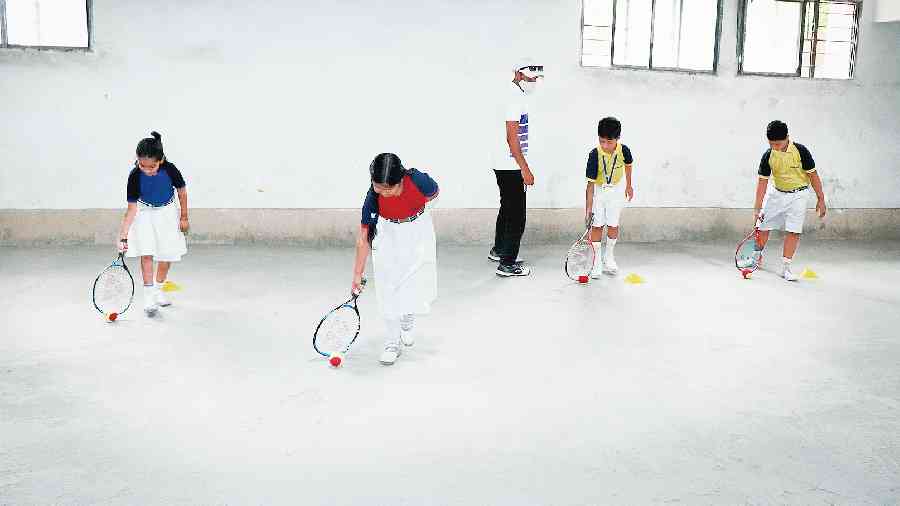 School students practice during the launch of the red ball mini tennis coaching programme at Central Public School in Jharkhand.
Bhola Prasad
---
Jamshedpur
|
Published 29.07.22, 02:26 AM
|
---
A CBSE-affiliated school in the industrial area of Adityapur near Jamshedpur in Jharkhand launched the red-ball mini tennis coaching programme on Thursday afternoon.
All India Tennis Association's (AITA) eastern region representative Rishi Wilson, while praising the initiative of the Central Public School in Adityapur, said that this was the first school in Jharkhand-Bihar to adopt a red-ball mini tennis coaching programme in the school curriculum.
"Schools in metro cities of the western and southern part of India have embraced the red-ball mini tennis coaching programme. Schools in Calcutta have also started adopting this programme. It is good that a school close to Jamshedpur has taken up this initiative at a nominal rate for students. It would not only help the skills of students aspiring to take up tennis but also immensely help in hands-eye-leg coordination which is a must for every physical sport," said Rishi, who runs a tennis coaching centre in Calcutta.
Mini red-ball Tennis is for players aged 8 and under. It is played on smaller courts with smaller lightweight racquets and balls that bounce more slowly (nearly 75 per cent slower than a normal tennis ball) to give children more time. Red tennis balls are best suited for this age group as it reaches to enough height to the child's head, making it a better space for a perfect shot.
"It would be for students between Nursery and Class III. We will be timing the coaching programme for each class during the games period so that it does not affect the academics," said the school principal Moushumi Kumar, adding that the programme would be held under the supervision of Vision Search Tennis Academy, eastern zone.
The principal said that the school will provide racquets and balls free of cost and students will have to pay a nominal fee (Rs 200) for using the court.
"Initially it would be for our school students but gradually we will also accommodate students of other schools to develop their skills using the infrastructure of our school," the principal added.
The school has nearly 1,500 students from Nursery to Class XII.