Rebel landmine injures CRPF duo on poll duty in Jharkhand
Sixth attack made by rebels during the Jharkhand state elections, Landmines leave several injured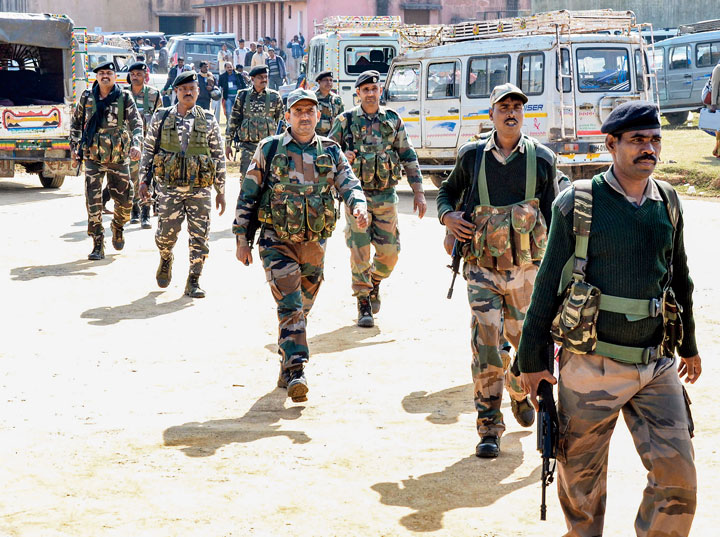 Security personnel conduct route march near Ranchi on Friday ahead of the Assembly election in Tamar constituency.
(PTI)
---
Ranchi
|
Published 08.12.19, 08:38 PM
|
---
CPI(Maoist) rebels early on Sunday triggered a landmine explosion at Peayakuli forests in Tamar, around 70km from Ranchi district headquarters, leaving two paramilitary personnel seriously injured.
The injured are Pranaya Das and Jignesh Choudhary, both aged 25, and from Tripura and Gujarat, respectively. Both are a part of the 203 CoBRA battalion of the CRPF, and had been guarding a polling booth.
This is sixth such attack made by rebels during the Jharkhand state elections at a time the Raghubar Das government has repeatedly underscored the decline of Naxalism as one of its major achievements in the past five years.
The explosion comes on the heels of Saturday's incident when a CPI(Maoist) group led by dreaded rebel Boda Pahan opened fire on security forces and the polling party at Marangburu in Arki, Khunti district, on voting day. Luckily, no one was injured in Arki.
Tamar and Arki are near each other and part of the Tamar Assembly seat where polling was held on Saturday.
After the Arki incident, Das, Choudhary and their colleagues had been engaged in an area domination exercise at Peayakuli near the Vijaygiri and Arahanga hills. Das and Choudhary did not step on a landmine, but had come close to one, a CRPF source said, explaining that the Maoists triggered the controlled explosive seeing the duo within range.
"Initially, it wasn't clear if it was a pressure landmine (which explodes if one stands on it or weight is placed on it), or a controlled one triggered by power. But now, it is clear that this was a command explosion because we found wires suggesting that rebels lurking at a safe distance exploded it strategically. There were around 50 jawans of the CoBRA battalion besides cops of Jharkhand Police in the patrol," a senior official of the CRPF told The Telegraph.
Both the jawans were rushed to Bhagwan Mahavir Medica Superspecialty Hospital in Ranchi where their treatment started around 9.35am. Das, with critical injuries on his legs and waist, was quickly flown to AIIMS-Delhi from Medica. A green corridor was formed from the hospital to Birsa Munda Airport to reach Das as quickly as possible.
Choudhary on the other hand has suffered head injuries and it is likely that he too will be flown to Delhi on Monday for better treatment.
ADG (operations) Murarilal Meena and other senior officials of state police and CRPF reached Medica.
Extra security personnel from the CRPF and district police have been sent from Ranchi and Khunti to the area where the explosion occurred. A security personnel said that choppers had been surveying the Vijaygiri region from before, but the forest cover at the area where the explosion occurred, was too dense.
A week before the first phase of election, rebels of CPI(Maoist) gunned down three home guard jawans and an ASI-ranked official of Latehar police under Chandwa police station in Latehar on November 22. The next day, rebels shot dead two persons including a local BJP supporter in Palamau, and torched construction vehicles in Lohardaga.
During the first phase of polling on November 30, rebels had tried to disrupt the voting process by making an unsuccessful attempt to blow up the Kaththokwa bridge on the bordering areas of Ghaghra and Hapad villages under Bishunpur police station. On the second phase of polling on Saturday, they opened fire at security personnel in Arki.