Rare Oriental Pied Hornbill sighted in Dalma hill
The bird has a unique feature as a pair of it maintain its companionship for life long and can not live without each other, says Raja Ghosh who works as a forester in the area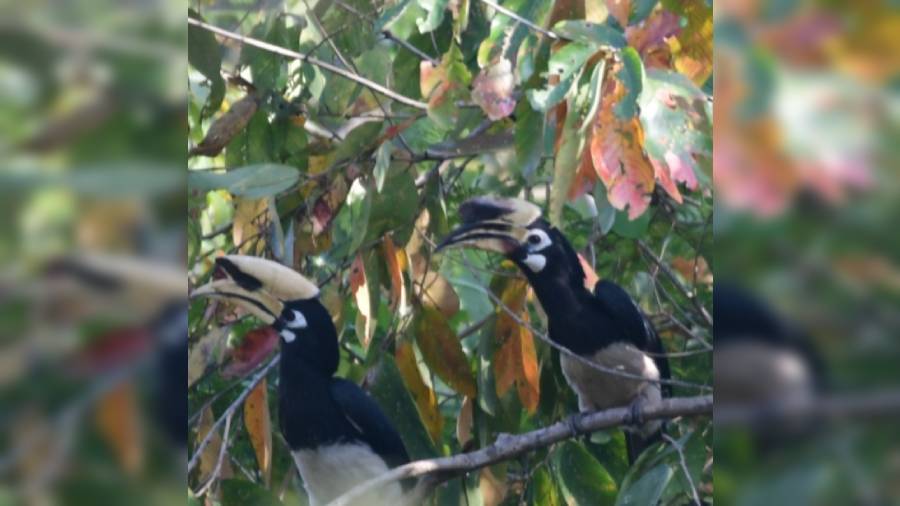 A pair of Oriental Pied Hornbill at Dalma hill.
The Telegraph picture
---
Jamshedpur
|
Published 14.04.22, 05:36 PM
|
---
While Dalma hill is known basically as the home of wild elephants, it also accommodates exotic species of birds contributing beauty to its serene atmosphere. 
Situated near the steel city, the sprawling hill has Oriental Pied Hornbill, a species of rare bird that can hardly seen in this region. 
An amateur environmentalist Prashanjit Sarkar who has expertise in the field of bird watching had spotted a pair of Oriental Pied Hornbill in Dalma hill recently. 
Having made a concerted effort along with forest conservationist Raja Ghosh had not only spotted the rare bird, but also succeeded in taking the birds' photograph. 
"The Oriental Pied hornbill was spotted at the core area of the Dalma where tourists are not allowed to visit. But those who are lucky can have a glance of this rare bird," said Sarkar. 
He stated that the bird in question is a big bird, having black and white strips on it. 
Pointing out significance of the Oriental Pied Hornbill,  Raja Ghosh said the bird has a unique feature as a pair of it maintain its companionship for life long and can not live without each other. 
Ghosh who works as a forester in Dalma wildlife sanctuary said that he would recommend for taking extra care for the pair of Oriental Pied Hornbill as its presence in the hill may attract poachers, making existence of this rare bird.
The Oriental Pied Hornbill inhabits open forest, groves and large fruit trees near villages. Its nesting season is April-May, and it prefers to eat fruits, small birds, reptiles, fish and termites.