Ranchi's old lake now new & clean
Renovated Karamtoli Talab to open on Gandhi Jayanti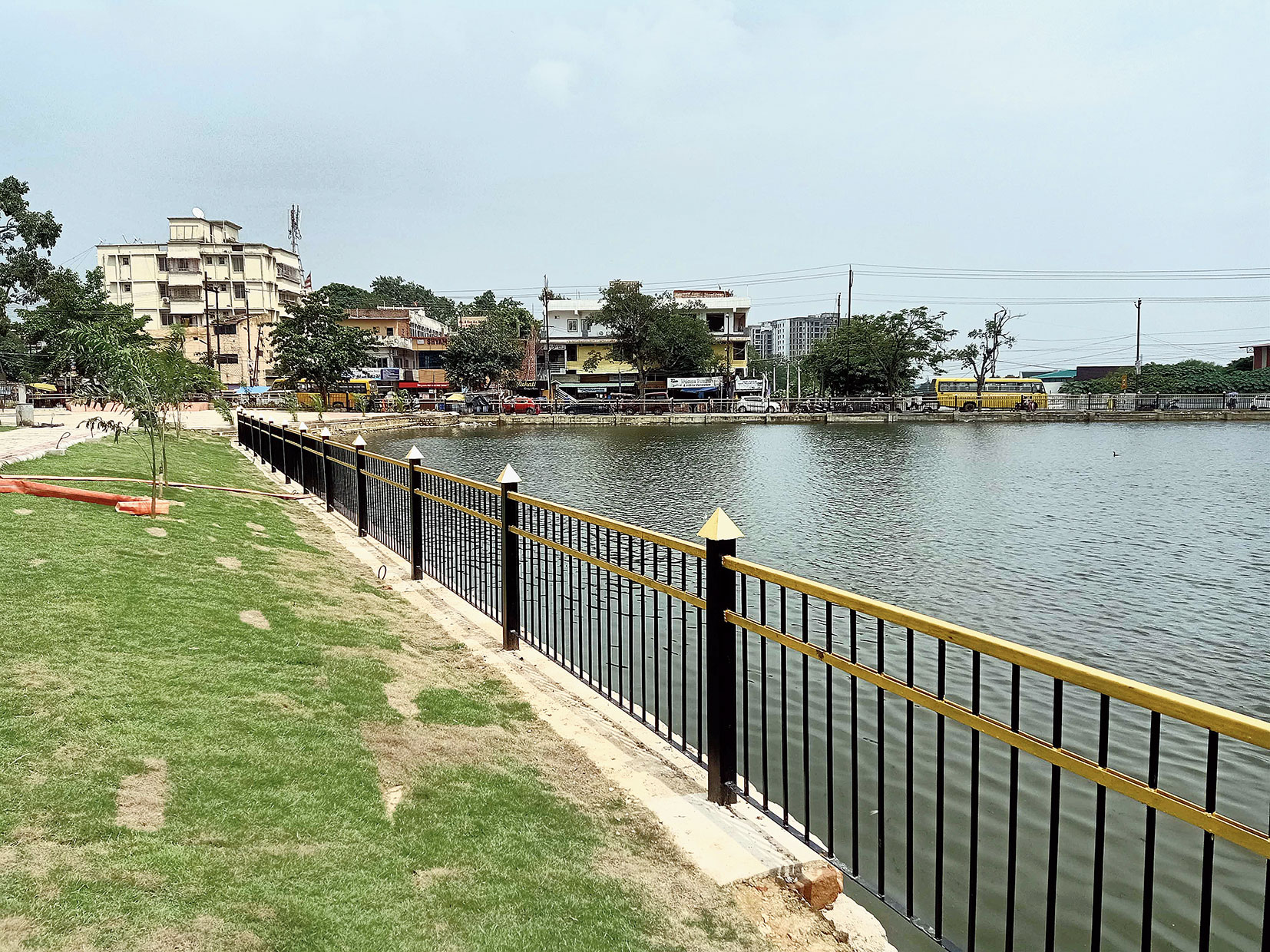 ---
---
The renovated Karamtoli Talab, among the oldest lakes of the state capital, will be opened for residents on Gandhi Jayanti.
Giridih-based agency Niranjan Rai Construction is giving final touches to the beautification work of the pond spread over 3 acre. The company is trying to meet the deadline of September as per a directive issued by state urban development secretary Ajoy Kumar Singh earlier this month.
"The private agency undertaking the beautification work on behalf of Jharkhand Urban Infrastructure Development Company (Juidco) has almost completed the work. The department has decided against landscaping work on the eastern end which would have led to the shifting of 20 houses and delayed the project," said a senior Juidco official, adding that they were now ready inaugurate the lake on October 2.
The lake, renovated at an estimated cost of over Rs 11.24 crore, now has barricades on three sides, a musical floating fountain, special lighting arrangements, enhanced landscaping, a cafeteria and food court, and a jogging track that skirts the periphery.
It also has a children's park with seesaws, swings and play-stations, water kiosks and a double-storied watch tower from where visitors can see the lake and its surrounding.
The area around the lake will be lit up by solar lights. Trees have been planted along the lake and chairs and benches are being installed.
According to Juidco spokesperson Ashutosh Kumar Singh, a sewage treatment plant has also been built. "It will treat the sewage that flows into the lake from nearby residential areas," he said.
The lake will be under CCTV surveillance.
The existing Chhath ghat on the three sides of the lake are being renovated with the inclusion of dressing rooms and toilets.
The Sarna puja sthal at the corner of Karamtoli Chowk, where tribals assemble during Karma Puja, is also being renovated.
"The urban development secretary Ajoy Kumar Singh is constantly monitoring the beautification work. He has issued a directive to complete the construction work by the end of September and dedicate the lake to the people on October 2," said the Juidco spokesperson.
Sources in Juidco said that acting on the directive of chief minister Raghubar Das earlier this year, plans to construct basement parking facilities, an amphitheatre, a guard room and ticket counter had been shelved to keep concrete structures at a minimum.
Residents are happy that the renovation project, which began in 2017, will finally be completed this year.
"The lake is in the heart of the capital near Morabadi. It will allow us to go there for morning walks. And it is good that the lake will be cleaned regularly," said Rakesh Pandey, a local resident.