Rain respite comes Jharkhand way
The Ranchi Met centre has issued a forecast of thunderstorm and light rain for three days from Tuesday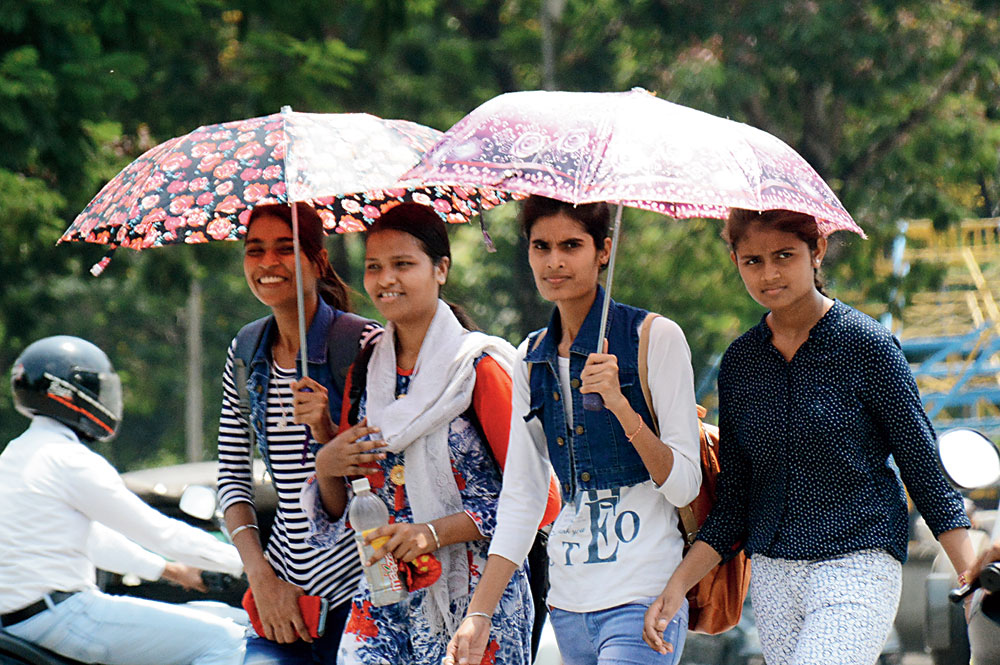 Students use umbrellas on a hot Monday afternoon at Sakchi, Jamshedpur.
Picture by Bhola Prasad
---
Jamshedpur
|
Published 27.05.19, 06:55 PM
|
---
The meteorological department has forecast rains in several parts of the state on Tuesday.
"A trough was running from east Bihar to Gangetic Bengal extending up to 0.9km above the mean sea level.
Another cyclonic circulation extending up to 1.5km above the mean sea level was hovering over south Chhattisgarh and neighbouring Odisha. The twin systems are expected to trigger thunderstorm accompanied by gusty wind at 30-40kmph in isolated places of Jharkhand tomorrow (Tuesday)," S.D. Kotal, director of Ranchi Meteorological Centre, said on Monday.
The Ranchi Met centre has issued a forecast of thunderstorm and light rain for three days from Tuesday.
The Patna Met office also issued a warning of thunderstorm and squall in its forecast on Monday.
"The twin systems will result in the formation of cumulonimbus clouds. The weather chart analysis suggested that some places in Jharkhand, especially in southern and north-eastern parts, might also experience squall with high wind speed," said a duty officer at the Patna Meteorological Centre.
The Regional Meteorological Centre at Alipore in Calcutta, too, forecast rains at scattered places in Jharkhand after the next 24 hours.
"As suggested by satellite pictures, a trough and a cyclonic circulation might result in rainfall at a few places in Jharkhand after the next 24 hours. The rains will help bring down the day's temperature by about 2-3°C," the duty officer at Alipore said.
Met statistics suggested that dry weather prevailed over Jharkhand in the last 24 hours.