Railways to station Covid care coaches in Ranchi, Jamshedpur
Over 4,000 refurbished bogies ready, states will simply have to ask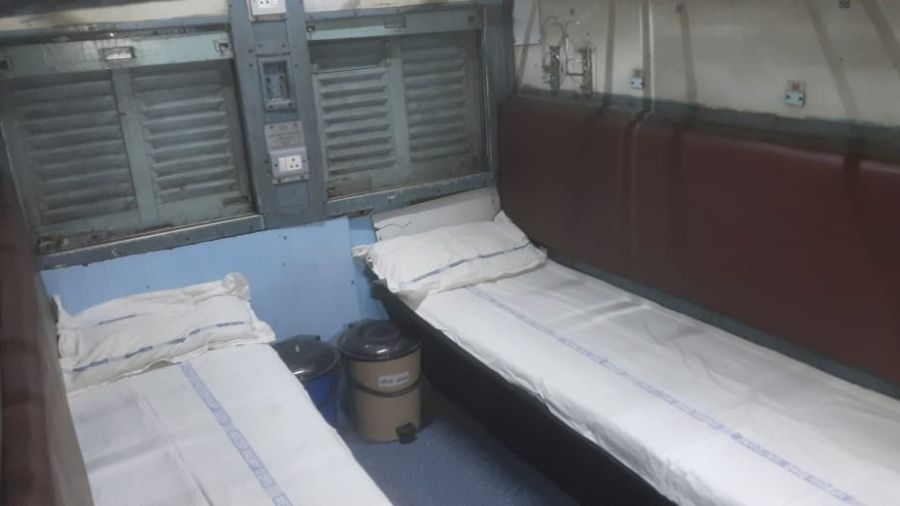 ---
---
South Eastern Railway will come up with Covid care coaches which will be stationed at various railway stations under its jurisdiction for treatment of patients.
Between March and June last year, several old railway coaches were converted into Covid care coaches by the Indian Railways.
Railway officials at Garden Reach, headquarters of South Eastern Railway, said that Covid care coaches would be available at Rourkela, Tatanagar in Jamshedpur and Ranchi railway stations.
Both Ranchi and Jamshedpur have witnessed a sudden spurt in Covid-19 cases and deaths.
For the last few days Ranchi has been witnessing over 1,400 positive cases while Jamshedpur around 700.
This has led to a serious crisis of beds in various hospitals in Ranchi and Jamshedpur.
Chief public relations officer of South Eastern Railway Sanjay Ghosh said , " Covid care coaches are the result of hard work and prompt action taken by officials of Indian Railways, health experts, and doctors . They held numerous
consultations to design the coaches, identify minute details such as a place
to keep medicines in the coaches, etc."
He went on to say that the Jharkhand government can use the Covid care coaches in case other medical facilities are exhausted. According to ministry of health and family welfare guidelines, the Covid care coaches can be used by the state governments when they exhaust their own medical facilities.
In addition to the overall transformation, the process of conversion of such coaches entail removal of the middle berth and refurbishing toilets into shower rooms etc.
Currently, 4,002 converted railway coaches are available with Indian Railways in 16 zones and will be made available for state governments on request.
"Railways is helping the country recover from the second Covid-19 wave. With the Centre and state governments taking all possible steps to ensure that the interest and welfare of the citizens is prioritised, the contribution of railways at such a crucial juncture will be, once again, of immense value, " said Arun Tiwari, general secretary of Chhotanagpur Passenger Association, a leading passengers' outfit of Jharkhand.