Railways introduce four Ranchi-bound superfast special trains
While each of the trains from Mumbai 's Lokmanya Tilak Terminus will run twice every week, another train that left Panvel will make a single trip only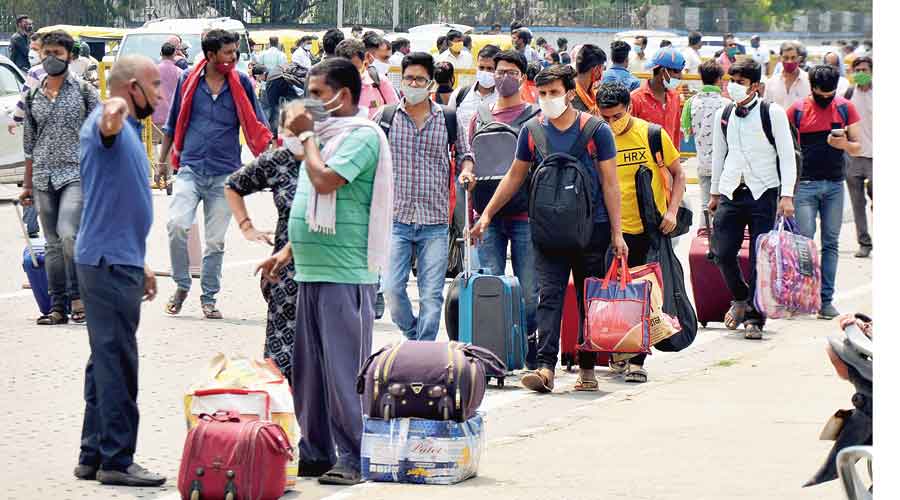 ---
|
Ranchi
|
Published 17.04.21, 12:31 AM
---
The railways have introduced four Ranchi-bound superfast special trains from Mumbai and Surat to "reduce the excessive rush of passengers" from those Covid affected places.
When the first of those trains reached Hatia station of Ranchi on Thursday morning, some of the passengers were found to be Covid positive, raising apprehension that they may be spreading the diseases further.
While each of the two trains from Lokmanya Tilak Terminus of Mumbai will run twice every week till April-end and will make 11 trips to Ranchi, another train that left Panvel near Mumbai around midnight on Thursday will make a single trip only.
Besides, another special train from Surat also started its journey towards Hatia in Ranchi on Thursday and will make 7 trips during the rest of the current month.
"As of now, we are aware about these special trains only and have no idea if any more would be run from those places," Neeraj Kumar, the chief public relations officer of Ranchi railway division, informed when asked.
The first of these trains from Mumbai reached Hatia station with about 1,450 passengers on Thursday morning and 1,312 of them were subjected to rapid antigen test that found 54 of them to be positive.
The rest perhaps boarded another train that left the same station for Patna after some time and proceeded towards their respective destinations, it is believed.
"The possibility of their speeding the disease can't be ruled out as they travelled with fellow passengers for over a day and also went home using public transport," said a railway employee, adding he doubted if those tested positive would strictly confine themselves in home isolation.
If this is an indication, more such Covid positive patients are likely to reach Ranchi by the remaining trains and add to the problem, he apprehended.
Meanwhile, reports of relatives moving around in search of availability of beds in hospitals continued to appear in local media.
As per data released by the state government, the number of active cases in Jharkhand rose to 20,651 at 9 pm on Thursday as 3,480 new positive cases were detected on that day and 28 died.
Among the districts, Ranchi continued to be worst affected.
With 1,393 positive were detected on Thursday that accounted for 40 per cent of the state's total new cases, Ranchi had an active caseload of 8,661 that comprised of 42 per cent of the state's total.
In view of the situation, the government decided on Friday to run the state secretariat with only 50 per cent of the staff attending office while the rest were allowed to work from home.
Some localities of Ranchi have been particularly affected and there are families having multiple positive cases.
"We have decided to help such families with elderly persons and students that do not have anyone to help," said Ranchi's BJP MP Sanjay Seth, adding his team would deliver nutritious food, milk and fruits included, to such families for 15 days, beginning Sunday, free of cost.
Issuing three WhatsApp numbers, Seth requested such affected families to send him copies of Covid positive report, detailed residential addresses and contact numbers so that they could deliver food to such families smoothly.