Pupil points pistol at headmaster over meal dues in Garhwa
Class VIII student barges into school managing committee meet and demands reimbursment of mid-day meal funds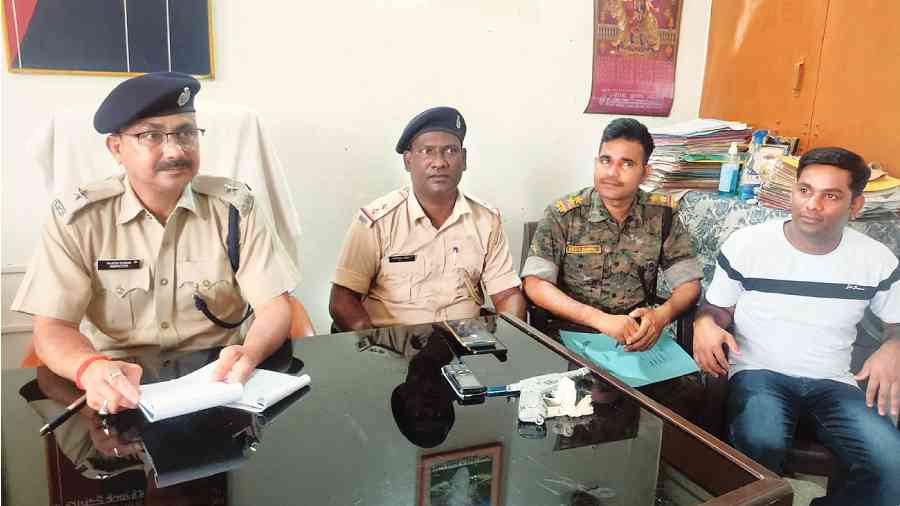 Police officials with the pistol and the cartridge recovered from the school boy in Garhwa on Thursday.
Bhola Prasad
---
Jamshedpur
|
Published 05.08.22, 12:38 AM
|
---
A school student in Jharkhand pointed a loaded country-made pistol at the headmaster in a school in Garhwa district, around 260km away from state capital Ranchi, on Thursday.
According to reports, the Class VIII student came to the headmaster's chamber around 11am in the morning.
"We were having a meeting presided by school managing committee chairman on disbursement of reimbursement amount of mid-day meals (cooking costs of mid-day meals being reimbursed to students for the period of Covid-induced school closure). Around 11am, the Class VIII student came and tried to enter the chamber. He was told that the meeting was going on and asked to wait for a while," the school headmaster narrated.
"After a few minutes, again the same student, this time with another boy who is not from our school and is from the neighbouring village, barged into the chamber and started asking me when we would pay him the reimbursement amount. The chairman told him that the committee was discussing it and he would be informed soon. But he insisted we should tell him the amount at that moment as he had some urgent work. We told him that he should finish his urgent work and then take the amount, maybe tomorrow. At this, he got infuriated and took out the pistol from his pocket and pointed it at me," the headmaster said.
Immediately, the school staff and other committee members overpowered him and his friend and informed the police who reached the spot soon.
"It is quite shocking for us that the juvenile has managed to access a loaded country-made pistol. We are trying to pinpoint our investigation on how he accessed the weapon. The boy has been trying to mislead us by saying that he found it lying in his village. But we are trying to extract the details from him and his friend. He would be forwarded to the juvenile remand home," said Garhwa superintendent of police Anjani Kumar Jha.
The police official said the area was not rebel-infested and ruled out the boy getting easy access to the pistol from extremists.
"Earlier, the student had broken a school bench once after being scolded by a teacher," said a teacher.
Banshidhar Nagar police station in-charge Yogendra Kumar said that considering the age of the student and his friend (both under-16), the police are questioning them with care.
"We have taken their mobile numbers and would be taking call detail records to know from where they had accessed the weapon," said Kumar.