Pan-India protest to seek justice for Father Stan Swamy
The People's Union for Civil Liberties (PUCL) along with other tribal rights and social organisations will organise a series of protests from July 23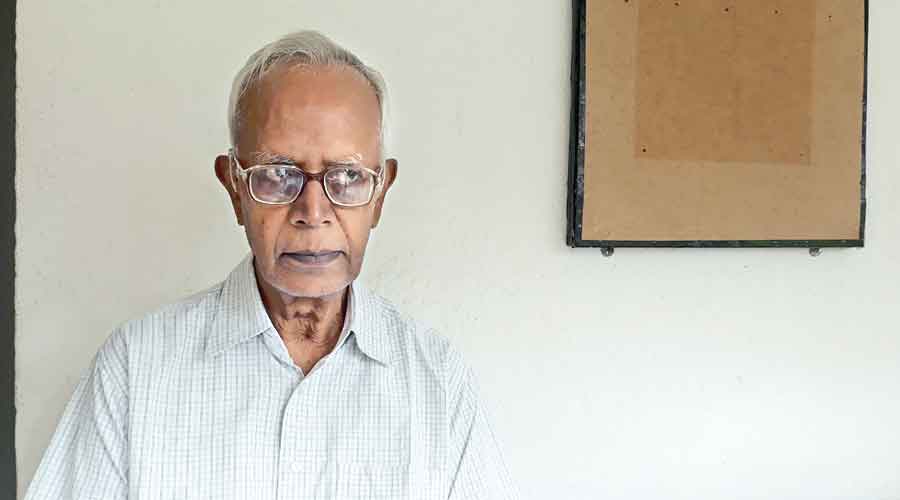 Father Stan Swamy
File picture
---
Jamshedpur
|
Published 22.07.21, 01:57 AM
|
---
The People's Union for Civil Liberties (PUCL) along with other tribal rights and social organisations will organise a series of protests across the country from July 23 demanding justice for Father Stan Swamy.
"Though PUCL units will be organising protests on their own across the country on July 23, in Ranchi, which was the karmabhumi (workplace) of Father Stan Swamy, we will form a human chain on the same day, with adherence to Covid protocols, at the Albert Ekka Chowk. Different tribal and human rights organisations and civil society groups have decided to join our protest," said Arvind Avinash, national organising secretary of the PUCL.
He said that a delegation would be going to the Raj Bhavan to submit a memorandum after the human chain protest.
"After taking part in the symbolic human chain agitation, a small delegation will go to the governor's house following all Covid protocols and submit a memorandum addressed to the President (Ram Nath Kovind) demanding justice for Father Stan who was killed in custody by the NIA, a unit of the Union government, and the prison authorities,' said Avinash, who is also the general secretary of the PUCL Jharkhand unit.
The memorandum will also demand the repeal of draconian legislation like the UAPA and sedition, release of all political prisoners, compensation to the family members of undertrial prisoners and action against authorities for lodging fabricated cases against innocent people and withdrawal of sedition cases lodged against Fr Stan and other tribals by the erstwhile Raghubar Das-led BJP government.
"The PUCL units in other 24 districts of Jharkhand will also be organising a similar agitation demanding justice for Fr Stan. On August 9, which is observed as World Indigenous Day, we will also be staging agitation in different parts of Jharkhand. On August 15, we will protest against the attack on voices of dissent by the federal government by taking out candlelight marches in different parts of Jharkhand," Avinash said.
"Apart from Jharkhand, similar protests will be held on July 23, August 9 and 15 across the country. However, the other state units have been given liberty to determine the nature of agitation. They can organise a silent march, stage dharna or form a human chain. Our objective is to stage our protest in a peaceful manner," he added.
"We will be staging an agitation in Bokaro on July 23," said Gautam Bose of PUCL Jharkhand.
The PUCL, founded by social activist Jai Prakash Narayan, has been raising its voice against human rights violations across the country.
The New Trade Union Initiative (NTUI), a non-party union having pan-India presence, has decided to stage an agitation across the country on July 23 demanding repeal of the Unlawful Activities (Prevention) Act, withdrawal of the new labour codes and rescinding of the Essential Defence Services Ordinance, 2021, among others.
Father Stan, who had spent nearly five decades raising voices for rights of tribals and oppressed in Jharkhand, was lodged in Taloja Central Jail since October 9, 2020, after his arrest from his Bagaicha residence in Namkum near Ranchi the previous day by the National Investigation Agency in the Elgaar Parishad-Maoist link case. He was charged under the UAPA provisions.
However, there was not a single trial and his bail petition citing health issues and poor medical facilities in the central jail was rejected by the NIA special court on four occasions.
Father Stan died while undergoing treatment under custody at Holy Family Hospital in Mumbai on July 5.