Probe into Jharkhand Legislative Assembly fire
Team from forensic science laboratory examines the Assembly premises and the objects gutted in the fire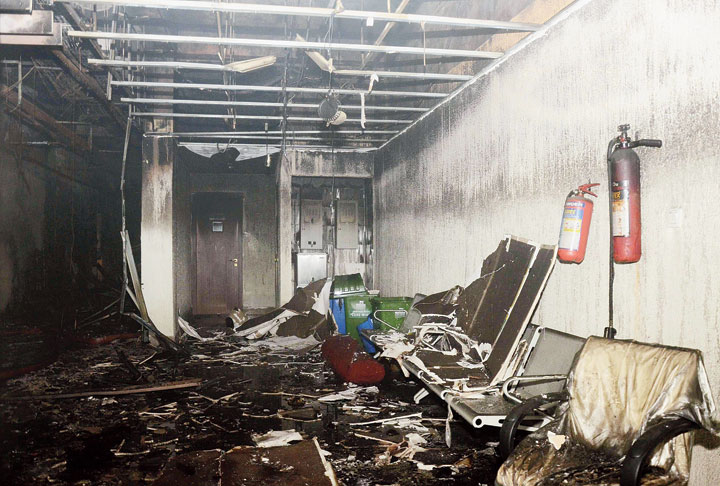 The gutted portion of a chamber in the new Assembly building in Ranchi on Thursday
Picture by Prashant Mitra
---
Ranchi
|
Published 05.12.19, 08:30 PM
|
---
Police have initiated an investigation to ascertain whether the fire in the new Assembly building at Kute in Ranchi on Wednesday was an accident or sabotage.
A team from the forensic science laboratory on Thursday examined the Assembly premises and the objects gutted in the fire.
"The investigation is still on. I am not in a position to tell anything else in the matter," senior superintendent of police Anish Gupta said.
Before the arrival for the forensics team, building construction department secretary Sunil Kumar visited the Assembly premises to determine the extent of damage.
"The built-up area of the building is 6 lakh square feet. Primary assessment suggests that less than one per cent of it was affected by the fire. Just the basement and first floor of the west wing suffered damages," Kumar said.
Ram Kripal Singh Construction Private Limited, which had constructed the building, was expected to hand it over in five days.
The company's general manager Amar Nath Jha said: "Chairs, false ceiling and AC duct of the visitors' gallery in the west wing have been charred. They will be fixed soon."
The Assembly building is insured against fire. The insurance company on Thursday deputed a surveyor to assess the loss.
Surveyor Vinodanand Jha said: "We will start the survey once the FSL team allows us."
However, an insider said the losses would amount to Rs 25 crore.
On the firefighting arrangement at the Assembly building, Jha said it was done by Sterling and Wilson, a company known for its expertise in the field. State fire officer Bando Oraon said fire extinguishers were not enough to deal with the emergency.
"Sprinklers were also in place, but they were not connected to a water source. The foam chairs helped the flames to spread quickly," Oraon said.
On Wednesday night, Oraon had suspected short circuit to be the reason behind the fire, but he changed his stand on Thursday. "Flames were noticed at four places last night, suggesting it was not a short circuit. However, it is too early to give any conclusive statement," he said.
The Assembly building, which was constructed at a cost of Rs 465 crore, was inaugurated by Prime Minister Narendra Modi on September 12 this year.