Power cut message: Jharkhand Mukti Morcha holds candle-light meeting
The news meet punched holes in the government's effort to end outages in Ranchi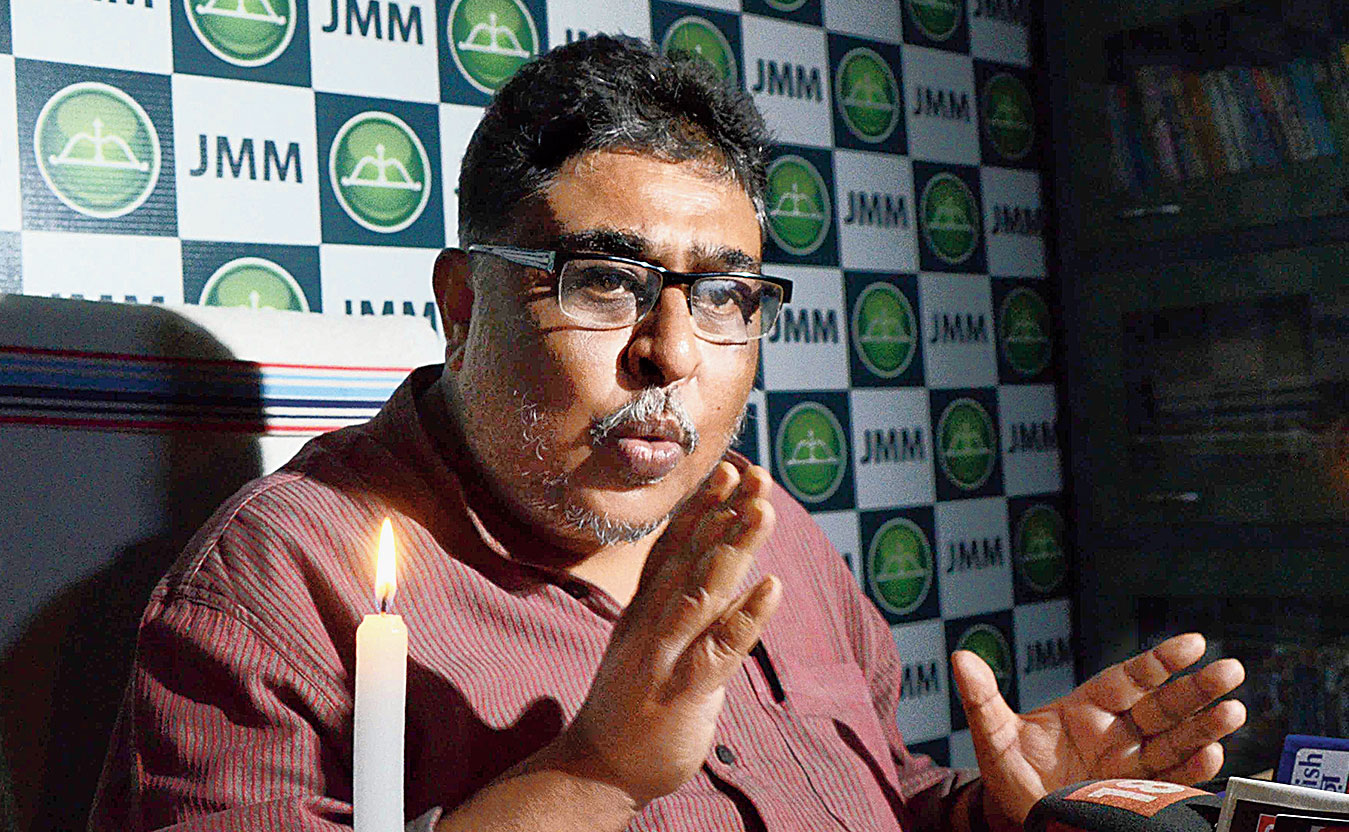 ---
|
Ranchi
|
Published 14.08.19, 06:25 PM
---
The JMM held a news meet in candlelight at its Bariatu office on Tuesday to highlight how power cuts were still the order of the day even after CM Raghubar Das on July 5 this year had categorically said the power situation in the capital had to improve by July 31 and this deadline would in no way be extended.
The JMM news meet punched the claims of zero power cut in the capital, JMM general secretary Supriyo Bhattacharya told The Telegraph on Wednesday, sharing his personal experience.
"Yesterday (Tuesday) we held a news conference at our office in candlelight after we observed that that there is no power in the locality where our office is located (Bariatu). Interestingly, two hours after our media interaction, power was restored in the area after two days. Power had been disrupted due to a technical fault in the transformer. Once power was back, 400 residents of the locality heaved a sigh of relief," Bhattacharya said.
Deepak Tirkey, a resident of Tetar Toli, under the affected area due to the transformer fault, said the lower-ranked JVBNL staff were reluctant to work unless they were prodded by seniors. "Lower rank technical staff keep waiting for instructions from their seniors for everything. Our locality's transformer stopped working and we informed about it to the local line staff. But nothing was done till JMM brought the matter to the knowledge of senior officers through the news meet," Tirkey said.
A resident of Harmu, Prabhakar, also supported Bhattacharya. "A few days ago, power got disrupted at my residence for hours. After high voltage, which damaged my refrigerator and other electronic appliances, power got disconnected in my house and was restored after six hours on repeated requests to JVBNL technicians," Prabhakar said.
Contacted, JVBNL general manager Sanjay Kumar said "zero power cut" did not mean "zero technical fault". "Technical faults can happen and repairing them takes time," he stressed. He added replacing a transformer took time. "The old transformer is removed and a new one taken from our store is installed. After installation, it takes 10 to 12 hours to bring the new one to working condition. Apart from this, we supply power to more than 6 lakh houses in the city. If power is not supplied in some of the houses, one should not think that zero power cut planning is not working," Kumar claimed.
Superintending engineer of JVBNL Prabhat Srivastava echoed that technical faults were unavoidable. "We act as and when we receive complaints. Our response time reflects our efficiency. One should not think otherwise," Srivastava said.
Chief minister Das on July 5, while chairing an energy review meeting, had called for results to ensure zero power cut in the capital. "Give me results according to the time line. Ifs and buts have no place. Deliver or be ready to be replaced. Those who can't work should be given compulsory retirement," he said. The CM also set a three-month deadline to address transmission and other problems across every district. "All problems should be addressed within three months," Das said.