Polluted air affects health of children, says study
Parents in Jharkhand reveal startling facts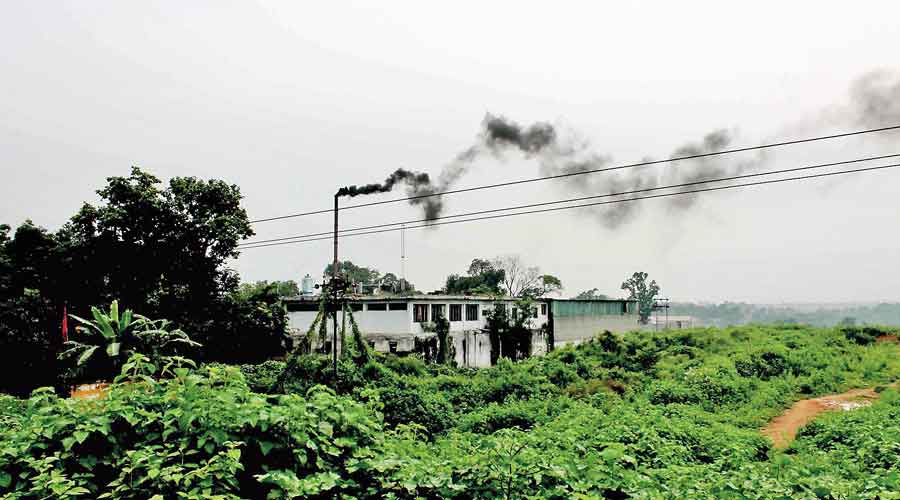 ---
Jamshedpur
|
Published 23.11.21, 02:37 AM
|
---
Polluted air is affecting the health of children and restricting their ability to lead a normal life, a survey conducted in Jharkhand has found.
In a public perception study among parents conducted between October and November by SwitchON Foundation under the Clean Air Network in three Jharkhand cities — Ranchi, Jamshedpur and Dhanbad — 78 per cent of the respondents admitted that air pollution was affecting them and their families. Around 79 per cent were not happy with the air quality in the cities.
In a startling finding, 54 per cent of the respondents said their children were suffering from asthma, 10 per cent from bronchitis, 6 per cent from COPD (chronic obstructive pulmonary disease), 2 per cent from lung cancer and 5 per cent from emphysema.
The study found that 35 per cent of the respondents knew about children outside their families having health issues related to air pollution.
Out of the respondents, 65 per cent knew one child outside their family, 27 per cent knew 3-5 children and 8 per cent knew more than 5 children who are suffering from respiratory ailments.
Around 89 per cent of the respondents felt that their children were more vulnerable to air pollution than adults.
The study concluded that although not many people were clinically diagnosed with respiratory ailments, 42 per cent of the respondents showed symptoms of breathlessness, 22 per cent felt they might have asthma, 27 per cent were worried about their living condition and depressed, 46 per cent had skin rashes and allergies, and 53 per cent had irritation in their eyes, nose and throat.
The conclusion drawn from the study has termed air pollution as a silent killer because while people feel its effect, they are unable to address the harm until it is too late.
"The idea was to get a better understanding of the awareness and sensitivity among people regarding air pollution and the prevalence and severity of diseases among children caused by air pollution in Jharkhand and Bengal," said Vinay Jaju, co-founder of SwitchON Foundation.
SwitchON Foundation organised a webinar during the Child Rights Week where it invited doctors, child rights activists and experts to speak on the impact of air pollution in Jharkhand and the need for an immediate public intervention. 
"Air pollution is a leading cause for concern in the mining state of Jharkhand where more than 17.8 per cent of children die as a consequence of being exposed to toxic particulate matter," said a spokesperson for SwitchON Foundation quoting statistics from the Global Burden of Disease 2019.
"All children should have the right to breathe clean air. Despite this an entire generation of children are in jeopardy today, this is unforgivable. Every child should be able to breathe clean air so they can grow and enjoy the natural world as their previous generations have," Jaju added.
Umesh Tiwari, secretary of the Samajik Parivartan Sanstha, a Ranchi-based organisation, said: "We must think about the future of our children and make efforts to stop air pollution."
Delivering a special address at the webinar, Dr Manas Ranjan Ray, former assistant director Chittaranjan Cancer Research Institute, Calcutta, said: "Air pollution affects everyone, but most susceptible are the children. It is unlikely that the deficits in lung function at the age of 17 that have been found in a large number of schoolchildren will be reversed as they complete the transition into adulthood."
Ranchi-based Dr. Nirupam Sharan, a senior pulmonologist from The Happy Lungs Institute, said: "There is a clear correlation between levels of ambient air pollutants and lung diseases in general in the pediatric age group. Evidence suggests that early-life exposure to air pollution increases the risk of childhood asthma. No level of particulate matter is permissible, hence we must work to bring them to negligible levels."