Police nab trafficker, rescue seven girls from Ranchi airport
They were being sent to New Delhi to work as domestic helps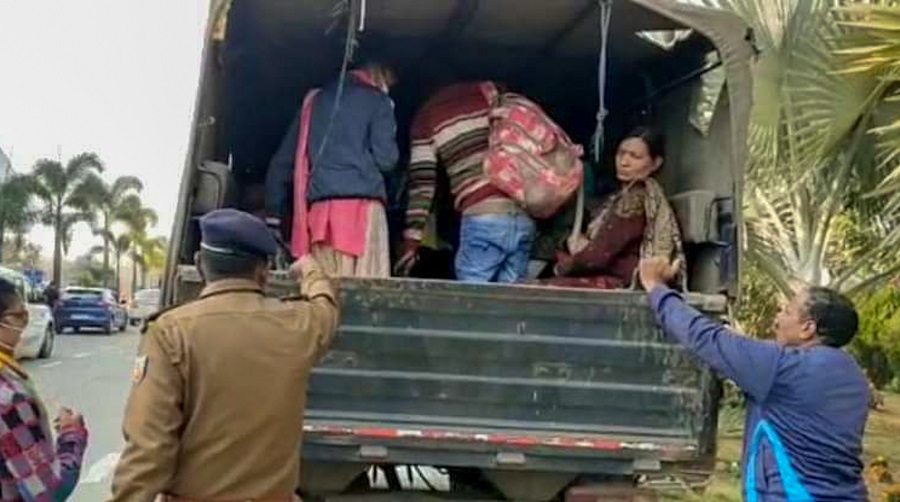 Police search a truck that was stopped at Birsa Munda International Airport on Thursday in Ranchi on Thursday. As many as seven girls, who were being trafficked to Delhi, were rescued. The trafficker has been arrested.
Manob Chowdhary
---
Ranchi
|
Published 29.01.21, 10:32 AM
|
---
Ranchi Police on Thursday arrested a woman trafficker and rescued seven tribal girls from the Birsa Munda Airport in Ranchi while they were being trafficked to New Delhi to work as domestic helps in households.
Senior Superintendent of Police (SSP), SK Jha told The Telegraph Online that the police swung into action after receiving a tip-off from an informer about minor girls from Khunti district being sneaked to the national capital by air.
"Thanks to our informers, we got to know that the girls were being trafficked to work as domestic helps in Delhi. Our team was quick to nab the trafficker and rescue the girls before they could board the flight," Jha said.
The rescued girls, all residents of Khunti, have been sent to the Child Welfare Committee (CWC) in Ranchi for counselling, said Jha, adding that the woman trafficker arrested during the operation has been identified as one Poonam Barla.
Thursday's sweep could possibly be the first-ever such operation conducted at the Ranchi airport, police said. So far, victims of human trafficking were mostly rescued from railway stations and bus stands in Jharkhand.
"We are investigating the matter. Once the girls give their statements to CWC, we will get a clearer picture of who all were involved in the deal and how were the girls convinced to go to Delhi," said the SSP.
Several hundred children are trafficked every year from Jharkhand to work as domestic helps in the metros, especially Delhi. Activists working against human trafficking in the state claim that most of the girls trafficked to other states are subjected to physical, mental and sexual torture by trafficking agents and employers. 
While some victims manage to escape the clutches of traffickers and return home, many end up developing severe ailments and mental trauma after years of oppression, say activists.  
As per figures with the National Crime Records Bureau (NCRB), as many as 373 women were trafficked from Jharkhand in 2018. Representatives of Save the Children, an international NGO working for child rights, said that the number of children trafficked from Jharkhand was much higher than what the NCRB claims. Mahadev Hansda, the State Programme Manager for the NGO said, "While we assisted rescue operations in Khunti, West Singhbhum and Ranchi districts, we realized that the number of Jharkhand's children rescued from New Delhi was nearly 700 per year."