Police bust fake currency racket in Mango, one arrested
Steel city cops nab kingpin late on Saturday night while he was paying fruit seller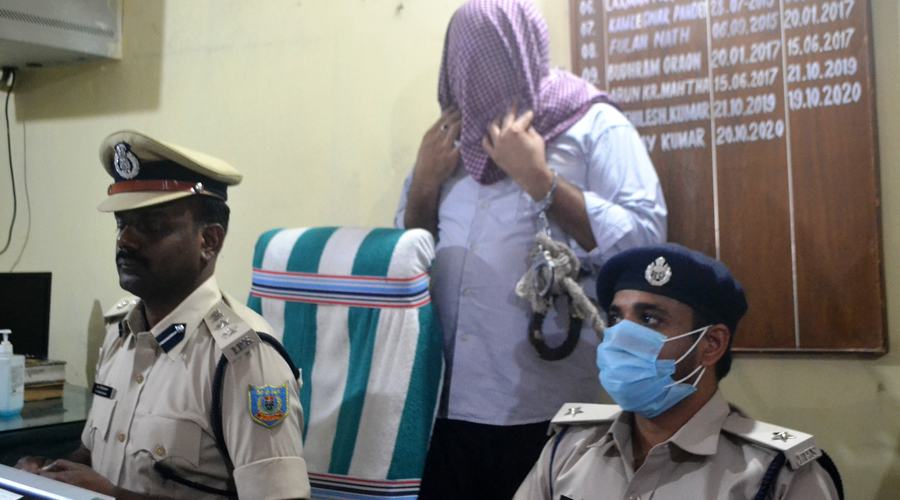 Senior SP M Tamil Vanan (left) with the accused Aftab Alam at the Mango thana in Jamshedpur on Sunday.
Pic by Animesh Sengupta
---
Jamshedpur
|
Published 14.03.21, 06:24 PM
|
---
In a sensational breakthrough, police on Sunday arrested a man who was running a racket of printing and circulating fake currency notes in Mango, Jamshedpur. The man identified as Aftab Alam, son of Mohammed Mazhar, is a resident of Gulab Baag in Mango.
Aftab, who stayed in a rented house owned by one Mohammed Zama, was manufacturing fake currency notes of rupees 50, 100 and 500 in one of the rooms for the last six months.
Police have seized 40 notes of rupees 500 denomination, 10 notes of Rs 100 and one Rs 50 denomination. This apart, the police have seized semi-finished Rs 500 notes worth 36,000, and a laptop, inject printer and a monitor from the house of the accused.
Significantly, there was a sticker of the Pakistani flag on the laptop, hinting that Aftab might have a connection with Pakistan in running the racket.
Revealing about the breakthrough, senior SP M Tamil Vanan said that the accused that was running the racket single-handedly was caught while he was making payment against fruits he had bought from a fruit vendor at Jugsalai late on Saturday night.
"Aftab had given a 50 rupees note which seemed a bit different to the fruit vendor, the later objected to and demanded another note, leading the accused to indulge in an altercation. In the spur of the moment, the accused had torn apart the note, creating a commotion and attracting the attention of two mobile cops who arrived at the scene and asked why he tore the note. The cops took Aftab to Jugsalai thana where during interrogation he confessed that the note he tore was fake and that he was running a racket of fake currency," said Vanan while addressing a press conference on Sunday.
The senior SP said on Sunday morning the police raided Aftab's house and seized the equipment as well as the materials used in the making of fake currency notes and also a stock of the fake currencies of different denominations from his house.
Vanan said the accused used to manufacture the currency notes during the day and got them circulated in the night, especially in the late hours so that shopkeepers might not focus on the notes meticulously.
"The accused claimed he had started the racket a month ago and earned over Rs 40,000 after he lost his job during the lockdown, but we estimate that he has started the racket about six months ago," added Vanan.
The senior SP, on being asked, said they will investigate whether Aftab had a Pakistan link behind the fake currency racket, adding that they will unfold the mystery behind fixing a sticker of Pakistani flag in one of the equipment.