Patients warn of fast over insect found in food, nodal officer assures of action
Matter resolved after patients at Covid hospital of Dhanbad receive promise of immediate corrective measures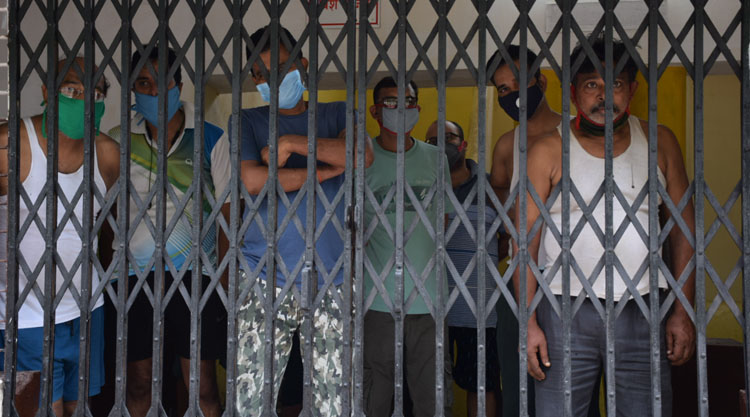 ---
|
Dhanbad
|
Published 08.07.20, 01:13 AM
---
Altogether 68 persons undergoing treatment at Covid Hospital of Dhanbad at Jagjivan Nagar of Dhanbad staged a demonstration on Tuesday over insects being found in the vegetables served at breakfast.
The protestors also threatened to go on a hunger strike and alleged other irregularities, like morning breakfast being provided to them at 11am instead of 7am and dinner being provided at 7pm instead of 9pm.
The issue, however, was solved after the arrival of nodal officer of the Covid hospital, Dr Alok Vishwakarma, at the site.
He assured the protesters of immediate corrective steps and also convinced them that any step to avoid food may affect their health adversely.
The protest began when some of the patients found an insect in the potato dish served to them at breakfast, along with rotis.
They subsequently raised slogans against the hospital management in front of the hospital main gate.
The patients charged that long beans or lobia was often served to them during morning breakfast.
Vishwarma, while responding to the charges, told the patients that the long beans being rich in protein, were a nutritious source of food.
Some of the patients, however, demanded dal (pulse) instead of long beans.
Some Covid patients in the Jamadoba area of Tata Steel, Jharia division, were also shifted from the Dhanbad Covid hospital to Tata Main Hospital on June 28, after some patients complained about poor cleanliness and other shoddy arrangements.
Dhanbad civil surgeon Dr Gopal Das, said, "We have immediately initiated steps to improve the quality of food after reports of protest by the patients in the Covid Hospital."
In a related development, three family members of a 55-year-old Covid-affected woman of Bhuli, who died on Saturday during treatment, also tested positive last night and were admitted to the Covid hospital.
The family members of the women who were tested positive, included her 60-year-old husband, 28-year-old son and eight-year-old granddaughter.
Meanwhile, altogether 93 journalists of Dhanbad who were earlier quarantined on July 5 after swab testing are yet to be released from the Covid hospital due to delay in compilation of their swab-testing reports.