Panic as jobs vanish at all levels in the automobile industry
When an automobile engineering diploma feels like waste paper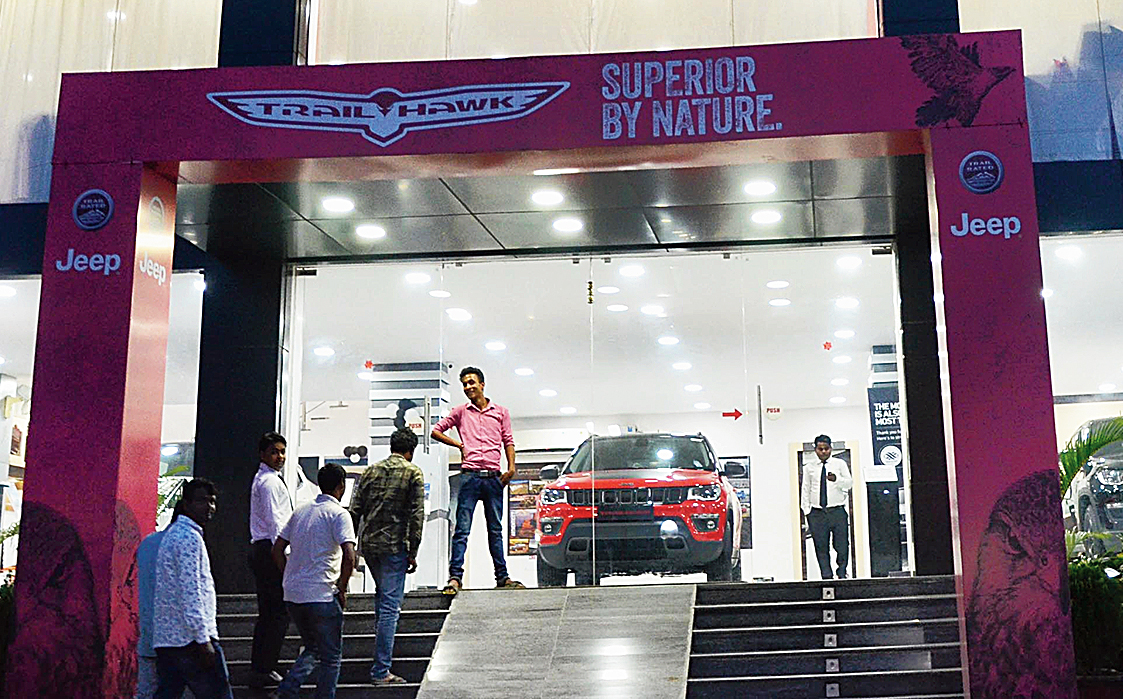 A car showroom in Ranchi on Monday.
(Prashant Mitra)
---
Ranchi
|
Published 19.08.19, 08:01 PM
|
---
Godda youth Manish Kumar Bhagat, 23, a diploma holder in automobile engineering, is jobless for the past five months. Now he is getting desperate.
Manish, who is from Pathargama in Godda, showed the gumption to go to a bigger city, Jamshedpur, and study at the Al-Kabir Polytechnic. He was also selected by a reputed Pune-based tractor manufacturing company during campus selection in 2016.
This March, the blow fell. Over 100 employees were laid off. Manish was among them. Manish, who has given his CV to over a dozen automobile dealers in Ranchi and Jamshedpur without success, is now job-hunting in Delhi.
"I don't know how long I can carry on like this. There are no jobs. My three years of experience don't matter, my CV has almost become waste paper," he said bitterly.
Like many youths from poor families in the hinterland, Manish looked at his automobile engineering diploma as a ticket to a better life.
"I was so confident about my career choice that I had taken Rs 1.2 lakh as education loan. I've been able to repay only 40 per cent, I need a job fast," he said. "But we're all hearing that this is the worst slowdown in 18 years."
No consolidated data on layoffs in the automobile sector in Jharkhand are available so far, but the slump has affected jobs across all levels.
A middle-aged man from Ranchi is spending sleepless nights. "I'm 55 and jobless since August 1," said the man, who was working as a team leader in a four-wheeler showroom. "For the past six months or so, the showroom owner was putting pressure on me to increase sales but the market is just down. I finally put in my papers on August 1. Many young boys from my team have been asked to quit."
He's not confident of bagging another job soon. "I'm no expert, but going by the response of employers I have contacted in the past fortnight, it appears that the whole economy is sluggish. It is really difficult to find a job these days. I am a family man. I'm really tense."
Another mid-level sales executive in the automobile sector said he put in his papers anticipating the humiliation of being fired. "We sales executives get unreasonable targets. I was told to ensure the advance bookings of 25 SUVs of a soon-to-be-launched brand. The price of the SUV ranges from Rs 9.80 lakh to Rs 16 lakh. There is a slowdown and hardly a handful of prospective buyers showed interest. I was fed-up with my seniors calling me incompetent and asking us to quit if we can't achieve the target. My parents and wife told me to leave the job. I will switch over to a new profession," he said.
Those who are still in the profession admit the going is uphill. Rakesh Kumar Singh, senior sales manager of Premsons Motors, which deals in Maruti cars, said the slowdown started in November last year and but they started feeling its impact by April.
"Sale of cars is down by 16 per cent at least. If the government doesn't take necessary steps then nobody can stop an economic disaster. There is a general perception everywhere that if the automobile sector is growing, the country is doing okay economically," Singh said.
Manish, who has been jobless for five months, said: "I'm no expert but the total tax of 28 per cent (on a car) has badly affected our sales."
Buyers are also staying away as the cost of insurance has increased, he said. "Plus in Jharkhand, road tax has been increased from 3 to 9 per cent. If you buy an SUV worth Rs 15 lakh or above you have to pay an extra Rs 2 lakh," he said.
It's not just cars. Sumit Jain, owner of Horizon Honda, said motorcycle sales had fallen by 30 to 35 per cent in the last six months. "I don't think that situation will improve in the next two years," he said.
"So far, I've not sacked anyone. But I've stopped campaigning and advertisements. Hopefully, when the Bharat Stage VI bike is launched next year, the market will bounce back."