Owner of car washing centre run over while trying to intercept a courier truck at Bistupur
Mini-truck was laden with courier consignment which the driver was trying to flee away with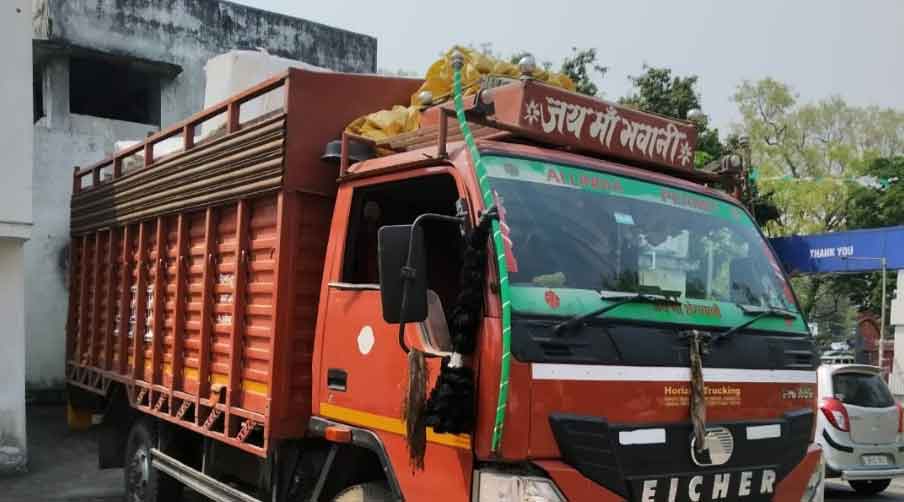 The killer courier truck lying seized on the Bistupur thana premises on Tuesday
Animesh Sengupta
---
Jamshedpur
|
Published 29.03.22, 05:53 PM
|
---
A 39-year-old man was killed on the spot and a youth seriously injured as a mini-truck they were trying to intercept hit them near Tata Main Hospital in Bistupur on Tuesday moon. 
The mini-truck was laden with courier consignment which the driver of the vehicle was trying to flee away with from an office-cum-godown of Aman Courier Service located at block No 1 in Shashrinagar of Kadma. The man killed was identified as Shusil Kumar Bedi, a resident of Shashrinagar and owner of a car washing centre and the injured youth was identified as Rohit Kumar, owner of the Aman Courier Service. 
Rohit has been admitted at the Tata Main Hospital where his condition is said to be critical. The driver of the courier truck was caught by the passersby soon after the mishap and was handed over to the police after a thrashing. The incident took place on Boulevard Road near the Tata Main Hospital roundabout at about noon, while the road linking to Circuit House Area from Bistupur Main Road was bustling with commuters. 
According to police, the courier truck was being unloaded in front of the Aman Courier office at about 11.45 am, when the truck driver suddenly started the vehicle and started speeding away toward Bistupur. 
"On coming to know about it, the owner of the courier company Rohit got perplexed and asked Bedi to chase the truck. Bedi whose car washing centre was nearby made Rohit to sit on his scooter and started chasing the truck. Near the Tata Main Hospital roundabout, they overtook the truck. Subsequently, both Bedi drove his scooter in front of the truck, hinting at the driver to stop the vehicle but ignored them and ran over the duo, causing Shusil to die on the spot, " narrated OC, Bistupur thana, Vishnu Rawat while talking to The Telegraph Online.  Rawat said the driver of the mini-truck was drunk and was not able to speak properly. 
*We have sent the driver to the MGM medical college hospital for getting alcohol test on him. When he returns to normalcy, we will ask his name and address beside the reason behind fleeing with courier truck in the middle of unloading, " said the OC, adding that investigation is on.