Old town Jharia carries on century-old tradition of Royal Puja
Devotees from different parts of Dhanbad throng Jharia Raj Durgabari, where Saptami is still celebrated like it was centuries ago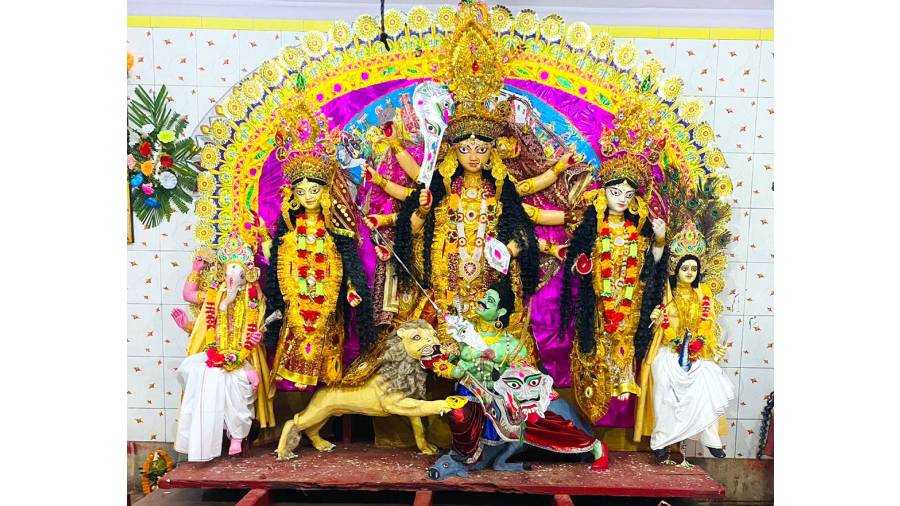 The idol of Goddess Durga at Jharia Rajbari, on Tuesday.
Gautam Dey
---
Dhanbad
|
Published 13.10.21, 05:52 PM
|
---
Devotees from different parts of Dhanbad throng Jharia Raj Durgabari (Goddess Durga Temple) situated at Purana Rajagarh or old fort of erstwhile Jharia princely estate to seek the Goddess' blessings. Here, Puja is still performed as per the old tradition of the Royal family.
The day began with the Belbharani Puja or Kolabau Puja, which is performed early in the morning at around 5.30 am. The women folks of the royal family, under the leadership of Rani Snehlata Devi carried out navpatrika snan (bath) in the royal pond, called the Raja Talab, situated near the old fort.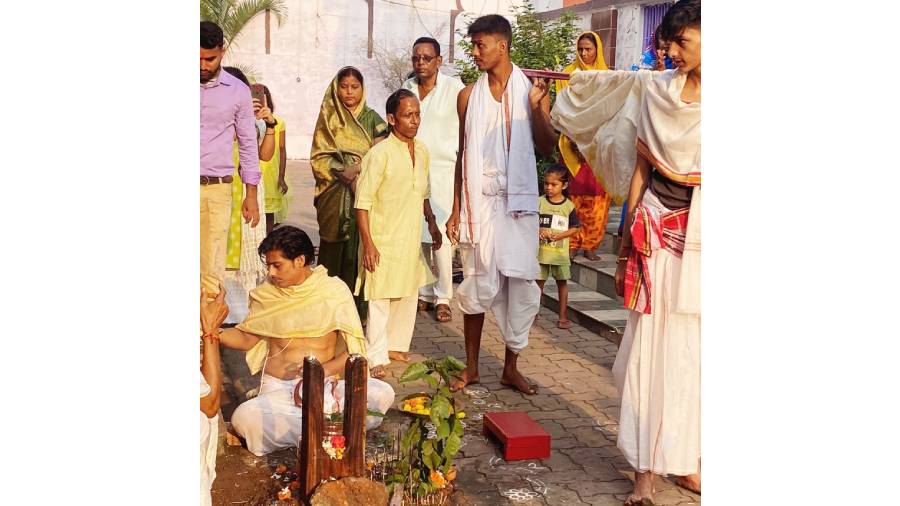 Notably, during the early hours of Saptami, (seventh day of Puja)  goddess Durga is invoked in a group of nine plants bunched together and tied with the twigs of Aparajita  which is given a pre-dawn bath in holy water of a river or pond. In Jharia the Belbharni Puja or navpatrika snan of around 100 community puja is performed in Raja Talab only after the completion of navpatrika snan Puja of Jharia estate.
"After the Belbharni Puja the puja was performed in  our Kothri Ghar of Shira Ghar where the Royal Sword Puja was also performed followed by Chandipath etc,"  said Rani Snehlata Devi wife of Kunwar Raja Bisheshwar Prasad Singh.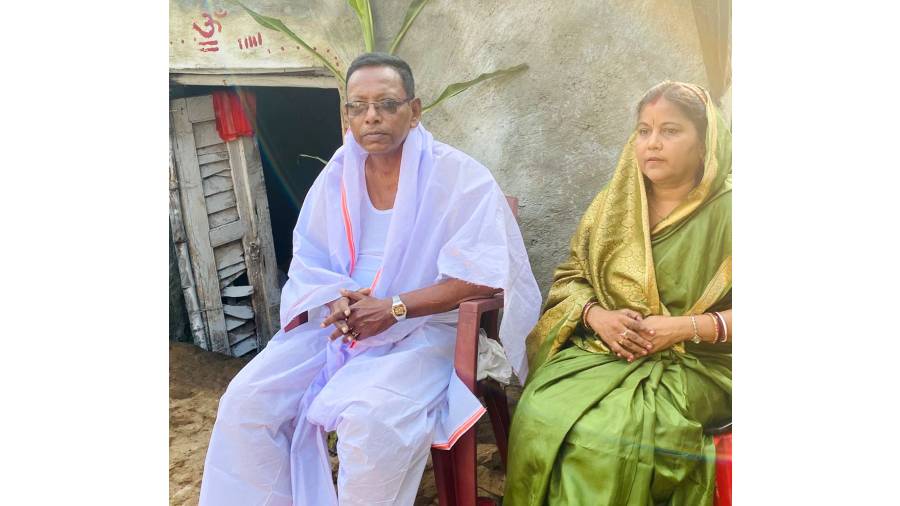 Notably, Durga Puja began in Jharia estate over 300 years back during the reign of former Jharia King, Late Sangram Singh who constructed the Durgabari near the old fort.
Not only is the puja of Jharia estate but the Dura Puja of four other vassals of Jharia estate based at Poddar Para, Mishir Para, Amla Para and Jharia main Road also began almost at the same time when the puja of Jharia estate began. And they are still performed in strict adherence with the old tradition.
While the Puja at three of these places including Mishra Para, Poddar Para and Main Roa is performed by the descendants of three different priests; Durga Puja at Amla Para locality of Jharia is performed by ten different courtiers of Jharia estate.
Talking to The Telegraph Online, Sujit Mishra, a descendant of the Sujit Mishra, a descendant of Late Nand Kishore Mishra, the chief priest of Jharia estate who started Puja at Mishra Para in mid 19th Century, said, "The puja at all the five places assumes special significance for the history of district and especially the residents of Jharia and despite the huge Pandals lighting arrangements at different places people do not forget to take the blessings of Jharia Rajbari puja before venturing on visit to see different Puja Pandals."