No one will die of hunger: Hemant Soren
'I raised local issues during my campaign'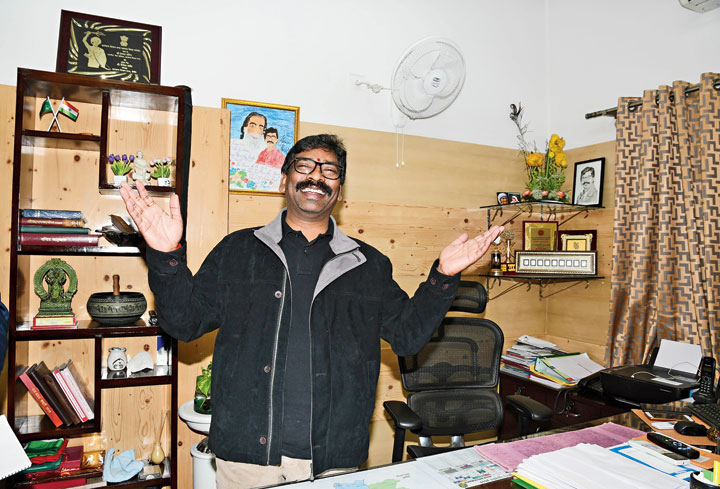 Chief minister-designate Hemant Soren at his residence on Kanke Road in Ranchi on Saturday.
Picture by Prashant Mitra
---
Ranchi
|
Published 28.12.19, 11:00 PM
|
---
Hemant Soren was a busy man on Saturday, a day before he is to be sworn in as the 11th chief minister of Jharkhand. From corporate honchos to common people, he was besieged by visitors.
Amid all of that, Hemant spoke to The Telegraph on whether the Jharkhand verdict has national ramifications, promised to be open to criticism, and said he would review decisions of the previous dispensation including the FIRs against thousands of people in the crackdown against the pathalgadi movement (a tradition of erecting stone slabs that tribal villages tweaked to assert their rights guaranteed under the Constitution). Excerpts:
TT: What are the immediate challenges before you?
Hemant Soren: There is a mountain of aspirations and on the other hand there is a chasm of mismanagement and I will have to make way between the mountain and the chasm.
TT: Do you feel the Jharkhand verdict has national ramifications or was it localised anger against the ruling party?
Hemant: People were unhappy over the arrogance of chief minister Raghubar Das, and he failed to solve the problems of Jharkhand. I raised local issues during my campaign.
TT: What is your take on the National Register of Citizens and the Citizenship (Amendment) Act?
Hemant: On both the issues a lot of activities are going on across the country. A number of people have lost their lives. Authentic papers related to both the issues are not before me, but… how many lives can we take? How many youths and policemen can we kill? How many women we can turn into widows? How many children will become orphans? The decision to implement both (the CAA and NRC) depends upon whether we can take lives.
TT: Jharkhand witnessed controversy and violence during the pathalgadi movement which was branded as an anti-national act. A large number of FIRs were lodged against thousands of people. What is your view on this?
Hemant: Whatsoever decisions the previous government has taken which angered and discouraged people and created inconvenience for them, will be re-looked into and accordingly further action will be taken.
TT: What other decisions of the previous government need a re-look?
Hemant: Not just pathalgadi, there are a lot of other things like people facing problems in getting food grains from PDS (public distribution system) shops with PoS (point of sale) machines. With all responsibility I am stating that nobody will die due to hunger and cold. Students face problems in availing scholarships. The anti-conversion law will also be examined. We will take decisions in the larger interest of people.
TT: How do you see the challenge of Left-wing extremism and allegations from rival parties that anti-Naxalite operations in Jharkhand would go slow under the JMM and that the security deployment will be scaled down?
Hemant: I want to know what will you do with security deployment when there will be no Left-wing extremism. Will forces be deployed to terrorise people? Today, who are the rebels? Those who don't have employment. You are not giving employment to people. An unemployed man has only two options — either he will kill himself or kill others, because there is no third way. They don't even have food to eat. They will either snatch food or will die of hunger. When people get jobs they will not pick up the gun.
TT: What will be the fate of big-ticket projects like the Adani power project in Santhal Pargana?
Hemant: Let me look into this. I am not opposed to industry. But interest of the state will be the first priority; after that we will look into these issues.
TT: You have alleged rampant corruption in the Raghubar Das-led government. Will you go for judicial inquiry or police investigation of alleged corruption cases?
Hemant: We will not compromise with corruption if something wrong has been done or is being done. Those involved in corruption will be punished.
TT: Do you think that the Raghubar Das government launched many schemes which were either for propaganda or were not useful? If yes, what will be the fate of such schemes?
Hemant: Construction of dobha (ponds) is wastage of money and land. The previous government launched Kamal Club (a scheme for promoting sports that the JMM alleged was a ploy to strengthen the BJP). If I speak they will criticise me. The previous government placed dustbins in the villages, but not a single dustbin is useful. The government did not fix responsibility to clean these dustbins. There is a big question: Who will allow dumping of garbage on his land? Even in the case of urban waste people are not ready to allow their land to become dumping ground.
TT: What about the Mukhyamantri Ashirwad Yojana, under which Rs 5,000 per acre is given annually to farmers, and the Ranchi smart city project? Will they be scrapped?
Hemant: Where has a smart city been built? You can't build a smart city only by lip service. We will construct smart villages and you will see our smart villages will be better than cities. As far as the Mukhyamantri Ashirwad Yojana is concerned, it is wastage of money. You are paying annually to farmers. If you calculate, you will find farmers are being given Rs 16 per day. Do you think farmers are beggars? We will make a different kind of arrangement for farmers and we will bring in such a system that they will be able to return the government amount along with interest.
TT: This is your second term as CM. What will be the key differences between your first tenure and this one?
Hemant: I am a human being. I am not a god. I commit mistakes but there will be least scope for error this time; the moment I come to know about a mistake it will be corrected.