Modi highlights Karnataka bypoll
Congress cannot be trusted to run an alliance government and can go to any extent for its own benefit, claims Modi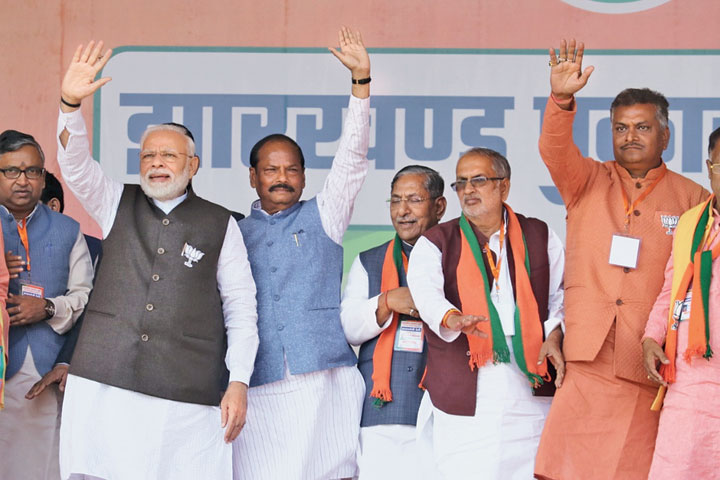 ---
---
Prime Minister Narendra Modi on Monday claimed that if the Congress comes to power in Jharkhand funds sent from Delhi would not reach the beneficiaries.
He was addressing an audience of over 1 lakh people at the Chakuratand ground in Barhi, around 133km from Ranchi.
He highlighted the Karnataka bypoll results — in which the BJP won 12 of the 15 seats — hitting the Congress hard. He said accused the Congress of delaying projects and issues related to people for its "vote-bank politics".
He said the Congress cannot be trusted to run an alliance government as it can go to any extent for its own benefit.
He said Jharkhand was the best example of the Congress's "dirty politics" where an Independent was made chief minister.
He didn't forget to mention Ram temple issue and the abrogation of Article 370.
"Just see, you gave the mandate for a stable and strong government in Delhi and so many of such issues were sorted out," he added.
"Kya aap Jharkhand ko barbad hone denge (Will you let Jharkhand go to waste)?" he asked, and the audience roared back in the negative.He highlighted the Karnataka bypoll at length, saying that it was a lesson for all.He said out of the 100 "aspirational" districts of the country, 20 are from Jharkhand where capable officers were taking all possible steps for development.
He praised the Raghubar Das government and termed its five years' work "phenomenal".
He said the BJP-led governments at the Centre and in the state had started many works in Hazaribagh such as bringing it on the rail map and establishing an agriculture institute. He said the rail line connecting Koderma and Hazaribagh with Ranchi reached very close to Sidhwar station. He said work on freight corridor is also going on in the area, which would ensure supply of goods here on time.
"We have planned to provide water connection to each and every house by 2024," he said.
He said voting in favour of the BJP would give 19-year-old Jharkhand new energy.
"You have to decide what Jharkhand's future will be," he told the audience. He asked them to raise their hands and take a pledge to vote for the BJP on December 12, and they obliged.