Namaste replaces handshake due to novel coronavirus fear
Special students of Jeevika greet morning walkers of Joggers' Park in Jamshedpur with namaste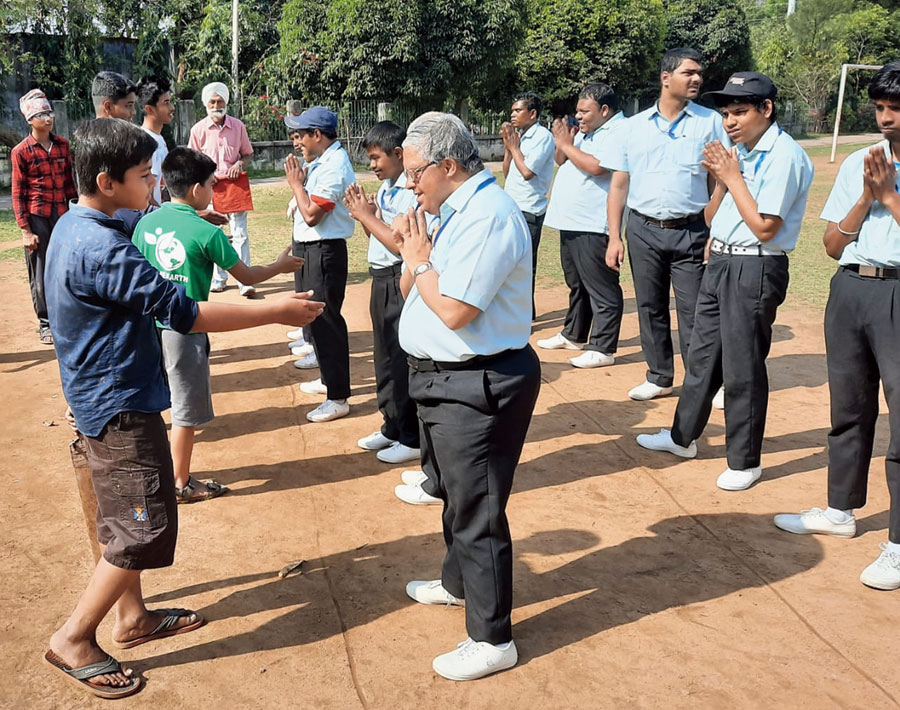 Special students of Jeevika greet children with folded hands at Joggers' Park in Sonari, Jamshedpur, on Friday.
Picture by Bhola Prasad
---
Jamshedpur
|
Published 06.03.20, 08:05 PM
|
---
The customary handshake and hugs have taken a backseat for the special students of Jeevika, a Sonari-based NGO working for the promotion of the intellectually impaired, thanks to the fear of the novel coronavirus. It's namaste for 24-odd specials of the school for the time being.
Morning walkers at Joggers' Park in Sonari were in for a surprise on Friday when the specials, who go there to do their drills, greeted them with namaste.
"Union sports minister Kiren Rijiju has warned the country's athletes to be extra cautious in the wake of the deadly coronavirus outbreak, saying they should avoid shaking hands and close contact while mingling with people. We are adhering to the minister's warning," said Avtar Singh, founder of Jeevika.
According to him, Jeevika's 24 students learnt how to skip shaking hands with each other and stick to namaste.
"Our students greeted morning walkers and some children who were playing cricket at the park. Today was the first day of the lessons and the students would learn in properly in due course of time," Singh, a seven-time national cycling champion, explained.
Jeevika secretary Sukhdeep Singh, who has done a course on mental retardation from Deepshikha, a Ranchi NGO, said they were extra cautious when it comes to the health of their students. "We could teach 22 students (out of 24) since two have very low IQ. But we will try to also teach them skipping handshake and instead adopt namaste," Sukhdeep added.
Jeevika founder Avtar Singh said they would also tell the parents of the students about the importance of frequently washing hands with alcohol-based sanitizer or soap in running water, covering face while sneezing or coughing, and always seek medical advice when not feeling well.
Jeevika is located in Sonari where specials make Diwali diyas, paintings, gift bags. They also attend fitness drills at Joggers' Park in the morning under the supervision of Singh.
Some of the intellectually impaired students of Jeevika have also represented and won medals for the country in international competitions.