Monsoon revs up, heavy rains likely from Sunday onwards
Low-pressure hub to bring showers for three days as it moves to Bihar, Odisha and Bengal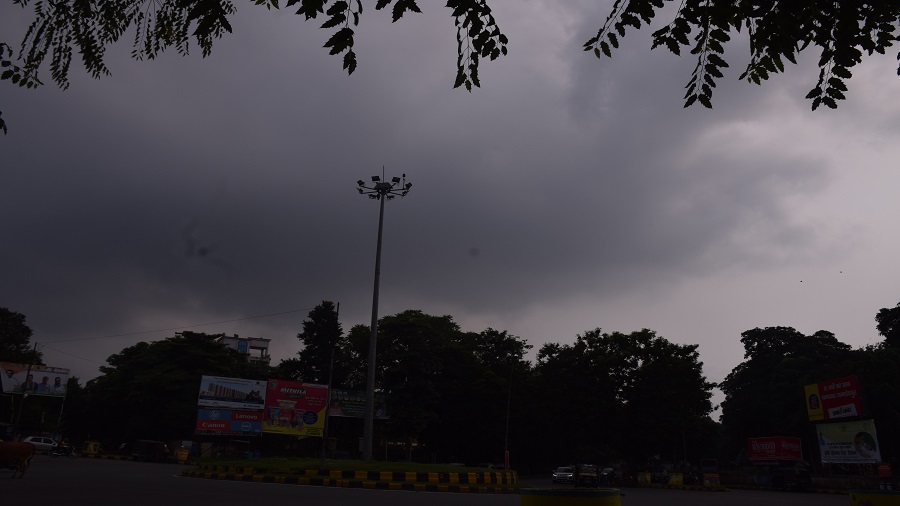 Cloud cover over Sakchi in Jamshedpur on Friday
Bhola Prasad
---
Jamshedpur
|
Published 18.09.20, 06:49 PM
|
---
The prevailing dry spell is likely to get over soon with IMD forecasting heavy rain in Jharkhand for three days from Sunday, September 20.
" A low-pressure area is developing over north-east Bay of Bengal. Due to the influence of the low-pressure several parts of Jharkhand are expected to get heavy rain from Sunday. The intensity of rain will be more in central and southern Jharkhand," deputy director of IMD's Ranchi Meteorological Centre Abhishek Anand said on Friday.
According to Anand, the low-pressure area will help revive the monsoon in Jharkhand even as it moves towards the west and impact West Bengal, Jharkhand and Odisha.
A dry spell was prevailing in Jharkhand as the monsoon had become weak. In the absence of rain, the deficit figure rose to 15 per cent in Jharkhand. Met statistics revealed that so far, the state has received 829.8 mm rain against a normal of 976.1 mm, which is a deficit of 15 per cent.
Due to limited rain during the past two weeks, as many as 18 districts find themselves in the deficit list, except for Dumka, Latehar, Palamau, Pakur, Koderma and East Singhbhum which experienced surplus rain.
Weatherman at IMD's Regional Meteorological Centre at Alipore in Calcutta also predicted heavy and widespread rain in Jharkhand from September 20 due to the impact of the low-pressure.
"We are expecting a good spell of rain in Jharkhand for the first time in September due to the formation of the low-pressure over the Bay of Bengal. Apart from central and southern Jharkhand, heavy rain is also expected in some districts of north eastern Jharkhand, " said a duty officer.
He said that as on Friday, the western end of the monsoon trough was running close to the foothills of Himalayas while the eastern end was passing through Bareilly, Faizabad, Patna Bhagalpur and Malda.
The north-south trough was running close to Bihar and interior Odisha across Jharkhand, extending up to 1.5km above mean sea level. This will also help Jharkhand get rain.