MLAs suggest rehabilitation for 1.04 lakh families
BCCL CMD vouches to solve the difficulties of people living in underground fire-affected areas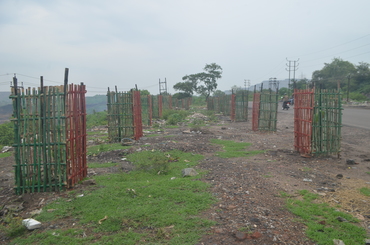 An empty plot of Bharat Coking Coal Limited.
PTI file picture
---
Dhanbad
|
Published 12.01.21, 09:13 PM
|
---
Dhanbad MLAs led by MP PN Singh on Tuesday suggested comprehensive rehabilitation for 1.04 lakh families of 595 fire-affected sites of Jharia. They have also demanded job creation, compensation and all basic amenities to be provided to these families in the proposed smart city, which will be developed on Bharat Coking Coal Limited (BCCL) land.
A comprehensive meeting regarding Jharia rehabilitation was organised under the chairmanship of Dhanbad's deputy commissioner Uma Shankar Singh. Also, present in the meet where chairman and managing director of BCCL Gopal Singh, Jharia MLA Purnima Singh, Dhanbad MLA Raj Sinha, Sindri MLA Indrajit Mahto, Tundi MLA Mathura Prasad Mahto and Nirsa MLA Aparna Sengupta.
Elaborating on the discussion that took place, the DC said, "We are taking the opinion of public representatives, which in turn will help in policy-making for the rehabilitation." He further assured the MLAs that the rehabilitation would be carried out by developing smart city on the BCCL lands.
MP PN Singh said, "People from the underground fire-affected areas should be rehabilitated in the nearby non-coal bearing areas to avoid discomfort".
He also stressed on the need to provide employment to the rehabilitated people. "Any rehabilitation can't be complete without ensuring the source of livelihood," he said.
On the other hand, Jharia MLA Purnima Singh has suggested the 4C formula for rehabilitation including implementation of 2004 cut-off date for settlement in fire-affected areas, timely compensation, movement from fire-affected areas in clusters and provision of all basic facilities in the countryside where people would be rehabilitated.
"It is really difficult to win the confidence of the people by just promising them that they will get all the facilities before carrying out the rehabilitation work," said Singh.
Meanwhile, Nirsa MLA Aparna Sengupta and Tundi MLA Mathura Prasad Mahto suggested the development of smart villages along with the smart city.
BCCL CMD said, "The smart city will be equipped with all the facilities". He further added that they will solve all the difficulties of people living in underground fire-affected areas.
Since the rehabilitation work started on March 25, 2010, only 4,500 families out of 1.04 lakh living in the 595 underground fire-affected areas have been rehabilitated to the newly developed quarters at Belgarhia area of Baliapur.