Meet Giridih's gatecrasher with a green heart
Home Guard cop turns up uninvited at parties with a sapling & a song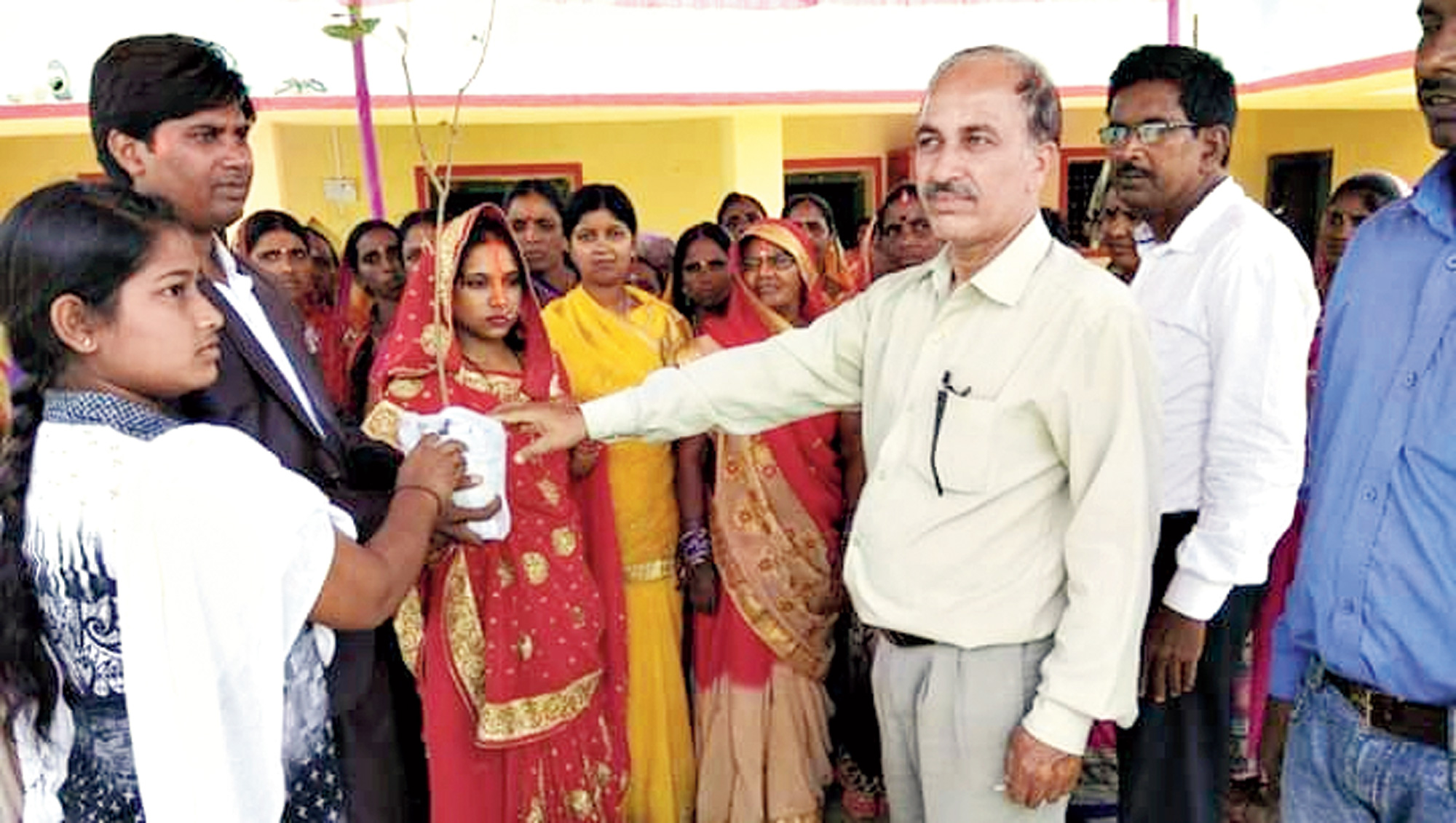 Best wishes: Shivshankar Gope presents saplings to a newly wed couple in Giridih last month.
The Telegraph picture
---
Jamshedpur
|
Published 18.02.19, 07:43 AM
|
---
The planet would thank this party gatecrasher.
Shivshankar Gope, 48, a Giridih-based Home Guard for the past 29 years, is a man on a unique green mission. On various occasions such as weddings, birthdays, housewarmings, thread ceremonies and so on, he's turned up uninvited but with a gift. The gift of a sapling for the family to plant and mark the occasion.
Part of his campaign for trees against global warming, so far, Gope said, he had been able to get over 400 trees planted in the last five-plus years through his campaign Vriksh Ganga that started on September 22, 2013. And in the course of various programmes initiated by the forest department, he has helped people plant more than 25,000 trees.
Gope's style of entry at an event is unique. He enters with aplomb, with at least two more volunteers, a plant expert and a singer-composer. He gifts the sapling — mainly fruit-bearing such as guava or mango, or something versatile such as neem — to the family while the expert enumerates why tree plantation is vital, how that particular species would be good for them and how to take care of it.
The third person, the singer-composer, makes the occasion festive by composing a song impromptu, so that people form an emotional attachment with the green gift and learn the value of environment conservation.
Even in funerals, he comes with a sapling, requesting the bereaved to plant it in the memory of the departed.
So how did it all start?
Gope said he was inspired by Giridih's famous van devta, green crusader and teacher Vishwanath Mandal, who in his lifetime educated people about the importance of environment and forests. "When he (Mandal) passed away in 2008, he left me inspired. I started this campaign and named it Vriksh Ganga so that there would be no shortage of trees and the work of my guru will continue," Gope said, adding he chose family functions as his target audience because of a large spectrum of people present in such gatherings. "Family members apart, there are guests of all age groups and they are in a social setting so they are more receptive to ideas."
Gifting a sapling is not the end of his campaign. The team monitors the saplings, their survival and growth wherever possible. However, all saplings do not grow up to be trees and survival rate is a little more than 50 per cent, he admitted.
"Survival is the vital part. Many don't continue looking after the saplings after some time. Others do. I know of a girl to whom I gifted a guava sapling on her bidaai (when a bride leaves her family for her in-laws' home) and she took to Bengal. She recently told me that the guava tree is about to bear fruits now. She has taken good care of it," Gope, whose work was awarded by the Giridih administration in 2016, said.
Gope aims to expand the Vriksh Ganga campaign to other districts of the state as well. "I've visited Ranchi to gift a sapling to former director of RIMS Dr Tulsi Mahto. I hope I get volunteers in other cities too so that we can spread the good word," he said.