Marandi needles Hemant govt over sedition FIR on BJP leader
'If Prakash is a threat to the country, how can he be allowed to roam free?'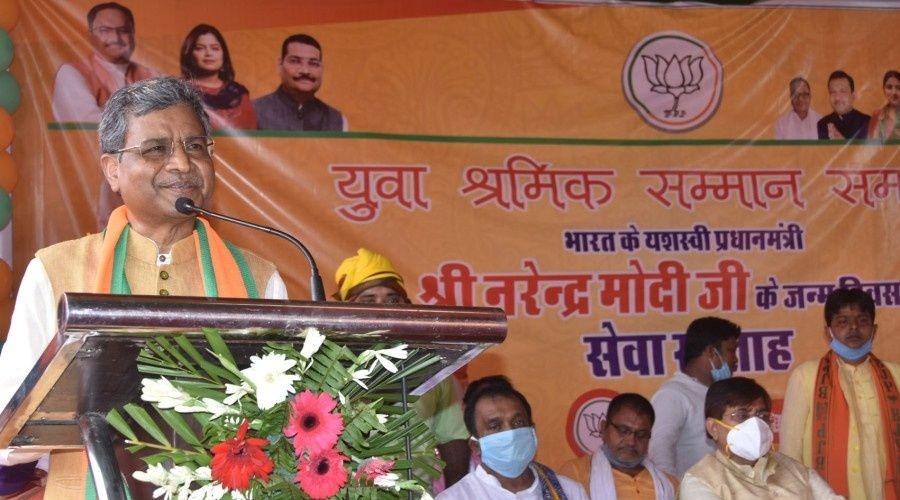 ---
|
Ranchi
|
Published 02.11.20, 06:15 PM
---
Babulal Marandi wondered why state BJP chief president Deepak Prakash had not been arrested by the state government that has slapped sedition charges against him, the former chief minister's dare coming on Monday barely 24 hours before voting for two crucial byelections is to take place.
Two days ago, the JMM-Congress-RJD government filed an FIR against Prakash in Dumka under four IPC sections, including 124A amounting to sedition, over his alleged threat to "topple the government in the coming months" while campaigning in Dumka last week.
On Sunday, Prakash also dared the government to arrest him, stating that he would be in Ranchi till Monday morning. He added that he stood by what he said in respect to the future of the Hemant Soren government.
Marandi addressed reporters at BJP headquarters in Harmu after his return from Dumka on Monday. "A person charged with sedition is regarded as a threat to the country. How can he be allowed to roam free? Two days have passed after the FIR, but no arrest. Why?" he said.
Marandi added that Prakash was scheduled to go to Delhi on Monday but that he had cancelled his trip. "I requested him to stay back so that none can allege that he fled Jharkhand. Tell us when and where to come to get arrested," Marandi said.
The senior BJP leader claimed that he, too, had said what Prakash had said about the future of the Hemant government. "I am ready to face a case now. It is clear the state government is misusing sedition charges," he said.
JMM countered Marandi, saying the law would take its own course. Party general secretary Supriyo Bhattacharjee said, "We have filed an FIR and now it is up to the police to probe and the courts to decide if he (Deepak) is guilty or not."
He, however, added that BJP's continuous threats over stability of the government was proof enough that the saffron party was trying to hatch a conspiracy against a democratically elected state government. "But the numbers are with us and let me remind them (BJP) again that this is no Karnataka or Goa. Any kind of political misadventure will prove costly for them," said the JMM leader.