Man shot dead in the heart of Ranchi
Police clueless about motive & identity of murderers of finance company's loan recovery agent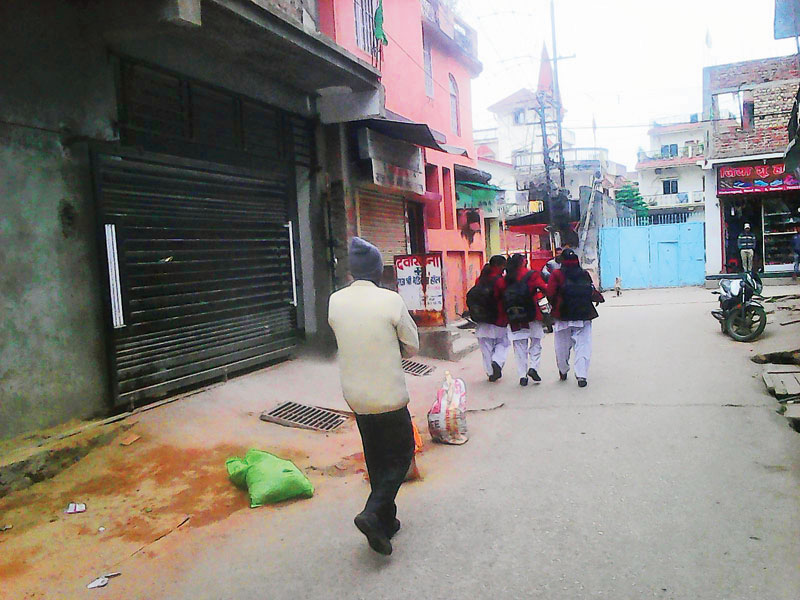 ---
|
Ranchi
|
Published 07.02.20, 07:44 PM
---
Six unidentified men gunned down the loan recovery agent of a non-banking finance company at Kishoreganj under Sukhdeonagar police station, in the heart of the state capital, on Thursday night.
Mukesh Jalan, 35, who used to work at Mahindra Finance, was on his way to his residence at Rajahatu on Road No. 2 in Kishoregunj from Garikhana on foot when he was shot in the back by one of the six men on two bikes, local residents said.
Recounting the sequence of events, a local resident said: "The distance between Mukesh's home and his father Pannalal's mobile repairing shop at Garikhana from where the 35-year-old was returning is hardly one-and-a-half kilometres. Mukesh, who was walking, had barely entered Road No. 2, when one of the six men whipped out a gun and shot him in the back. As Mukesh fell, the six men sped away towards Ranchi hills."
The resident said the incident took place in front of JMM leader Naveen Chanchal's house.
Another local resident told The Telegraph that Mukesh was talking to his brother-in-law over mobile when the bullet was fired.
"His brother-in-law grew suspicious when Mukesh abruptly stopped talking after the gunshot. He informed Mukesh's family members who came out of the house and started searching for him. Soon they stumbled upon a profusely bleeding Mukesh lying on the road," the resident said.
The victim was first rushed to Nagarmal Modi Seva Sadan, which referred him to Orchid Hospital where the doctors declared him brought dead.
Deputy superintendent of police (Kotwali) Ajit Kumar Vimal said Mukesh took a .315mm bullet.
On the motive behind the murder, he said: "The matter is under investigation. So far, we neither have a clue about the murderers nor the reason behind the incident. Preliminary investigation has revealed the involvement of six men who had come on two motorbikes. None of them was wearing a helmet," Vimal said.
A neighbour of the Jalan family said Mukesh had been with Mahindra Finance for eight years and used to work as a loan recovery agent.
"He used to leave his house at 9am and return at night. He was a decent man and had no enmity with anyone. He is survived by his parents and wife, " the neighbour added.
Of late, Sukheonagar has been making headlines for all the wrong reasons.
On Thursday, police had detained three juveniles for the murder of a 22-year-old man, Ankush Sharma, whose body was recovered from Birla Maidan in Sukhdeonagar on Tuesday.
Police said the boys, aged between 16 and 18, killed Ankush as he happened to like the sister of one of them.
The body was found with legs and hands tied. It was covered with soil, stone chips and sand.