Man-made reservoirs for prayers
Alternative arrangements to beat polluted river banks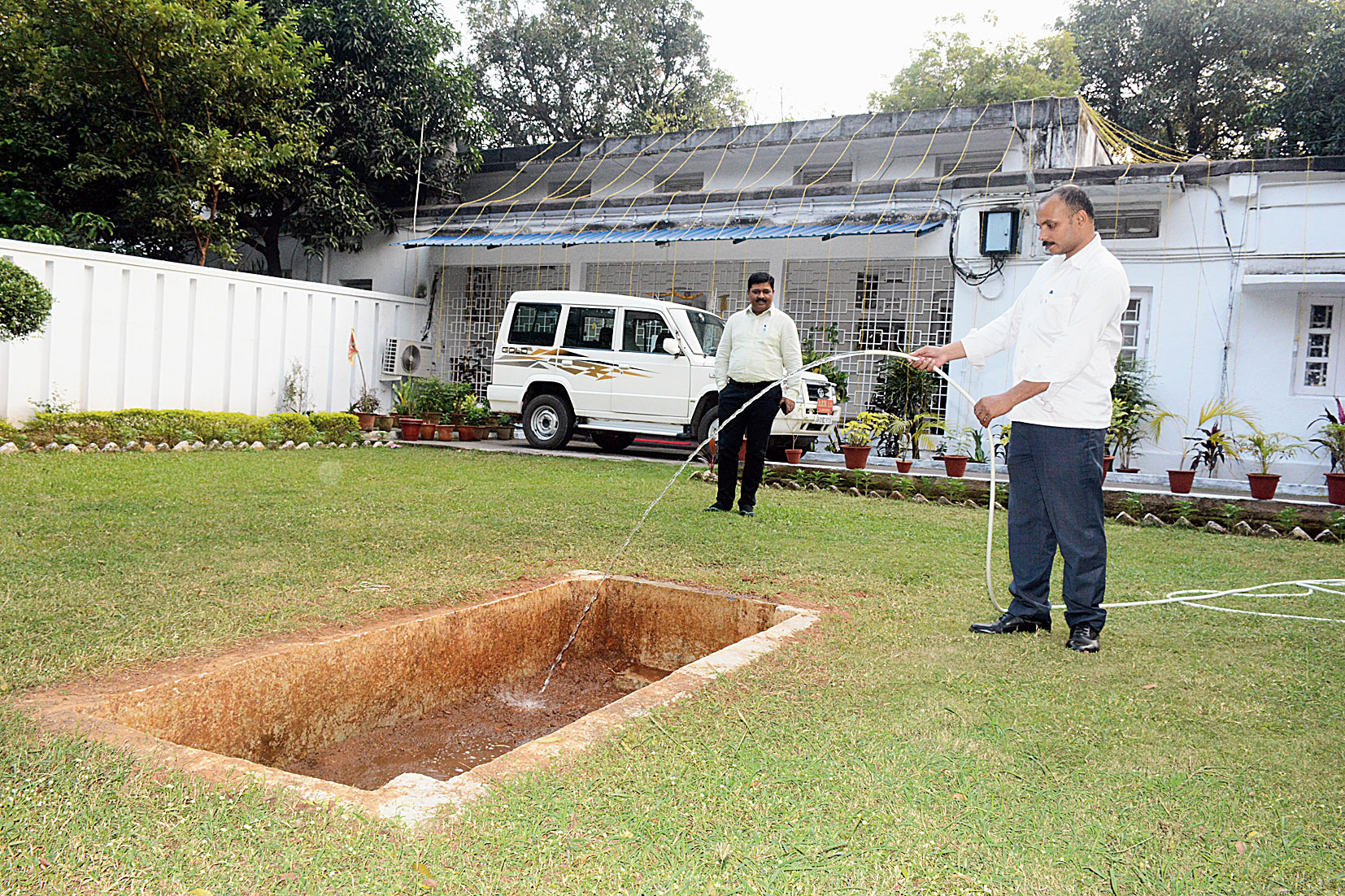 ADM (law and order) Subodh Kumar supervises Chhath preparations at his residence in Northern Town, Jamshedpur, on Saturday.
(Bhola Prasad)
---
Jamshedpur
|
Published 10.11.18, 06:42 PM
|
---
Unhygienic ambience and polluted ghats have forced many Chhath vratis to look for alternative arrangements to offer their prayers.
Instead of visiting the nearest river ghats, many devotees have set up small artificial reservoirs on their garden, courtyard and on terrace to offer arghya on November 13 and 14. Unhygienic ambience, unnecessary exertion and time consumption are some of the basic reasons that have prompted families to create temporary small water reservoirs using bricks, sand and polythene sheets.
Shilpi Shalini, wife of ADM (law and order) Subodh Kumar, who has been observing Chhath for last many years has always preferred to offer arghya at her home in Northern Town. This year she has dug out a small pit in her garden to observe the rituals.
"River ghats are not only dirty but also chaotic. One has to literally jostle for space. Also it's a mental exhaustion to wake up and leave for the ghat early in the morning. So I prefer to carry out the rituals at home itself," said Shilpi.
Similarly, fitness instructor Tripti Singh also prefers to observe the arghya on the terrace of her Adityapur residence. "There are too many problems at the ghats and parking is one of them. It is difficult to carry the basket and other puja materials to the river. Changing clothes at the ghat is another issue," said Tripti.
Even though JNAC has been requesting people not to dispose puja paraphernalia on Subernarekha, Pandey, Domuhani and Sati ghats, several water bodies are bearing the brunt of Kali Puja immersions.
According to JNAC special officer Krishna Kumar enough measures are being taken to keep the ghats clean.
"Even though we have initiated a number of awareness drives but it takes time to change the mindset of the people. We have also pressed workers to clean the ghats at the earliest," said Kumar.