Lending a voice to Santhali
Read more below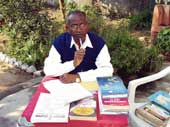 ---
---
Digambar Hansda at his residence in Jamshedpur.Picture by Bhola Prasad

A name that is synonymous with tribal culture and language is Digambar Hansda.He is someone who has put in consistent effort for the development of tribal people and their language. Right from taking an active interest in developing the language to designing courses for intermediate and undergraduate students, Hansda has done it all.
And above all, he has shown that irrespective of the background, a person can achieve great heights, if only they have the will to pursue dreams.
Born in a small place of Dovapani on the outskirts of a town, his initial years saw him coping with a lot of struggles. Born into a family, which pursued agriculture as a profession, Digambar does not mind working in the fields even today. Instead of forgetting his background, he is proud of the fact that he can actually do a fair job with both professions.
?Even at this age, I have no qualms about farming and continue with my ancestral work. I am happy that I did not let my family down when they needed me the most,? recalls Hansda.
Hansda completed his elementary education from a low-profile Rajdoha Middle School, after which he attended Manpur High School and later went on to obtain his graduate and post-graduate degrees under the then Bihar University, which was later christened Ranchi University by the time he finished his course
He specialised in political science, a scope which he believes gave him an insight into the changing political situation.
Deeper interest and perusal of casual politics later saw him develop an interest in Santhali culture, more in the language than anything else.
?Though I wanted to go out of the state to pursue further studies but I to look after the vast stretches of land that the family possessed,? remembers Hansda. ?It was a real challenge to pursue both my studies and be actively involved with a host of other activities,? adds Hansda.
Post college, it was time for the youngster to take charge as the secretary of the then Tisco Adivasi Co-operative Society.
It was the first step for Hansda as he began his life mainstreaming those who were marginalised. The organisation mainly worked towards the upliftment of the tribal people and tried to create job opportunities for them by running a number of vocational courses. In the larger scheme of things, the organisation aimed to equip them with channels of self-employment and self-sufficiency.
?It was later that we realised that the first step towards independence begins with education,? said Digambar with a smile of satisfaction looming large on his face.
Soon, he managed to establish an educational institution for tribals to ultimately benefit from it. ?Our aim was to give them an insight into education and create a curiosity for more,? he added. One of the founder members of RP Patel High School, Jugsalai, he realised that his objective was not being met by establishing a school alone. ?We ended up catering to urban children. That was not what we wanted,? admits Hansda.
To give things a desired direction, he took the help of a few social workers and was able to convince them of the impending necessity of acquiring land for an institution. Finally he managed to procure an 11.5 acre land in Karandih for a meagre amount of Re 1 as token money for a lease for 33 years.
One of the pioneers of Santhali language, Digambar Hansda regularly visits villages to collect folk-tales and songs from the villagers. He makes continuous efforts to compile them and spread an awareness about the richness of the primitive tongue. ?Braving odd weather, we have been to villages in Potka and Ghatshila to collect literary pieces from local artistes,? says Hansda. For Hansda and his friends, the commitment was so great that nothing could stop them from achieving their goal.
The founder president of Santhal Sahitya Academy, Hansda did major work in Santhali and developed the nitty-gritty of the language. ?Our objective was to remove mental blocks from people?s minds and to enlighten them with knowledge,? adds Hansda.
With time, Hansda became all the more involved with Santhali. His greatest achievement was when their organisation organised an international seminar in Karandih.
In the year 1993 the organisation helped some Santhali people get the citizenship of Nepal and the same year also saw an official recognition as a language there.
Under the State Government, he compiled a course in Santhali language for the intermediate, undergraduate and post graduation degree courses.
He doubled up as a question setter and also formed a panel of examiners for the students. In 1985, he became a member of the Central Government?s Tribal Research Institute and started the translation work of the syllabus books from Devanagari script to Santhali, first for the primary class students and then for the senior classes. Unfortunately these books never saw the light of the day.
But his persistent efforts continued and today, he has succeeded in creating an awareness among people.
Recently conferred an honour by the Government of India to translate the Constitution of India from the Devanagari script to Santhali, Digambar has started work afresh to further the development of Santhali.
Saswati Mukherjee