Left parties to launch awareness drive against new forest rules
Brinda Karat expresses shock at 'silence' of Union tribal affairs minister Arjun Munda who hails from Jharkhand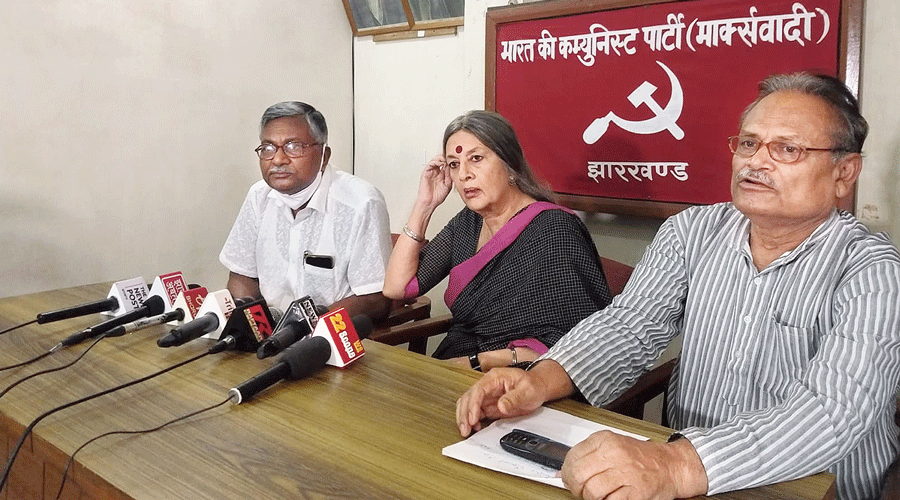 CPM leader Brinda Karat (centre) addresses journalists at Ranchi on Thursday.
Manob Chowdhury
---
Jamshedpur
|
Published 15.07.22, 12:22 AM
|
---
CPM politburo member Brinda Karat announced that Left parties along with like-minded organisations will launch a state-wide awareness campaign in Jharkhand against the amended Forest (Conservation) Rules 2022 and expose the Centre's intention towards tribal.
Karat, a former Rajya Sabha MP from Bengal, was in Ranchi for a party meeting.
Speaking to reporters, she said: "Our party will be organising mass awareness campaign among tribal across Jharkhand and expose the real intention of the BJP-ruled central government towards tribal cause. On one hand they trumpet their love for tribal uplift with a tribal presidential nominee (Droupadi Murmu) and on other hand they are eliminating rights of gram sabhas and tribal communities dwelling in forests through such amendment."
Significantly, Centre's new Forest Conservation Rules 2022 published on June 28 faces criticism for allegedly diluting certain provisions on recognising forest rights before granting clearance to a project. Opposition parties have alleged that the rules have also removed obligation to get gram sabha consent, which was introduced through an amendment in 2017.
Karat also expressed shock at the 'silence' of Union tribal affairs minister Arjun Munda who hails from Jharkhand.
 "He is an elected representative from Jharkhand (Khunti) and I would like to mention that tribal affairs ministry had strongly objected to the amendments officially on April 5, 2019 and also on several occasions. Being the minister of this ministry and hailing from a tribal state of Jharkhand I fail to understand why Arjun Munda ji is silent and instead supports the move," said Karat.
Karat also shared to the media a letter to Union environment minister Bhupendra Yadav, in which she has said that the amended rules were aimed at corporatisation and not conservation.
"It is objectionable, condemnable and unacceptable how the amended rules have totally eliminated the rights of gram sabhas and of tribal communities and others living in forests," the letter states.
 "The rules say that the state government should consider all issues having direct and indirect impact on forest, wildlife and environment but no mention of tribals here. Therefore, at no stage is there any right of tribals or other traditional forest dwellers living in the forest to give or not give consent. It is the Central government which will give its final approval and collect the payment for compensatory afforestation with no responsibility whatsoever for protection of tribal rights," it said.
Karat said that the changes were brought in without prior consultation with those who would be affected.
"The procedure of parliamentary approval is reduced to a mere formality. Given the consequences which will surely arise once these rules are implemented, the government should put them in abeyance till there is a public discussion and opinions elicited from all those sections likely to be affected," the letter urges.
Jharkhand CPM state general secretary, Prakash Viplav said that leaflets are being readied and would be distributed in each block of Jharkhand highlighting the adverse impact the amended rules will have on tribals.
 "We will be distributing leaflets at each block and villages and also organise demonstrations and submit our memorandum through block development officers to the Prime Minister to take back the amended rules," said Viplav.