Lalu's health deteriorates, may need dialysis
The RJD chief whose bail hearing is on Friday, is suffering from hypertension, diabetes, kidney and heart ailments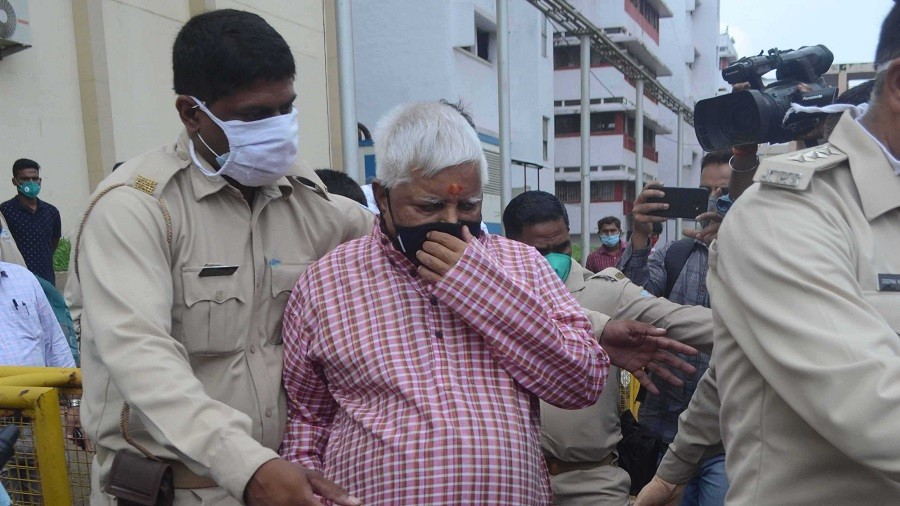 Lalu Prasad at Rajendra Institute of Medical Sciences (RIMS) in Ranchi.
Telegraph Picture
---
Ranchi
|
Published 08.11.20, 06:36 PM
|
---
RJD chief Lalu Prasad, who has been under stress associated with the Bihar Assembly polls, is suffering from kidney malfunctioning and may have to undergo dialysis if his condition deteriorates further, doctors at Rajendra Institute of Medical Sciences (RIMS) said on Sunday.
"His blood creatinine levels are higher than normal. It would be too early to say whether he needs dialysis or not, but he may have to undergo the process if his condition deteriorates further in the days to come," said Dr Umesh Prasad, who has been treating Lalu at RIMS since he was moved from the Birsa Munda Central Jail in Ranchi to the state-run hospital in 2018.
Dr Prasad said Lalu was also suffering from diabetes and other age-related ailments, so any abnormality in his health reports should not be ignored. "There are many other ailments that he (Lalu) is suffering from, but the inflated serum creatinine level is our greatest concern as of now," he added.
A CBI court on December 23, 2017 convicted Lalu in a fodder scam case related to fraudulent withdrawal of Rs 89 lakh from the Deoghar treasury between 1991 and 1994 and sent him to jail. A month later, he was convicted in another fodder scam case and sentenced to five years of imprisonment.
He was admitted to the cardiology wing of RIMS the next year after he complained of discomfort while serving his term at Birsa Munda Central Jail in Ranchi. Since then, he has been undergoing treatment at the hospital. In 2018, he was referred to All India Institute of Medical Sciences (AIIMS) in New Delhi from where he was later discharged and sent back to Ranchi.
As per the jail manual, Lalu was allowed to meet three visitors on Saturday. However, he refused to meet anybody on the day and preferred spending time alone, doctors said.
The Jharkhand High Court on Friday deferred Lalu's bail plea hearing to November 27. The RJD chief's lawyer, Kapil Sibal, said that Lalu has completed half of the seven-year sentence awarded to him in fodder scam and urged the court to release him on bail.
In August 2014, Lalu underwent two major heart surgeries — one to replace an aortic valve and the other to repair the aorta, at Asian Heart Institute in Mumbai. He has since been under medications.
He has also had four episodes of perianal abscess, an infection in the rectum which may lead to formation of fistula, doctors said. Currently, he is under medication for hypertension, diabetes, kidney and heart.