Know Constitution like the scriptures: Ranchi's protesting women
Jharkhand's Shaheen Bagh against 'black laws' turns a month old, women warriors say they are here to stay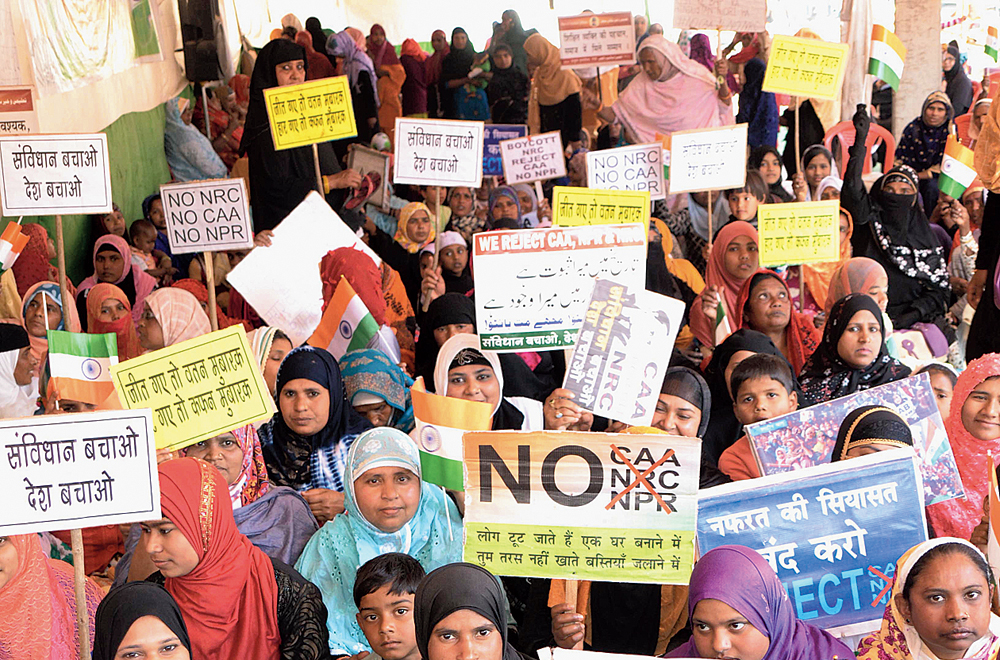 Women at the sit-in in Kadru, Ranchi, against the new citizenship matrix on Wednesday
Picture by Manob Chowdhary
---
Ranchi
|
Published 19.02.20, 06:54 PM
|
---
"We must know the Constitution as well as we know the kalmas," said a middle-aged lady at the state capital's "Shaheen Bagh" at Kadru, which turned one month old on Wednesday. "Or shlokas and mantras."
The protest by Ranchi women against the new citizenship matrix, which started on January 20, completed a month on Wednesday.
Like the Shaheen Bagh demonstration in Delhi, which got going on December 14 with a handful of women starting a peaceful sit-in and has now grown into a huge protest, the Kadru sit-in near Haj House also started small but is now a protest with over 500 women coming to the site every day to protest against what they term "black" citizenship laws.
When The Telegraph went there in the afternoon, around 200 women were present, many more had gone home "for lunch or to feed their families".
"They'll be back soon," smiled a middle-aged woman who identified herself as Nussi apa. "Apa means elder sister," she said. "Here, Muslim or non-Muslim, they all call me by this name," said the woman who also runs a general store at Ashok Nagar.
She added that they began every morning by reciting the Preamble of the Constitution and reading the Constitution to know the guarantees it gives to all citizens of India."
What about her family responsibilities? "Woh sab toh hota rahega, aab yeh zyada zaroori hai (Those will go on but this is more important now)," she said when asked why she stayed put at the protest venue for a month. "Most of my time goes here (at the protest venue). My husband is very understanding," she smiled.
She added that the protest has made many women, who never stepped out of their homes and hearths, join them, read and recite the Preamble of the Constitution, ask questions about the Constitution to understand why exactly the CAA, NRC and NPR were discriminatory. "Not all the women are educated, but they want to learn, understand. Many come from rural areas to join us," she said. "Every day."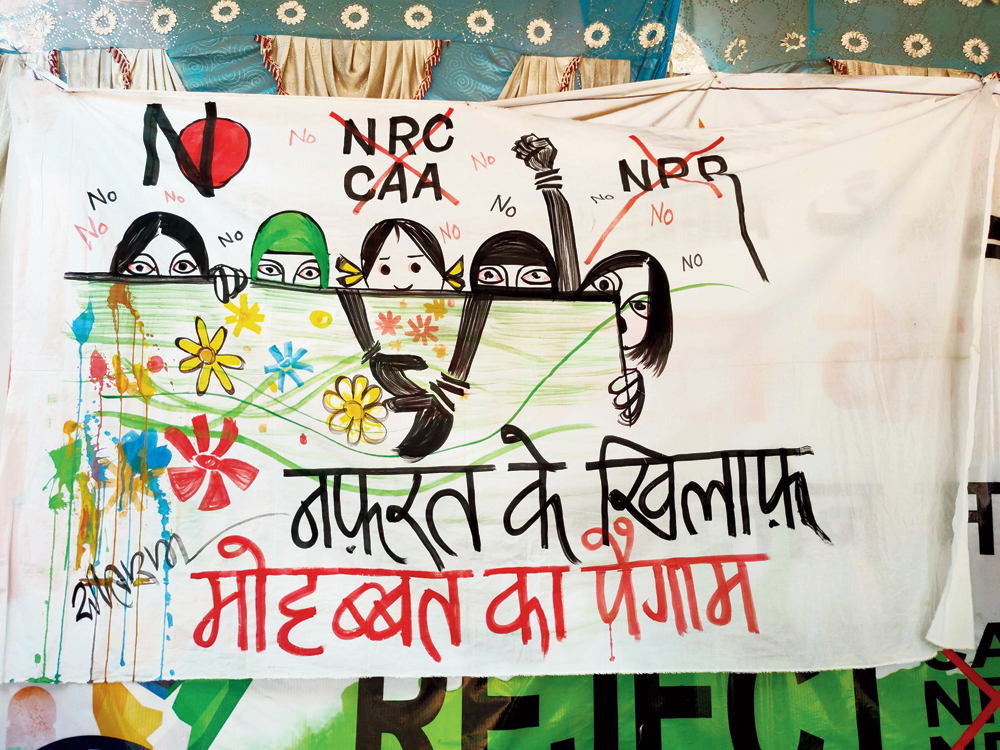 Afida Begum, who runs a tea stall next to Haj House, does odd jobs to make protesters comfortable."I sweep the area clean and dust the carpets. No job is small," she said, adding that her husband and daughter ran her tea stall.
"Women take part in cultural events hosted by volunteers such as Swati Narayan, Elina Toppo and Varsha Poddar," said Tanweer Ahmed, the media in-charge of the movement here. "Women who have never joined a political movement are here, expressing themselves," Ahmed added, pointing to a painting with the words Nafrat ke khilaf mohabbat ka paigham (Message of love against hatred).
"From books to biryani, there are all kinds of donations. We have opened a makeshift library here with books donated by well-wishers, many on the law and the Constitution," Ahmed added.
A hardware dealer, Md Saif Ahmed, came up saying he'd bring 400 packets of veg biryani later on Wednesday.
Around the same time, over a hundred anganwadi workers, led by their state president Meera Devi and social worker Renu Prakash, joined the protesters. Nussi apa had started speaking in a steady voice. "We respect the Supreme Court's decision to uphold the right to protest. We are here to stay."