Kirti Azad fires Rafale salvo
He also brought up the issue of non-allotment of AIIMS or IIM to Dhanbad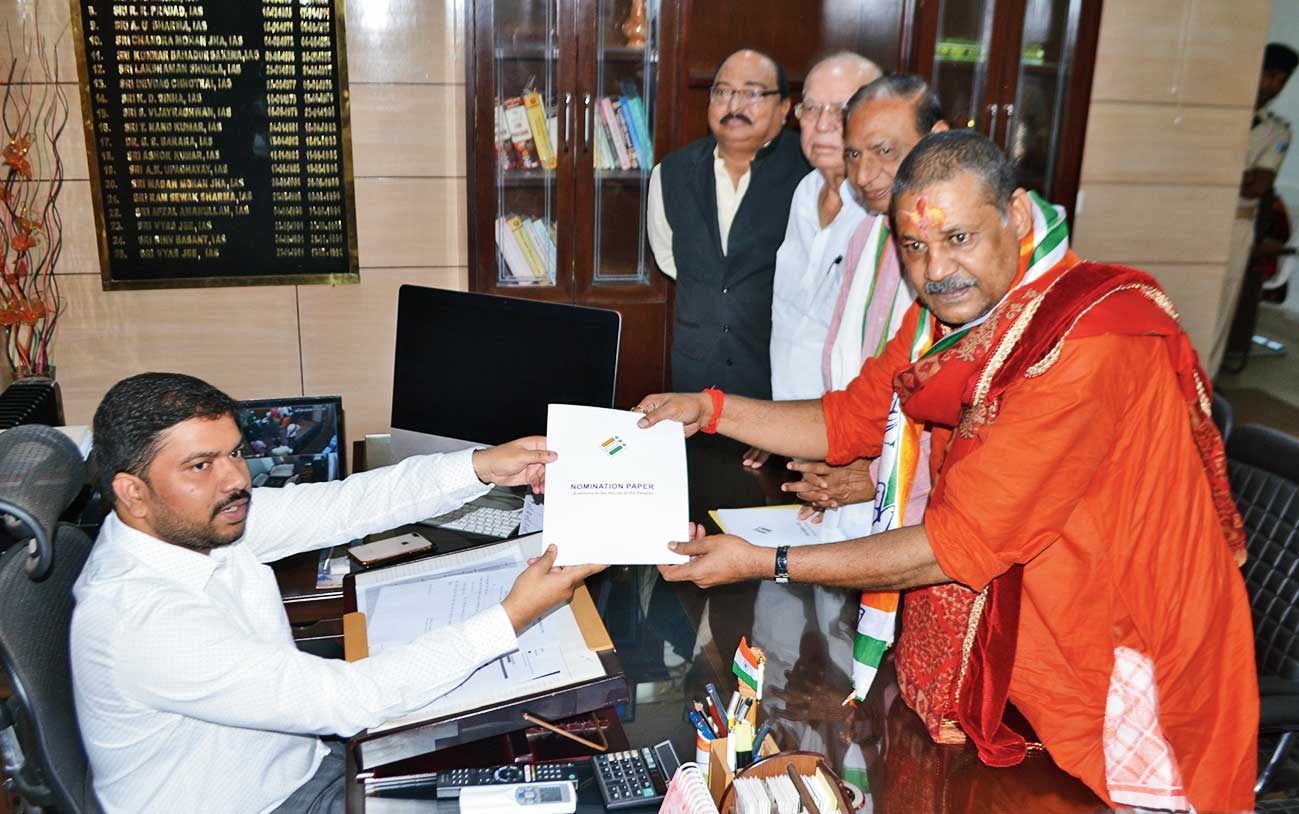 Kirti Azad files his nomination at district collectorate in Dhanbad on Saturday.
Picture by Gautam Dey
---
Dhanbad
|
Published 20.04.19, 06:34 PM
|
---
Congress's Lok Sabha candidate from Dhanbad Kirti Azad, who filed his nomination at the district collectorate on Saturday, came down heavily on the Narendra Modi-led government at the Centre for favouring big industrialists like Anil Ambani at the cost of state-run companies.
Azad, who addressed a public meeting at zilla parishad ground in the presence of senior leaders of his party and the grand Opposition alliance, also targeted Dhanbad MP P.N. Singh for failing to address crucial issues like water scarcity, erratic power supply, displacement, poor condition of coal workers and the relocation of the historic RSP College from Jharia.
Among those present at the event were state Congress president Ajoy Kumar, district Congress president Brajendra Prasad Singh, RJD's Araria MP Sarfaraz Alam, former animal husbandry minister Mannan Mallick, former mines minister Om Prakash Lal, former Jharkhand Assembly speaker Alamgir Alam and Nirsa MLA Arup Chatterjee.
Firing the Rafale salvo at Modi, Azad said, "The government had favoured Anil Ambani in connection with the Rafale deal to provide him a benefit of around Rs 31,000 crore by ignoring Hindustan Aeronautics Ltd (HAL). Established more than 60 years ago, HAL has an excellent track record of producing fighter jets such as Sukhoi, Mirage and Jaguar. Now the same money is being repaid by way of election expenses. Who do you think is putting up these large banners and posters for BJP?"
Targeting the Dhanbad MP, Azad said scarcity of water, erratic power supply and the poor condition of coal workers were the outcome of Singh's inaction.
"The historic RSP College was shifted from Jharia to Baliapur, but Singh never uttered a word," Azad added.
He also brought up the issue of non-allotment of AIIMS or IIM to Dhanbad.
"Thousands of people visit PMCH every day from various adjoining districts. Had AIIMS been established here, it would have been helpful for a large number of people. But neither AIIMS, IIM nor an airport could be set up in Dhanbad due to the negligence of the MP," Azad alleged.
Referring to the BJP government's plan to privatise public sector units like Damodar Valley Corporation, Bokaro Steel and Coal India, Azad said the move would make all jobs contractual and the contractor would take Rs 5,000 from a salary of Rs 10,000.
State Congess president Ajoy Kumar said, "Kirti Azad is a good parliamentarian having a good profile. The profile of the constituency will also improve under his leadership."
Lauding Rahul Gandhi's common minimum income guarantee scheme, Kumar said half of the country's problems would be solved by it.