Jumbos from Bengal on rampage in Chandil forest range
Elephants wipe out standing crops and target homes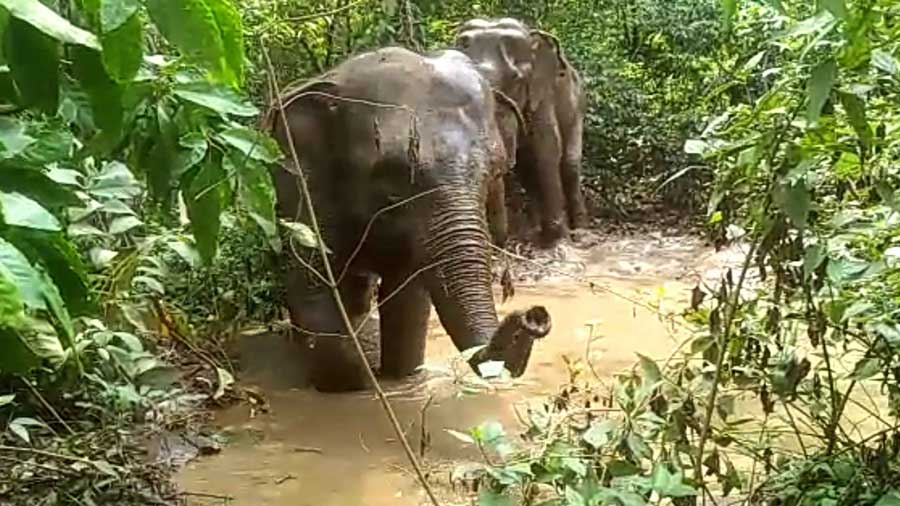 ---
Jamshedpur, Hazaribagh
|
Published 23.09.20, 11:07 PM
|
---
Attempts by foresters to drive away elephants from near Asanbani village in Chandil forest range of Seraikela-Kharsawan in the wee hours of Wednesday proved futile as the pachyderms returned after a few hours.
Separate herds of 30 elephants from Bengal are giving sleepless nights to foresters as well as villagers for the past five days, damaging standing crops and pulling down homes. Petrified villagers remain holed up at their homes in the night in fear of elephant attack.
The herds are currently scattered near human settlements at Anda, Kalyanpur, Biyasisai and Punihara in the Chandil forest range. The elephants remain in the dense jungles during the day and venture out late afternoon to target crops and human settlements.
"The herds are posing a big problem for us. So far, the herds have damaged crops and also targeted some homes but man-elephant conflict cannot be ruled out. We are trying hard to drive away the elephants by deploying our forest patrol teams but we are yet to get the desired results. We have even distributed firecrackers among the villagers," said Chandil forest range officer Ashok Kumar.
According to Kumar, they were also getting assistance from village youths. "The Bengal jumbos seem to have developed a special liking for the Chandil forest range. Earlier, herds from the neighbouring state used to come and leave after two-three days but now the trend has changed. The elephants are overstaying in our range," Kumar added.
Elephants damaged the home of Sudhir Pramkanik at Ramchandarpur earlier this week and also wiped out the rice crop. Another herd destroyed and devoured vegetables grown by Bhrigu Bhagat in Asanbani the same day.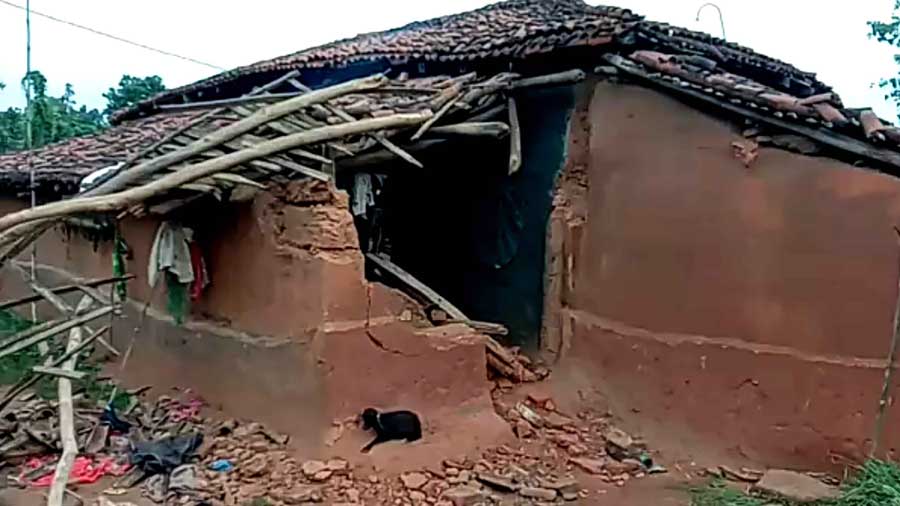 A forester pointed out that the elephants usually don't attack unless they are teased. "Villagers tend to drive away elephants by throwing stones and coming close to the animals. We are lucky that the elephant herds from Bengal have not killed anyone but man-animal conflict can take place if the villagers continue teasing the jumbos," he added on condition of anonymity.
Moreover, the forester said, mahua-brewing units have reopened and the scent is attracting the elephants who not only wipe out the liquor but also attack humans.
The Chandil forest range has of late emerged as a favourite place for the elephants. Jumbos from Tamar and Kandra forests (in Seraikela-Kharsawan) also make their presence felt here. A forest team had shepherded a herd from Kandra to Chandil last week. However, the elephants went back to the Seraikala forest after two days.
The herds from Bengal are still anchored at Chandil forest range.
"We are trying our best but keeping our fingers crossed. It all depends upon the mood of elephants when it comes to going back to Bengal. Elephants are moody animals," the range officer said.
Lone male tusker on rampage, kills two women in 48 hours
A lone male tusker has created havoc in villages situated in bordering areas of Hazaribagh, Giridih and Bokaro.
On Wednesday, it killed a 45-year-old Parvati Devi while she was sitting in front of her house at Nawadih village in Sarukudar panchayat of Vishnugarh police station area of Hazaribagh district.
Earlier on Tuesday, the tusker killed a 55-year-old woman Rohini Devi near Karanj Mor in Vishnugarh block headquarter in Hazaribagh. The woman came out of her house to tend her cattle when the elephant attacked her, said Smita Pankaj, divisional forest officer of Bagodar. Later, the tusker, while wandering in the jungle, entered Giridih and killed Parvati Devi at Nawadih village.
Village resident Subodh Mahto said that Devi was unaware of a stray elephant in the surrounding areas and was sitting outside her house when it came and attacked her. She died on the spot. Her body was sent for post-mortem to Hazaribagh medical college and hospital. Pankaj said the tusker seems to have been separated from its herd and is wandering in the area. They are keeping vigil on its movement. "It was last spotted entering the Dumri area," she said.