Jugsalai tyre vendors damage rail boundary wall
The boundary wall was built by the railway authorities after an anti-encroachment drive close to the Jugsalai level-crossing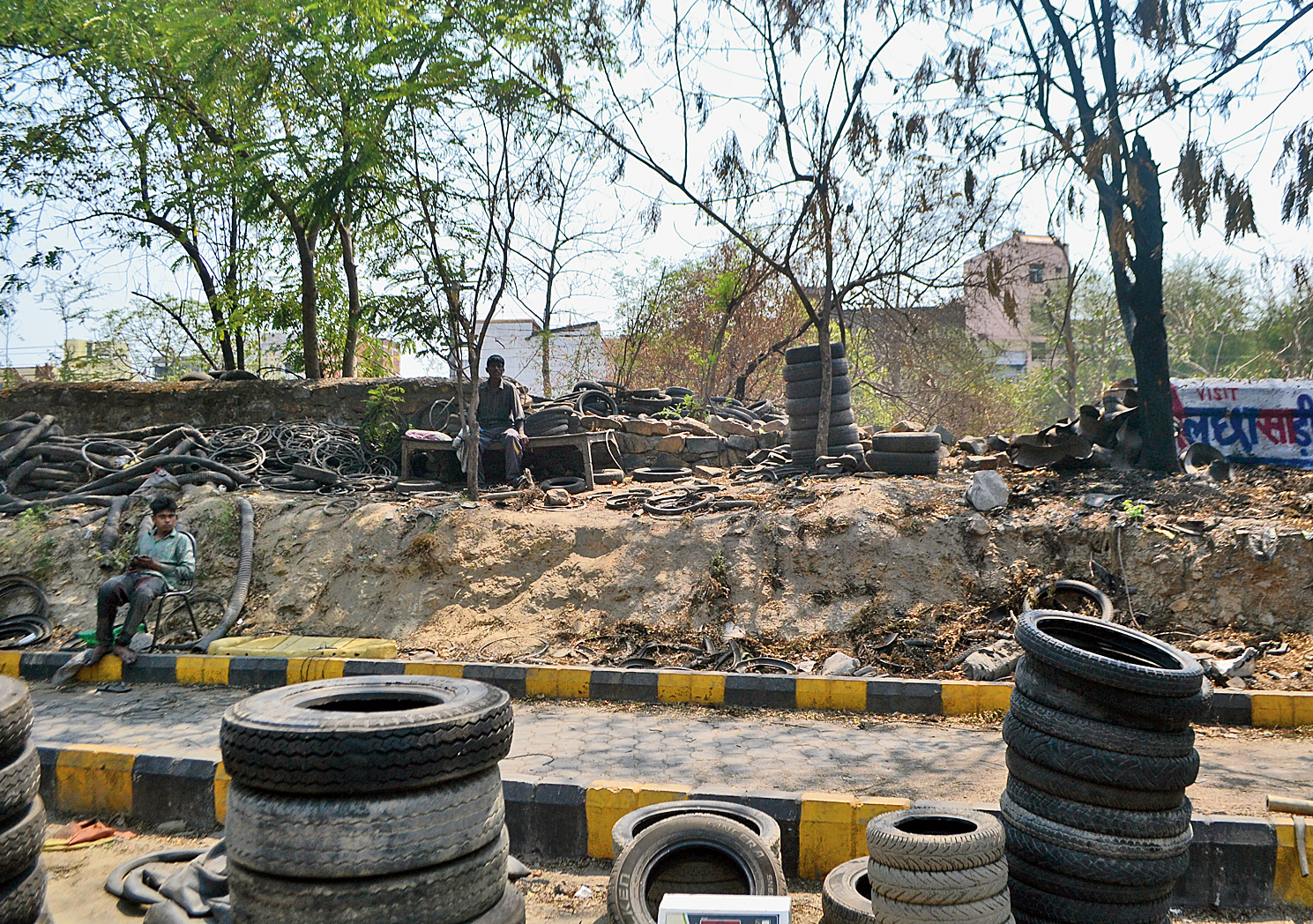 Tyres pile up near the broken railway boundary in Jugsalai, Jamshedpur, on Friday.
(Animesh Sengupta)
---
Jamshedpur
|
Published 05.04.19, 07:07 PM
|
---
Motor garage owners and old tyre dealers, who used to conduct business on the roadside before the railway authorities put up a boundary wall close to the tracks in densely-populated Jugsalai two years ago, have gone back to their old ways by demolishing a part of the wall.
The activities of these unscrupulous elements have made Jugsalai-Station road dangerous for local residents who often try to take a shortcut through the damaged portion of the wall and cross the tracks.
The boundary wall was built by the railway authorities after an anti-encroachment drive close to the Jugsalai level-crossing.
Around a half-a-dozen old tyre dealers and motor garage operators used to run their business by encroaching land partly belonging to the railways and Tata Steel.
"After the wall was set up, the tyre vendors and garage operators stayed away for a few days. Later, they gradually started resuming their business at the old spot. One day, they made a narrow gap on the wall by breaking a small portion of it to facilitate business ease. Now, they have demolished as much as 30 feet of the wall and conduct business with gay abandon," a local shopkeeper told The Telegraph on the condition of anonymity.
Tatanagar assistant engineer I Sanjay Kumar confirmed they had spotted a wide gap in the boundary wall.
"We are aware of the unauthorised business activities conducted by some persons. We are planning to take action against those who have broken the boundary wall," Kumar said.
He said they would conduct a fresh anti-encroachment drive and later repair the broken wall. "We may also take legal action against the tyre dealers and motor garage operators if it is proved that the boundary wall has been broken by them," Kumar added.
Tatanagar RPF inspector M.K. Singh said they would inspect the boundary wall and take legal measure against the offenders.