'Jobs bonanza' claim fake: Saryu Roy
The PIL will be filed in Jharkhand High Court by Ranchi-based Pankaj Yadav, general secretary of the NGO Jan Sabha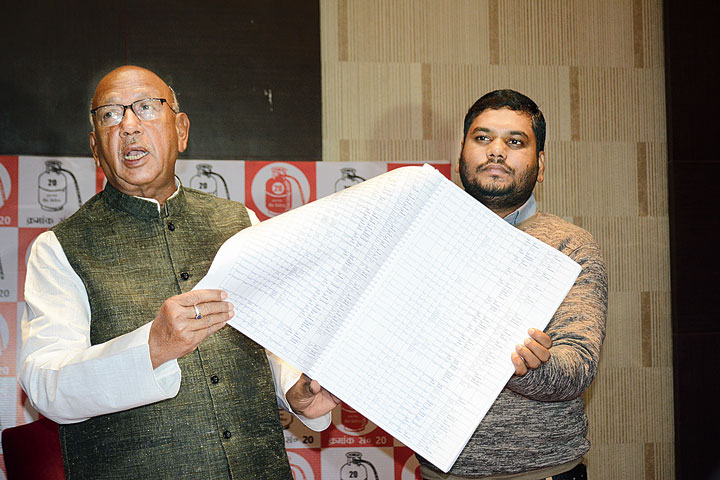 Saryu Roy (left) and Pankaj Yadav at the news meet in Jamshedpur on Thursday.
Picture by Bhola Prasad
---
Jamshedpdur
|
Published 05.12.19, 08:27 PM
|
---
Rebel BJP leader Saryu Roy was laid low by a sore throat on Thursday, the last date of campaigning for the second-phase seats that vote on Saturday including Jamshedpur East, but he raised his voice against what he called was a jobs scam under CM Raghubar Das.
Roy said he would support a public interest litigation (PIL) to be filed next week in Jharkhand High Court challenging the state government's claim of giving jobs to 26,674 youths in a day — January 12 — last year.
The PIL will be filed in Jharkhand High Court by Ranchi-based Pankaj Yadav, general secretary of the NGO Jan Sabha.
Roy said at a news meet that the state government has also sent the job figure of 26,674 to the Limca Book of Records, which has mentioned it. "The Limca management should seek pardon from the people of Jharkhand," he said.
The government has also claimed that 1,06,619 youths were given jobs on January 12 this year. "Raghubar Das announced amid much fanfare in Ranchi on Vivekananda Jayanti on January 12 this year that 1 lakh jobs have been to local youths. What can be a bigger lie than this," Roy said, adding that those found guilty for the scam would go to jail.
Yadav, who was present at Roy's press meet, said he had the list of 26,574 youths given jobs, their bio-data, phone numbers and email addresses. "Around 30 per cent did not got employment while 70 per cent got but left the jobs. Many were not even aware that they had been given jobs," said Yadav, adding that most of the youths on the government list could not be contacted.
Yadav has also filed PILs against the blanket scam unearthed by the CAG and the mob lynching of Tabrez Ansari. Those petitions are pending in the high court.
Roy reeled out what he called other irregularities committed by the Das government, including in home-guard recruitment.
The former food and civil supplies minister, who is contesting as an Independent from Jamshedpur East, claimed he had received threats. "I have already informed this to the Election Commission," Roy added.
He said Incab industries, shut since 2000, would be reopened.
Roy said that Prime Minister Narendra Modi, during his visit to Jamshedpur on Tuesday, should have announced ownership rights to dwellers of 86 slums in and around the steel city: "If the Modi government can recognise property rights of residents of unauthorised colonies in Delhi, why can't it be done here?"
He demanded a CBI probe into the fire on Wednesday in the new Assembly building. "There have been complaints of misuse of funds in the multi-crore project," he added.