JMM leaders seek special Assembly session to ratify Sarna code
In bid to reach out to tribals before bypolls, central committee members write to CM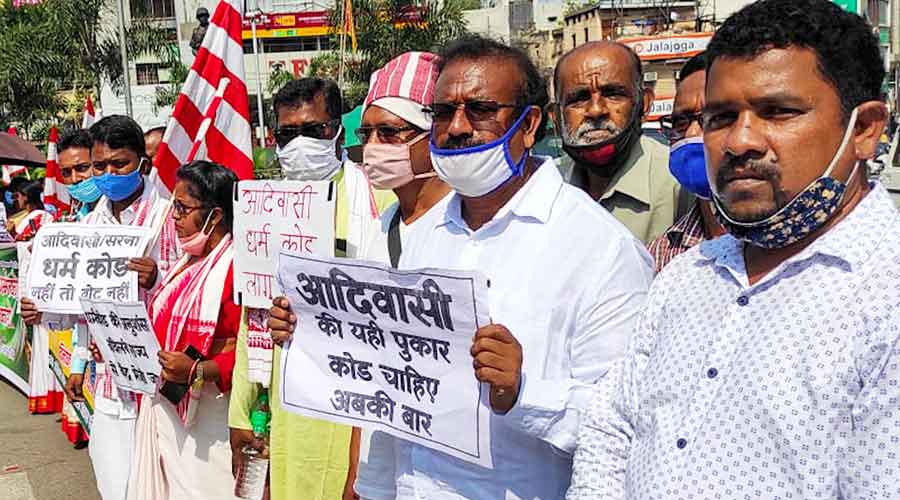 ---
|
Ranchi
|
Published 25.10.20, 06:10 PM
---
A group of central committee members belonging to the ruling Jharkhand Mukti Morcha (JMM) wrote to Hemant Soren on Sunday, urging the chief minister to convene a special session of the state Assembly soon and pass a resolution to implement Sarna code and send a proposal to the Centre demanding that it be included in the nationwide 2021 census.
Ahead of the byelections to Dumka and Bermo Assembly constituencies on November 3, the JMM's move is being seen as an attempt to calm frayed nerves of Jharkhand tribals who have upped their ante to posh for their demand for a separate Sarna code. Over the last week, several tribal outfits have held a series of protest matches and dharnas across the state, including capital Ranchi, in this regard. They have vowed to intensify their stir against the state and Centre in the coming months.
The tribals' demand for a separate sarna code, also known as religion code, is to retain a separate identity. Currently, they are either included as Hindus, Christians or Muslims in the census without a separate column for their distinct religion.
The ruling JMM-Congress-RJD alliance government, led by Hemant, had promised to work towards a Sarna code in its manifesto. However, it is yet to take any formal step towards fulfilling that promise.
Fearing a backlash in the coming byelections, the JMM central Committee has backed the latest demand for a Sarna code, voiced by half-a-dozen members who want a special session of the Assembly convened to seal the matter.
JMM central committee member and former Silli MLA Amit Kumar said, "We are requesting the state government to make a formal move and express it's commitment for the long-pending demands of tribals for a separate Sarna code. Hence, we wrote the letter." Among the other signatories of the letter are several district party presidents too.
In their letter, the JMM leaders have argued that between 1871 to 1951, adivasis used to tick the Sarna column as their religion. But that option was removed since the 1961-62 census.
"Even during the last census, over 22 lakh tribals across the country separately identified themselves as Sarna followers but were later classified under Hindu, Muslim or Christian tribals, which is a ploy against their distinct identity," the letter read.
"Tribals (Sarna followers)," the letter added, "worship nature and must be given a separate religion code to retain their distinct identity and customs."