JMM-Cong alliance claims bandh a grand success
Albert Ekka Chowk, Main Road epicentres of day-long protests, rallies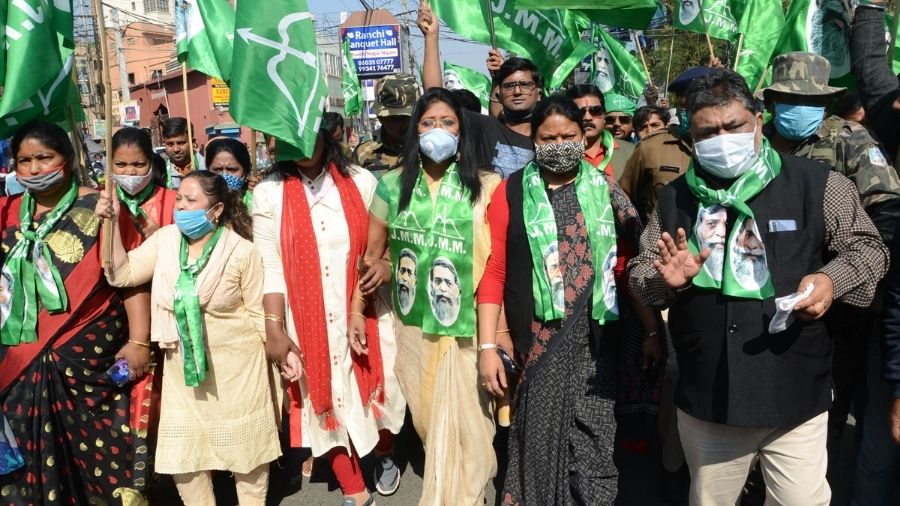 ---
|
Ranchi
|
Published 08.12.20, 08:03 PM
---
The UPA described Tuesday's Bharat Bandh against the new farm laws as a total success in Jharkhand, saying that the spontaneous support from various sections of civil society was testimony to the growing anger against the Centre for its anti-farmer and anti-people policies.
But the Opposition BJP put up a brave face, claiming that life remained normal across the state. Former chief minister and BJP leader Raghubar Das said that neither farmers nor the "aam-admi" were concerned about a "political bandh".
Police said there were no untoward incidents reported from anywhere. In all, 368 protestors were arrested from Jamshedpur (125), Dhanbad (135) and Gumla (108), said an official.
All three Congress ministers, namely, Rameshwar Oraon (finance and food and civil supplies), Badal Patralekh (agriculture) and Alamgir Alam (rural development), took to streets, riding e-rickshaws and marching on foot along Ranchi's Main Road to enforce the bandh. A host of party MLAs also hit the streets.
JMM's working president and chief minister Hemant Soren, who extended his support to the Bharat Bandh, spent the day at Project Building working. His party workers held protests in groups at Albert Ekka Chowk and other parts of the city.
Congress and Left party leaders hit the streets from 8am. Gradually, RJD, JMM, joined by some social outfits, including those belonging to Sikhs, held marches and demonstrations along Main Road, forcing business establishments to down their shutters till well after noon.
Life in other parts of Ranchi remained unaffected even though there were fewer people and vehicles on the streets compared to a usual working day.
Buses did not operate from Khadgara during the first half of the day. Jharkhand Bus Owners Association president Krishna Mohan Singh said that passenger turnout was low. "Some buses ran but there weren't many passengers," he said, adding that they would have run more buses had there been a demand.
The number of autos and city buses were less on the road.
However, attendance at government establishments was unaffected. "Almost all government officials own private vehicles. Hence, there was no issue about attendance. As it is, most offices are still functioning in a staggered manner," said a forest department official.
Markets remained open and did usual business, except at Albert Ekka Chowk and Main Road, which remained the epicentre of protests through the day.
"The bandh was a total success across Jharkhand. In rural areas, many farmers voluntarily supported the bandh by keeping haats and mandis closed," said Congress spokesperson Lal Kishorenath Shahdeo.
He said the Congress would continue with protests against the farm laws until these were repealed.
JMM general secretary Supriyo Bhattacharjee echoed similar sentiments. Quoting the chief minister, he said Jharkhand would lead the "ulgulan (rebellion)" in favour of farmers, labourers, and the marginalised in the coming days if the Union government continued to "work in favour of capitalists".
Former chief minister Raghubar Das called out the ruling alliance as "hypocrites", accusing it of scrapping pro-farmer policies rolled out by his government in the last five years.
"They have stopped Mukhyamantri Krishi Ashirward Yojana robbing scores of marginal and small farmers of government help. Not only this, the state government is deliberately delaying procurement of paddy grains citing moisture content, thereby forcing farmers to sell their produce at throwaway prices," he said.