Jharkhand's first Science Film Festival kicks off in Lohardaga
Thirteen films and documentaries were screened on the inaugural day of the three-day fest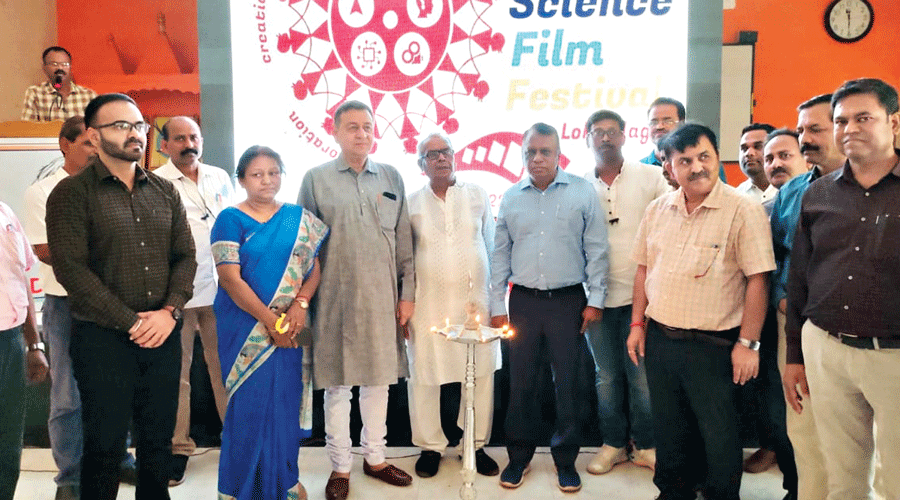 Dignitaries at the inauguration of the Jharkhand Science Film Festival at Lohardaga on Friday.
Bhola Prasad
---
Jamshedpur
|
Published 30.04.22, 12:48 AM
|
---
The maiden Science Film Festival in Jharkhand kicked off in the small town of Lohardaga on Friday.
Thirteen films and documentaries were screened on the inaugural day of the three-day festival.
The audience got the opportunity to interact with producer Siddharth Agarwal whose 105-minute documentary Moving Upstream: Ganga with English subtitles was the first to be screened.
Jharkhand-based film director Sriram Dalton, whose film Spring Thunder was the last to be screened, also interacted with the audience.
"Spring Thunder is a socio-political film, which has tried to capture the rich history of this mineral-rich state of Jharkhand. While Jharkhand has India's largest deposits of coal and iron ore, more than half of the state's population lives in acute poverty, something which is unheard of in other mineral-rich regions of the world," the director said.
The day also saw the screening of My Life as a Snail directed by Akash Rajput, Jharia directed by Biju Toppo, Ek Khubsurat Jahaaz directed by Gauhar Raja, Yashpal: a Life in Science directed by Yousuf Saeed and Marathi film Ankur directed by Mohan Anandrao Dhuldhar.
Jean A. Evangelista's animation film Citsalp, documentary Blind Cap directed by Arjun Bhagat, short documentary Virodh, Vidroh aur Vigyan directed by U.N. Nayak, documentary Kachare se Tawanai by Obaidullah Ralhan,  and Pressure and Dhangars of Goa directed by Kabir Naik and Spring Thunder were also shown.
"It is the best thing to happen in a tribal state like Jharkhand. We need residents to adopt scientific thought processes and get rid of superstitious beliefs. Regular hosting of such films in smaller cities will create the much-needed enthusiasm among the youths towards science," said director Shriprakash whose documentary Buru Garra and Buddha Weeps in Jharkhand would be screened during the festival.
The film festival hosted by the Science for Society's Lohardaga unit has plans to host similar festivals in other smaller towns in the near future.
A total of 45 films will be screened in various categories such as documentaries, short films, animation and feature films during the three-day festival.
More than 10 filmmakers will participate in the festival.
In order to promote scientific consciousness among the students, the Science for Society along with the district education officer, will organise a painting and slogan competition at the school level on April 26 and 27.
Lohardaga deputy commissioner Waghmare Prasad Krishna, who inaugurated the festival, praised the Science for Society unit for organising it.
"It is a commendable work. All the films shown in the festival are good, which need to be seen and taken advantage of. It will be beneficial, especially for kids studying in the school and also the masses, for develop scientific thinking and help in nation building," said the deputy commissioner.