Para-teachers won't target Modi rally in Palamau
Strike to continue, leaders hand over memo for PM to Palamau MP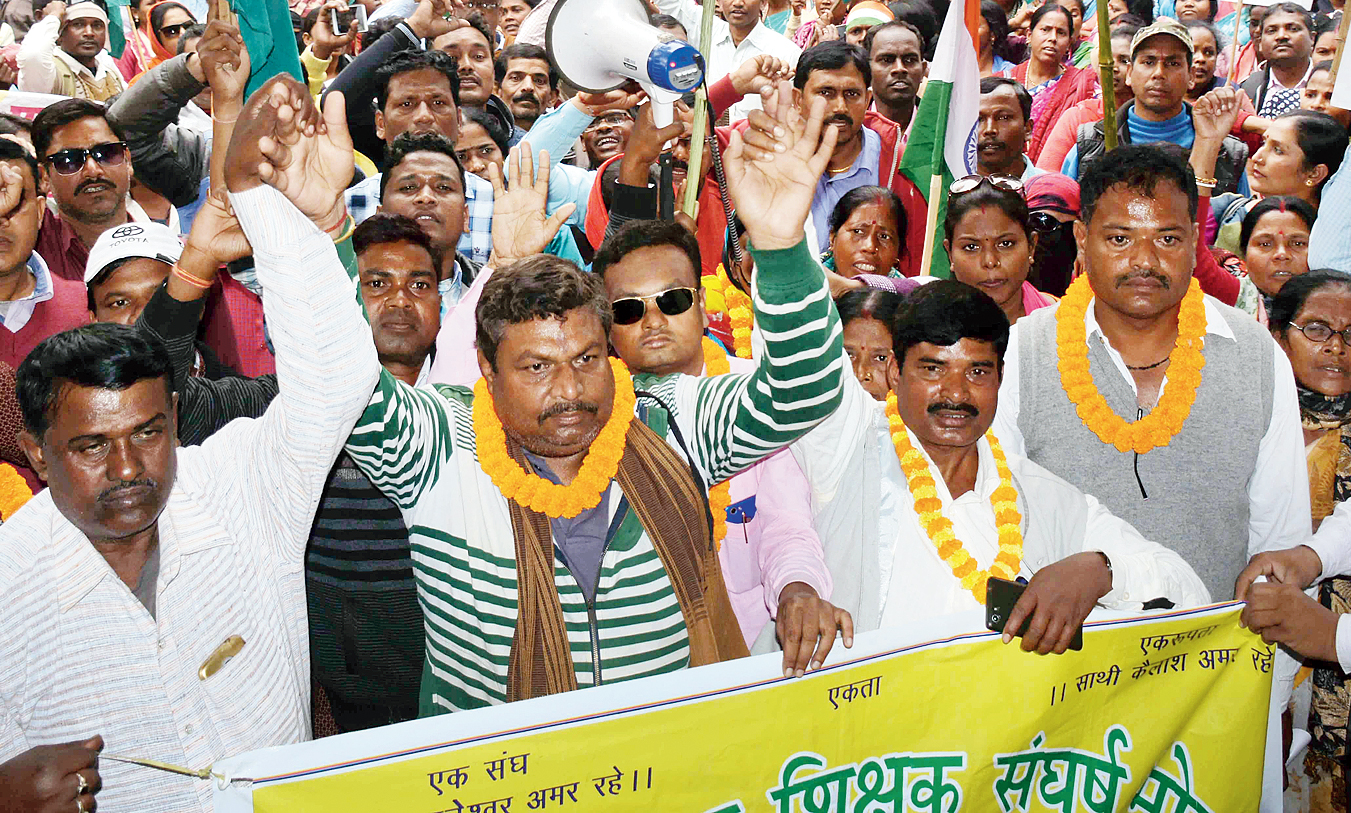 ---
---
Para-teachers may have decided not to protest with black flags during Prime Minister Narendra Modi's visit to Palamau on Saturday but they are not calling off their strike even though chief minister Raghubar Das has come out with certain conciliatory gestures.
"We do not have any intention of disturbing the Prime Minister's programme at Palamau and will not show him black flags or wear back during the programme. However, a delegation of para-teachers submitted a memorandum addressed to the Prime Minister to the Palamau MP V. D Ram on Friday. We only want our demands to be raised before the Prime Minister and the MP has assured us that he will do so," said Sanjay Dubey, one of the conveners of Ekakrit Para Shikshak Sangharsh Morcha Jharkhand that represents the para-teachers.
As many 67,000 para-teachers have been on strike since November 15, 2018 against the police lathicharge on them while on a protest to demand regularisation of their jobs during the official statehood day function at Morabadi in Ranchi. And they are determined to continue with their agitation even though the chief minister hoped to placate them on Thursday by announcing a high-level panel to look into their demands.
"We have come to know through media reports that the panel formed by the chief minister will consider raising our wages. This is against our demands. We will not settle for anything less than regularisation of our jobs and a proper salary grade. We do not mind meeting any panel or even the state education minister, Neera Yadav," Dubey added.
On Thursday, the chief minister had constituted a committee led by education minister Yadav. It comprised development commissioner D. K Tiwari, finance commissioner Sukhdev Singh and principal secretary (school education and literacy) Amrendra Pratap Singh. The committee is to look into para-teachers' demands that include increasing wages and appointment of TET qualified candidates.
The chief minister had also announced payment of Rs 1 lakh to dependants of para-teachers who died during the course of the agitation since November 15, 2018, and appealed to them to join work at the earliest.
"Today is the 49th day of our agitation and we will not settle for anything less than fixing of a salary grade as in Chhattisgarh. Around a dozen para-teachers have died during the agitation. The state government has taken oppressive measures against us. We are prepared for do-or-die agitation," said Vinod Tiwari, a senior leader of the morcha.