Jharkhand online class survey by outfit paints grim picture
Only 12.8% of students are able to grasp subjects properly while 93.1% of the parents surveyed admitted that there has been deterioration in the education standards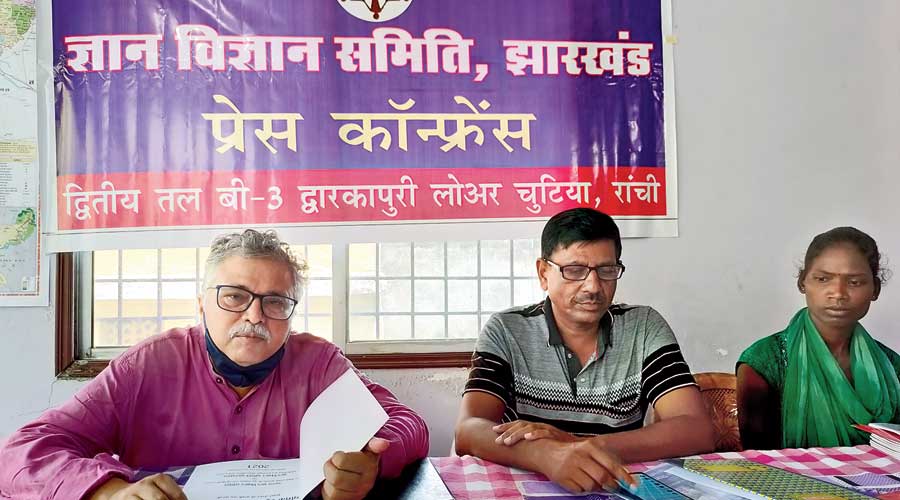 ---
Jamshedpur
|
Published 25.08.21, 12:27 AM
|
---
Very few students from poor backgrounds are availing online classes in the primary level (till Class VIII) during the Covid pandemic with the offline mode of studies disrupted for over a year (17 months) in Jharkhand.
A survey carried out by a national-level social outfit Bharat Gyan Vigyan Samity (which claims to espouse cause of human rights) on the suggestion of acclaimed economist and visiting professor in Ranchi University Jean Dreze between July 24 and August 10 of primary school students in nearly 5,118 households primarily from tribal, Dalit, contractual workers, OBC and minorities families paint an alarming picture with nearly 93.6 per cent children not having their own mobile and have to depend on family members mobiles to pursue their studies.
Only 5.3 per cent of the students surveyed are able to attend regular online classes as they do not get mobiles regularly.
Only 12.8 per cent of students are able to grasp subjects properly in online classes while 93.1 per cent of the parents surveyed admitted that there has been deterioration in the education standards of their wards and a huge majority (92 per cent) supported the conduct of regular offline mode of classes.
"We got a suggestion from a well-known economist and a member of the Tamil Nadu economy advisory council, Jean Dreze, to find the ground realities of primary education status in Jharkhand and in fact Jean had drawn out the questionnaire for the survey.
"The survey was carried out in 115 blocks of 17 districts by our 662 volunteers and among those surveyed were 43.77 per cent farmers, 30.93 daily wagers, 9.89 per cent were dependent on agriculture and petty business, 4.28 casual workers under private contractors and 1.47 regular workers," said Kashi Nath Chatterjee, national secretary of the samity while releasing the survey booklet at Ranchi on Tuesday afternoon.
Among those surveyed 45.39 per cent were girls, 54.55 boys and 0.06 transgender. Nearly 84.27 per cent were from government schools and only 16.32 per cent were from private schools.
"We have sent the survey copy along with our suggestions to the chief minister Hemant Soren and the state education secretary Rajesh Sharma on Tuesday.
"We have strongly demanded that offline classes for primary schools (as of now only Class 9, 10, 11 and 12 are having offline classes in Jharkhand) should begin at the earliest with abeyance of Covid protocols. All teachers should be vaccinated with proper availability of masks and sanitisers in schools.
"There should be door-to-door survey to ensure that all students return to school and the government should carry out changes in pedagogy and syllabus so that students can cope with the academic loss during 17 months," added Kashi Nath Chatterjee.
The outfit members felt that if the students are only promoted to the next class without changes in pedagogy and syllabus then it will lead to a threat of drop out in the coming years as they might not be able to cope due to the academic loss suffered during online classes as the students might have forgotten the teachings they had learnt earlier.