Jharkhand news digest: Torture slur on Koderma police
Elsewhere in the state: 1 killed after car falls in 100 feet canal; House gutted after LPG cylinder catches fire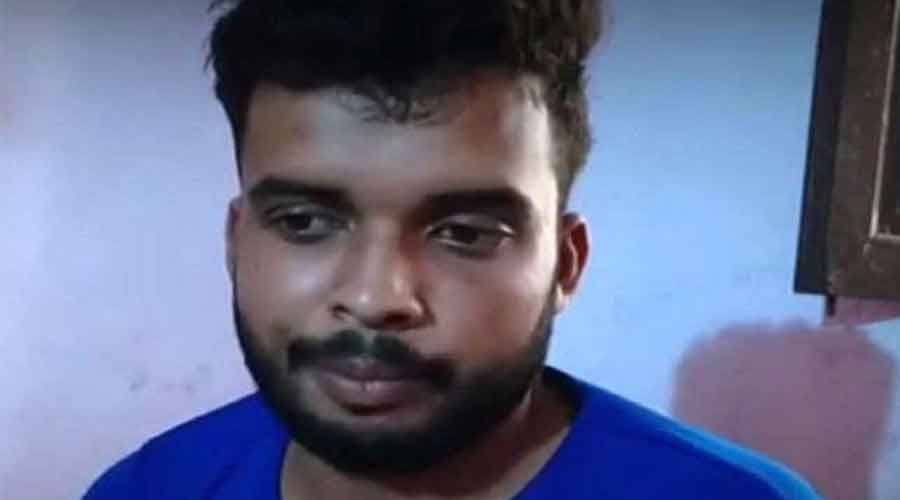 Neeraj Kumar in Koderma.
Picture by Vishvendu Jaipuriar
---
Published 30.05.21, 11:52 PM
|
---
Hazaribagh: A youth named Neeraj Kumar has charged Koderma police of torturing him in the lockup.
Neeraj's mother Bhuvneshwari Devi has shot missives to the National Human Rights Commission, Chief Minister Hemant Soren and director general of police Neeraj Sinha for justice.
Bhuvneshwari in her complaint said Neeraj was taken to Domchach police station on May 18 by officer-in-charge Dhaneshwar Kumar to interrogate him in a murder case. Neeraj said a police team tortured him to make him admit his involvement in the case.
"The way I was beaten in the police station was barbaric and beyond the imagination of anyone," he said.
Bhuvneshwari said due to the torture, Neeraj can barely walk and talk.
"I want justice for my innocent son," she added. 
Neeraj is a resident of Buchchitand village, where police had found the body of a 22-year-old Om Kumar Saw from a well. Saw was a resident of neighbouring Dandadih village and came to Buchchitand to attend a marriage. Officer-in-charge Ram admitted that they brought Neeraj for interrogation but termed the charge of beating and torture as false.  
"We were forced to write a bond that Neeraj was released in good condition," said Bhuvneshwari.
(Vishvendu Jaipuriar)
1 killed after car falls in 100 feet canal Bokaro: One person was killed and three injured when the Mahindra Scorpio they were travelling in fell into a 100 feet deep canal at Kurupaniya under Gandhinagar police station of the district on Sunday.
It is believed that the car was at a high speed and lost control on the turn and fell into the canal. The incident occurred at around midnight at the turning of the Main Road No.4.
Police sources said the victims are residents of Dhanbad and were returning home after attending a wedding ceremony at Jaridih Bazaar.
"The deceased was identified as Rakesh Kumar. Driver Saroj Kumar is seriously injured and was carried in an ambulance to RIMS, Ranchi for better treatment," said Inder Lal Rai, assistant sub-inspector of Gandhinagar police station.
(Our correspondent)
House gutted after LPG cylinder catches fire Hazaribagh: A family of five sustained burn injuries after the LPG cylinder in the kitchen caught fire gutting their house on Saturday night.
The incident took place in Lohadanda area under Jai Nagar police station of the district.
Police officials said Najbun Nisha was in the kitchen and as she lit a matchstick to cook food on the LPG stove, the cylinder caught fire all of a sudden. In no time, fire engulfed the entire house with five of the family members also sustaining burn injuries.
Local residents ran to help but by the time they reached, the fire gutted the house and maximum of the household item. The locals brought the fire under control after dumping the cylinder in an open area.
Officer-in-charge of Jai Nagar police station, Abdullah Khan said fire fighters were not called as local residents managed to douse the flames.
(Vishvendu Jaipuriar)