Jharkhand News Digest: Tata Steel show concern for girls
Elsewhere in the state: BIT (Sindri) students in great demand for recruiters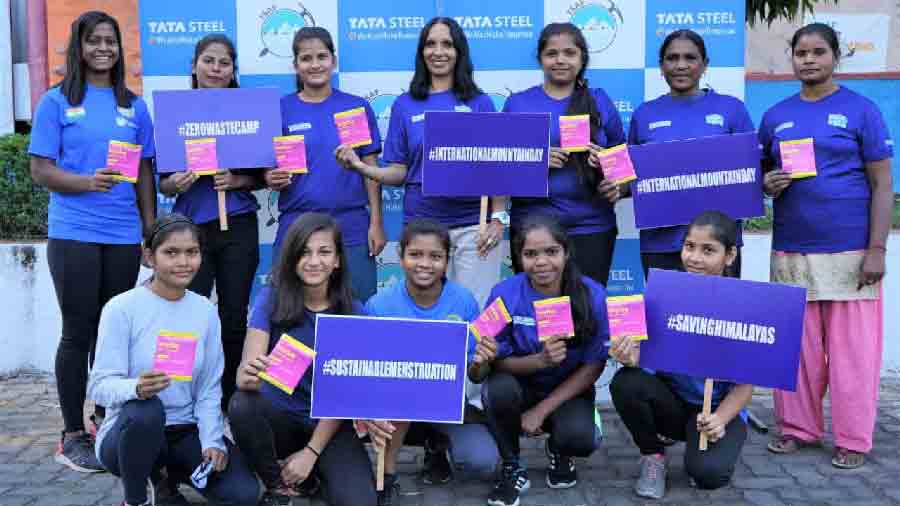 TSAF female participants with the biodegradable sanitary pads in Jamshedpur on Friday
Bhola Prasad
---
Published 10.12.21, 09:18 PM
|
---
Jamshedpur: Tata Steel Adventure Foundation (TSAF) on Friday launched a novel eco-friendly initiative to provide biodegradable sanitary pads to all female participants in its outdoor courses and expeditions.
TSAF aims to achieve zero waste camps and minimise its impact on trails. This new initiative by TSAF resonates with the theme of International Mountains Day 2021 - to promote 'sustainable mountain tourism'.
 All the camps and activities at TSAF follows zero waste principle, where all the waste generated during the course is either reduced, reused, or recycled. 
On the occasion, Bachendri Pal, mentor, Tata Steel Adventure Foundation, said: "TSAF's new initiative of introducing biodegradable sanitary pads is a welcome step towards sustainable mountain tourism and women hygiene. Our aim is to protect and conserve one of the most beautiful mountaineering destinations in the world. Sanitary napkins during expeditions are often thrown into ponds, rivers, and lakes, thus contaminating the water bodies or thrown in the open which in return pollute the soil and endangers the wildlife around. The introduction of biodegradable sanitary pads will help encourage TSAF's female participants to achieve zero waste camps during group trails and expeditions."
TSAF, through its various programmes, engages over 5000 participants from B-schools, corporations and individual tourists who participate in expeditions, with 15 to 20 percent of them being women. 
The foundation aims to curb the damage caused to the environment due to sanitary pads wastage, by providing free organic biodegradable sanitary pads.  
Pinaki Mazumdar 
Raining jobs for BIT Sindri students Dhanbad: With industrial chimneys spewing up steam once again after the improvement in Covid situation, the placement scenario of engineering institutes is also slowly getting rosier. 
Jindal Stainless Ltd, one of the largest stainless steel conglomerates of the world has lapped up 24 B Tech 2021 batch pass out students of BIT Sindri today including 12 of Mechanical Engineering, 11 of Metallurgical Engineering and One of Chemical Engineering for a pay package of Rs 6 lakh per annum. 
With the latest placement the total number of placed students for 2021 B Tech pass out students increased to 431.
This, apart, five B Tech students (2022 pass out batch) were also lapped up by Tata Steel including one from the Mechanical Engineering as Management Trainee Systems for a pay package of Rs 10.52 LPA and four of Computer Science Engineering as Management Trainee for Rs 9.48 LPA. The placement figure of 2022 batch meanwhile also reached to 300.
Talking to The Telegraph Online today, Ghanshyam Rai, Training and Placement Officer of BIT SIndri said, "As due to the pandemic, placement started late last year for the 2021 B Tech batch, this year it bis simultaneously going on for both the batches (2021 and 2022)." 
Praduman Choubey