Jharkhand news digest: Mirchiya falls in Palamau goes totally dry
Elsewhere in state: Inmates flee from children's home, cop caught while taking bribe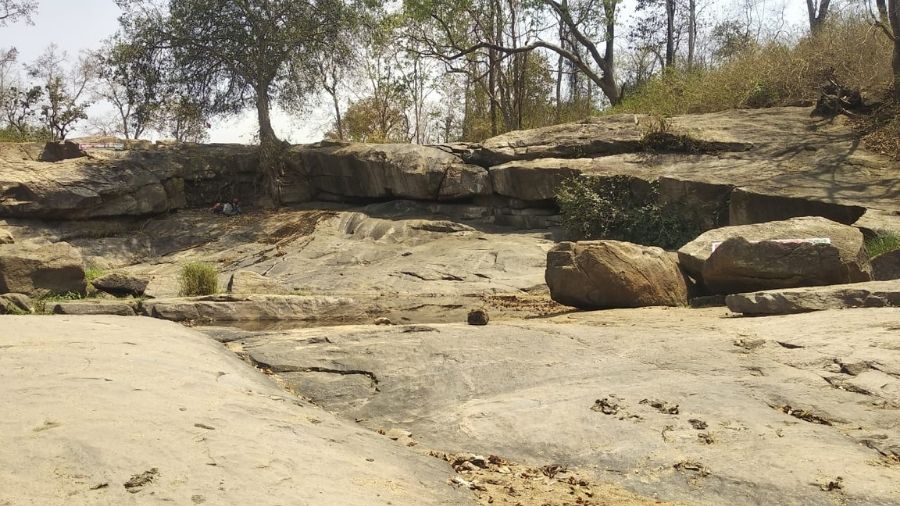 The dried up Mirchiya Falls at the Palamau Tiger Reserve on Tuesday.
Telegraph Picture
---
Hazaribagh, Daltonganj, Bokaro
|
Published 13.04.21, 10:34 PM
|
---
Daltonganj: The Mirchiya Falls at the Palamau Tiger Reserve has not been able to attract tourists this year, as it has dried up totally.
Located in the Garu east range of the tiger reserve, the waterfall that used to attract hundreds of tourists now depends on the onset of rains to gain its glory back, Deputy Director (south) of Palamau Tiger Reserve Mukesh Kumar said.
He blamed forest fire and subsequent loss of ground vegetation for the situation. "Forest fires denude the land making it lose all retentive power to arrest and detain the rush of the rain waters. As a result it runs off and does not percolate down to the earth," he said.
He added that the eco development committee of the Mirchaiya village has proposed for soil moisture conservation, whereby the water is arrested by raising small earthen check dams down the stream. 
(Our Correspondent)
BSL employees stage protest, demand wages Bokaro: Operations at several Bokaro Steel Plant (BSL) units came to a halt as hundreds of protesting employees went on a strike for a few hours, demanding minimum wages pending for the last four years.
The employees under the banner of Krantikari Ispat Majdoor Sangh even when vital work remained stalled, and returned to their jobs only after top officials of BSL negotiated with them and assured to fulfill their demands. 
"All major departments inside BSL plant faced shutdown for a few hours. We have demanded wage revision from the management by providing 15 per cent minimum guarantee benefit, 35 per cent perks, 9 per cent pension and clearing the due arrears," a protester said.
Chief of communication, BSL, Manikant Dhan said, "During the A-Shift on Tuesday, certain sections of agitating employees disrupted work for two to three hours in some of the shops. Later, senior officials appealed to withdraw their agitation and stop disruption of work, after which normalcy returned."  
(Our Correspondent)
Two inmates flee from children's home
Daltonganj: Two inmates of a children's home in the town fled on Monday night, confirmed a member of Palamau child welfare committee, Dhirender Kishore.
The two kids, vagabonds from Sahebgar and Garhwa districts, climbed on the roof of the centre to escape, said sources. The former came to the centre on April 5, while the latter was an inmate for a year or so, they added.
A hunt is on to trace the two.
Kishore said that it was not known why the two ran away. "Let them be found first. After that we can ascertain the reason," he added.
Officials are scanning CCTV footage in this regard.
Palamau police inspector A.K.Mahatha said, "We will try to trace them but till 1pm on Tuesday, the children's home officials have lodged no written complaint in this regard."
(Our Correspondent)
Anti-corruption team catches cop taking bribe Hazaribagh: A team of anti-corruption bureau led by Deputy Superintendent of Police Madan Paswan nabbed an assistant sub-inspector Upendra Singh while he was taking a bribe of Rs 50,000 from a villager.
Triloki Prasad, a resident of Dharhara village in Barkatha block, was facing criminal charges and the case was being handled by Singh, who demanded Rs 1 lakh to remove his name.
"I did not know about this FIR but the officer (Singh) was not ready to spare me without a bribe. I then contacted the bureau officials, who laid a trap to catch him while taking the bribe this afternoon," Prasad said.
The sub-inspector was caught near Indrapuri cinema hall in the town.
Officials said processes initiated to send Singh to the prison.
(Vishvendu Jaipuriar)
Bokaro asks hospitals to declare number of beds Bokaro: The district administration on Tuesday ordered private hospitals to declare the number of beds within 24 hours, so that half of them can be reserved for Covid-19 patients.
In a meeting with about 12 hospitals, DC Bokaro Rajesh Singh along with civil surgeon Dr A K Pathak and SDO, Shashi Prakash Singh appealed to disclose the correct number of beds and warned of action if incorrect information was provided and Covid-19 treatment protocols were flouted.
Nearly two dozen out of 70 private hospitals in Bokaro are not providing treatment to Covid-19 patients but are vaccinating beneficiaries. The district has over 400 active patients and 300 of them are in home isolation. 
In this scenario, state-run hospital BGH has been facing tremendous pressure while treating the patients. As a result, the hospital can only admit those who are in a serious condition.
(Our Correspondent)