Jharkhand News Digest: Minor Earthquake of 3.8 magnitude jolts Dhanbad
Elsewhere in state: Man bludgeoned to death in Bokaro, Dhanbad street vendors ask for parcel delivery permit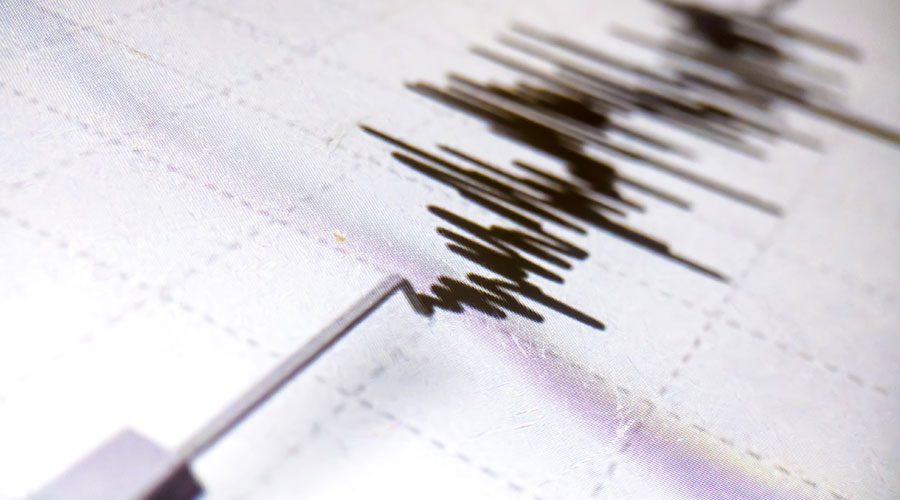 Mohit Agarwal, coordinator of seismological observatory at IIT (ISM), Dhanbad confirmed the news of the mild earthquake.
File Picture
---
Published 10.01.22, 09:30 PM
|
---
Dhanbad: A minor earthquake of 3.8 magnitude shook the coal town at around 1.32 am.The quake had its epicenter at  Baliapur. No incident of property damage or any injury was reported.  
Mohit Agarwal, coordinator of seismological observatory at IIT (ISM), Dhanbad confirmed the news of the earthquake.
Dhanbad residents woke up due to the impact of the earthquake, as they found articles strewn on the floor.
In Bank More, the Commercial hub of the town, residents of multistoried apartments came out of their houses and shared their experiences with each other and returned back to respective houses only after no aftershocks were felt by them.
Ravi Gaur, a resident  of Bank More said, "I woke up at around 1.32 am and saw things shaking and several articles falling on the floor. My neighbours also felt the same."
Prajesh Kumar, a private school teacher of Jharia said, "I also woke last night feeling my bed shaking."
Praduman Choubey
Covid effect: Dhanbad street food vendors report dip in sales, look for deliveries Dhanbad: Over 4000 street vendors of the district dealing in fast foods have been badly hit by the latest Covid guidelines issued by the state government, which mandates them to shut shops by 8pm. They are seeking permission from the authorities to deliver food parcels to buyers.
They even questioned the logic behind restaurants to function post 8 pm when they are being compelled to close shops.
Talking to The Telegraph Online, Jittu Sao, a street vendor selling chole bhature near Big Bazar, said, "We have suffered great losses during the last lockdown. We lost our capital. We are not in a position to face another financial jolt."
"This rule has made us lose out on around 80-90 % of our customers. The reduction in my income will make it difficult to pay my house rent," said Sao.
"If closure after 8 pm is necessary, then the government should allow us permission to deliver parcels post 8 pm," he said.
Sneham Sinha, district coordinator of National Association for Street Vendors of India (NASVI) said, "We will demand the government through the Dhanbad Municipal Corporation (DMC) to allow the street vendors to deliver parcels."
Praduman Choubey
Man bludgeoned to death in Bokaro Dhanbad: Within a week of double murder rocking Bijulia area of Chas Mufassil police station of Bokaro, a man was bludgeoned to death last night in the same area. His dead body was recovered today from a local temple courtyard.
The deceased, identified as Jay Deo Pandey, a truck driver, according to sources had a verbal spat with his friends Pintu Gorai and Govind Bauri within the temple campus.
The police team led by Sujit Kumar, Circle inspector of Chas Mufassil police station area reached the site after being informed by his family members, following which his dead body was sent for postmortem at Chas Sadar Hospital. They even collected some forensic evidence from the site.
Police apprehended the duo for questioning on the basis of the complaint filed by the family of the deceased.
A local resident while talking to media, said, "We saw the dead body lying in a pool of blood but as the face of the deceased had been disfigured. I could not properly identify him by his face, but I made some assumptions on the basis of the shoes."
"I immediately rushed to Pandey's home and inquired about him. On being told that he hadn't returned, I took them to the temple where they identified him," said the man, requesting anonymity.
Sujit Kumar, Inspector of Chas Circle said, "We have recorded the statement of the family members and have his friends Pintu Gorai and Govind Dhivar."
Praduman Choubey
4 killed, 10 in injured after truck rams into 2 auto rickshaws
Four picnickers were killed and 10 others injured, six of them seriously in Jharkhand's Bokaro district after a speeding truck rammed into two auto rickshaws at Lukaiya Village which falls under Petarwar police station of Bokaro. The auto rickshaws that were ferrying people who had gone for a picnic at the Parasnath Hills in Giridih, were hit by a truck when the passengers were disembarking.
Four people identified as Ravi Kumar, Haidar Ali, Subhan Ansari and Ekram Ansari were killed on the spot.
Praduman Choubey