Dhanbad: A meeting of the Hindustan Urvarak and Rasayan Limited (HURL) management was held with the local resident at the district collectorate during which different issues including 75% reservation to the local residents for jobs in the upcoming fertilizer factory of HURL in Sindri were discussed.
The meeting, held under the chairmanship of Sub Divisional Officer of Dhanbad Prem Kumar Tiwari, discussed issues like implementation of Jharkhand State Employment for Local Candidates in Private Sector Act, 2021 which calls for 75% job reservation for local residents in the private sector for jobs up to Rs 40,000 salary.
Talking to the media after the meeting, district president of Jharkhand Mukti Morcha Ramesh Tuddu said, "The final decision will be taken after the second round of meeting after two days but we raised the issue of both 75% reservation in jobs to local residents as well cent percent reservation for all land oustees."
"It is mandatory on companies operating in Jharkhand including the private companies to provide 75% jobs to the local residents and we pressed upon the company management to implement the state government bill in this regard which has already been notified," said Tuddu..
Notably, the fertilizer factory of Sindri being established by Hindustan Urvarak and Rasayan Limited (HURL) at a cost of Rs 6500 crore is likely to be operational later this year. All this as 93% work of plant laying has already been completed and the testing of one of the three boilers of the factory has already been successfully completed during December last year.
Sources in HURL indicated that 97% installation work of the Urea plant has already been completed while 85% of the installation of the Ammonia plant has also been completed.
Praduman Choubey
Two killed as bus hits bike, rams into static truck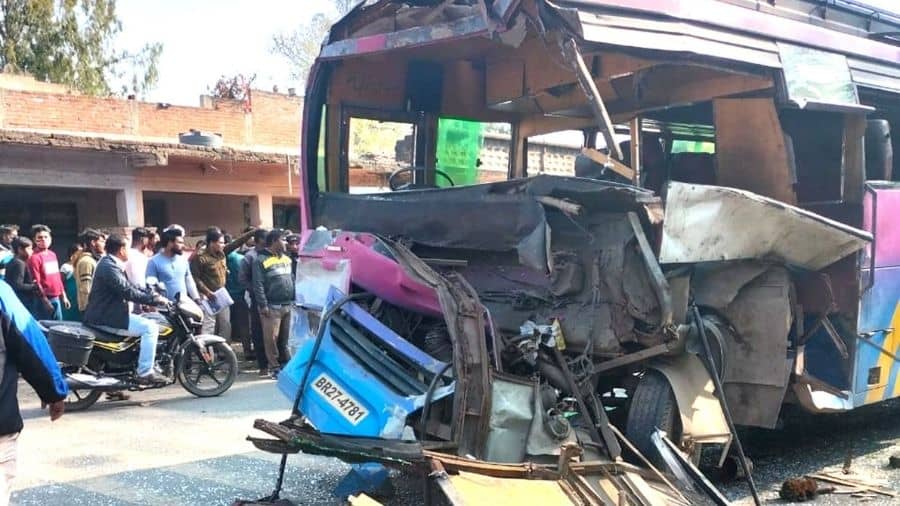 The killer bus after the accident in Koderma Gautam Dey
Dhanbad: Two persons were killed and around a dozen were injured when a speeding bus running between Domchanch and Jhumritilaiya in Koderma hit a motorcycle and then rammed into a static truck in a bid to escape from the site this morning.
The incident took place near Lokai More of Koderma this morning at around 9 am when Gaurav Bus which operates between Jhumri Tilaiya in Koderma and Rajdhanwar in Giridih first hit a motorcycle coming from the opposite direction near a sharp curve on Lukai More and then rammed into a static truck in an effort to flee away from the site around 200 meters away from the first accident site.
The impact of the collision between Bus and Truck was so strong that the front portion of the Bus was badly damaged and around 12 people were injured.
The passengers immediately disembarked from the bus after its collision with the truck. A police team that reached the site and admitted the injured passengers to Koderma Sadar Hospital. The driver of the bus ran away from the site along with the vehicle.
One injured passenger while talking to media after the accident at Sadar Hospital of Koderma said, "It seems that the accident took place due to brake failure and driver who got unnerved after hitting a motorcycle in a bid to escape from site rammed into the truck."
Praduman Choubey