Jharkhand news digest: Dhanbad district judge killed in road accident
Elsewhere in the state: CCTV footage raises doubts over judge's death; O2 plant at sub divisional hospital in Hussainabad in Palamau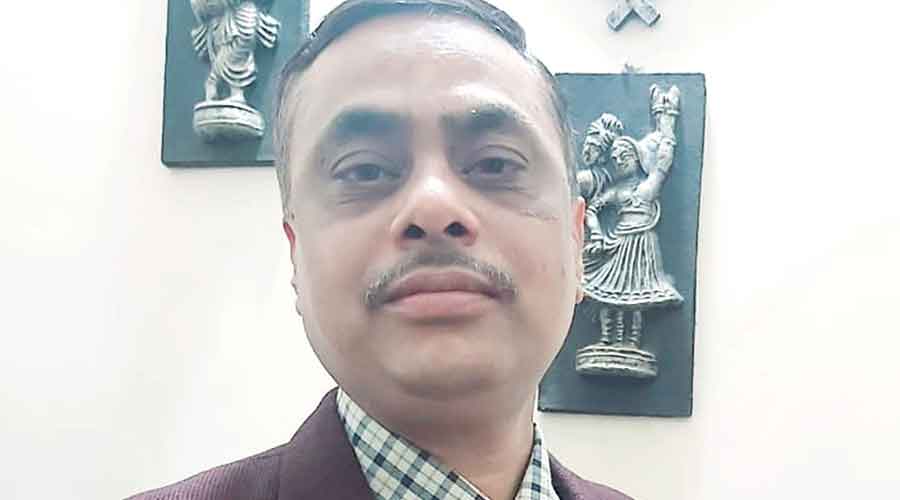 Justice Uttam Anand
Gautam Dey
---
Published 28.07.21, 04:11 PM
|
---
Dhanbad: The tragic death of Justice Uttam Anand, Additional District and Session Judge (VIII) of Dhanbad, took place during a road accident on Wednesday morning.
The incident took place near Golf Ground less than 500 meter from his house at Judge Colony of Hirapur, when he was out for his daily morning walk during which, an unidentified four wheeler hit him.
A passerby Pawan Pandey who witnessed the judge lying in a pool of blood rushed him to Sahid Nirmal Mahto Memorial Medical College and Hospital where he died during the course of treatment.
The body remained unidentified in the hospital for some time and a few people suspected the body to be of a policeman after which office bearers of the Police Men's Association also reached at the SNMMCH but could not identify as any of its members.
Family members of the deceased Judge meanwhile raised an alarm at around 7 am when he didn't return home and informed the police. 
Police later launched a search for the judge and as per the information provided by police family members and staff deputed at the house of Anand reached SNMMCH where his body guard identified his dead body.
A High level team of police led by City SP, R Ramkumar who also reached at the site of incident and collected some evidence from the site and photography and videography of incident site was also carried out as part of investigation into the death.
The murder case of Ranjay Singh, close aide of Jharia MLA Sanjeev Singh was pending in his court and Justice Anand had recently rejected the bail petitions of two members of Aman Singh's gang, a notorious criminal of Uttar Pradesh.
Senior civil lawyer of Dhanbad Swapan Mukherjee in his message on social media said,"Shocked and deeply pained to learn about the tragic and premature death of Sri Uttam Anand, District Judge of Dhanbad. I, on behalf of Bar Association Dhanbad condole his death."
(Praduman Choubey)
CCTV footage raises doubts over judge's death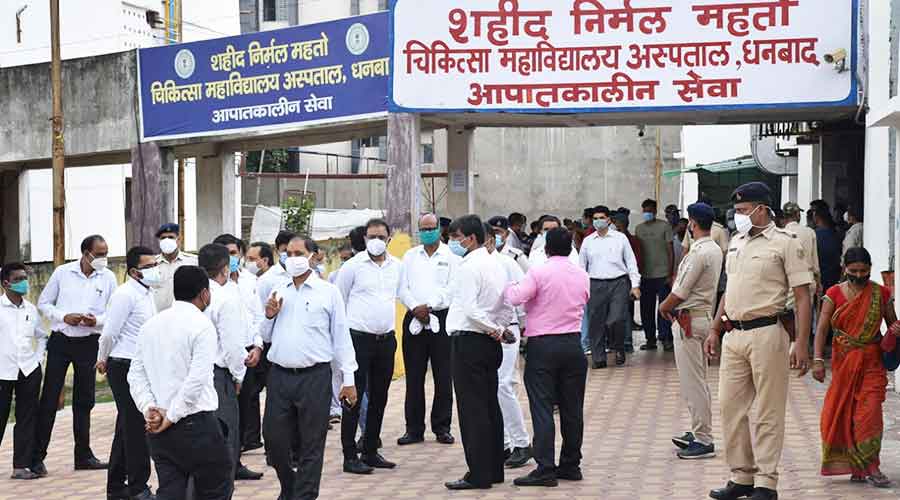 Dhanbad: A CCTV footage showing an autorickshaw intentionally hitting Justice Uttam Anand, additional district and Session Judge of Dhanbad, from behind on a deserted road has raised doubts over his death on Wednesday morning while he was on his morning walk schedule. 
Bansidhar Tiwari District and Session judge of Sahebganj who is also the secretary of Jharkhand Judicial Service Association on Wednesday demanded Jharkhand High Court conduct a high level probe into the incident as the CCTV footage clearly indicated some foul play  behind his death.
Hemant Sikarwal, member of Jharkhand Bar Council, termed the incident as intentional murder of a seating judge and demanded a CBI probe into the incident.
In a related development, Health and Family Welfare Minister Banna Gupta on Wednesday also sought a report in connection with the death of Justice Uttam Anand from Dhanbad Deputy Commissioner Sadeep Kumar and Senior Superintendent of Police, Sanjeev Kumar.
(Praduman Choubey)
O2 plant at sub divisional hospital in Hussainabad in Palamau
Daltonganj: A pressure swing adsorption medical oxygen generation plant has been installed at the sub divisional hospital in Hussainabad, 82 km away from Daltonganj.
A similar pressure swing adsorption medical oxygen generation plant is yet to be installed in the Daltonganj based Medinirai medical college hospital here said sources. 
Sources said the installation of the plant in the Medinirai medical college hospital in Daltonganj may take a fortnight or so. 
The pressure swing adsorption medical oxygen generation plant has been provided from the PM Cares Fund which is yet to arrive here said the medical superintendent Dr K.N. Singh.
Civil surgeon Palamau, Anil Kumar Singh, said, "Production of medical oxygen at Hussainabad may take some time but we are sanguine this sub divisional hospital here in Hussainabad will be able to cope with the oxygen need if and when the third wave strikes here."
(Our Correspondent)