KCR in Jharkhand to push for new 'front against BJP'
Telangana chief minister meets Hemant, Shibu Soren; hands over ex- gratia to kin of soldiers killed in Galwan clash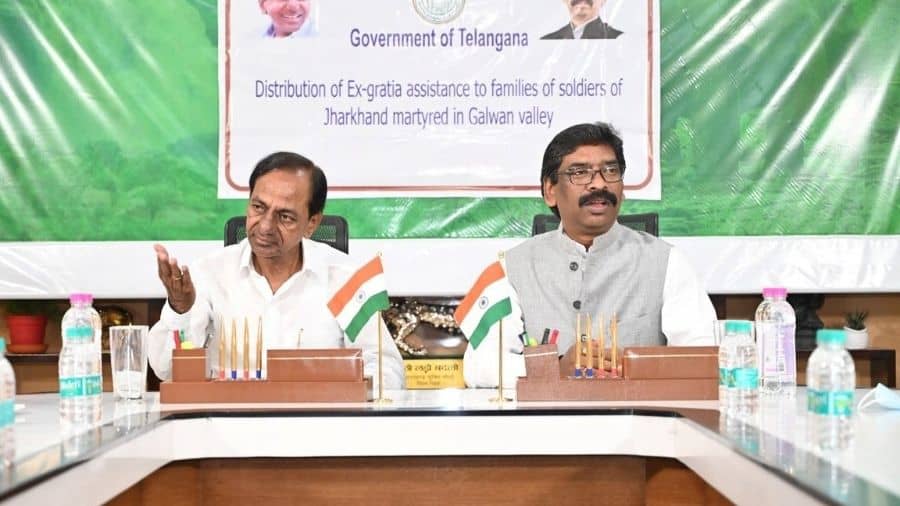 Telangana chief minister M K Chandrashekar Rao with his Jharkhand counterpart Hemant Soren (right) in Ranchi on Friday
The Telegraph Picture
---
Ranchi
|
Published 04.03.22, 09:19 PM
|
---
Telangana chief minister K Chandrashekar Rao provided Rs 10 lakh ex-gratia each to the kin of two soldiers killed in last year's Galwan clashes during his maiden visit in Ranchi to meet chief minister Hemant Soren on Friday in the backdrop of his attempts to forge a separate front at the national level ahead of the 2024 parliamentary polls.
KCR, as his is popularly called, also met  JMM patriarch Shibu Soren which he termed as a good-will gesture to thank him for his contribution during the Telangana statehood movement.
Speaking to reporters after his hour-long meeting with Shibu Soren and the presentation function for the kin of the two soldiers (Kundan Ojha of Sahebganj and Ganesh Hansda of  Bahragora), KCR said that it was too early to define the nature of the proposed alternative front at the national level to take on the BJP.
But he stressed that it was high time that everyone who cared for the country  joined hands to offer a reliable alternative to take India forward.
"I don't know if the alternative front which we are exploring will be anti-BJP sans Congress or not. But one thing is for sure that substantial efforts are being put to give shape to a credible  front which can take this country forward. In the last 75 years of Independence, India hasn't progressed the way it should have. See how China and other Asian countries are taking big leaps," said KCR, who was joined by Hemant at a brief media interaction.
Hailing Shibu Soren's role in the Telangana movement, KCR  said that he held  Guruji in high regard as he had offered continuous support to the agitation. "In 2001, when we began the  Telangana movement, Guruji was one of the first to offer  support," he said.
 KCR has also met with Maharashtra chief minister  Uddhav Thackery and spent four days in Delhi meeting different leaders till yesterday.
On the ex-gratia to Galwan martyrs here by Telangana government, KCR said that after the incident, his government had announced  compensation to all those who sacrificed their lives for the nation.
 "Martyred Col Santosh Babu who led the team during Galwan clashes belonged to Telangana. Last year, I had promised to provide compensation to all those who laid down their lives. Hence, I came here today to provide ex-gratia to relatives  of two bravehearts from Jharkhand," he said.