Court hope for widow of man tagged Maoist
Soni Kumari says her husband did not deserve to be shot dead by cops and was never a Maoist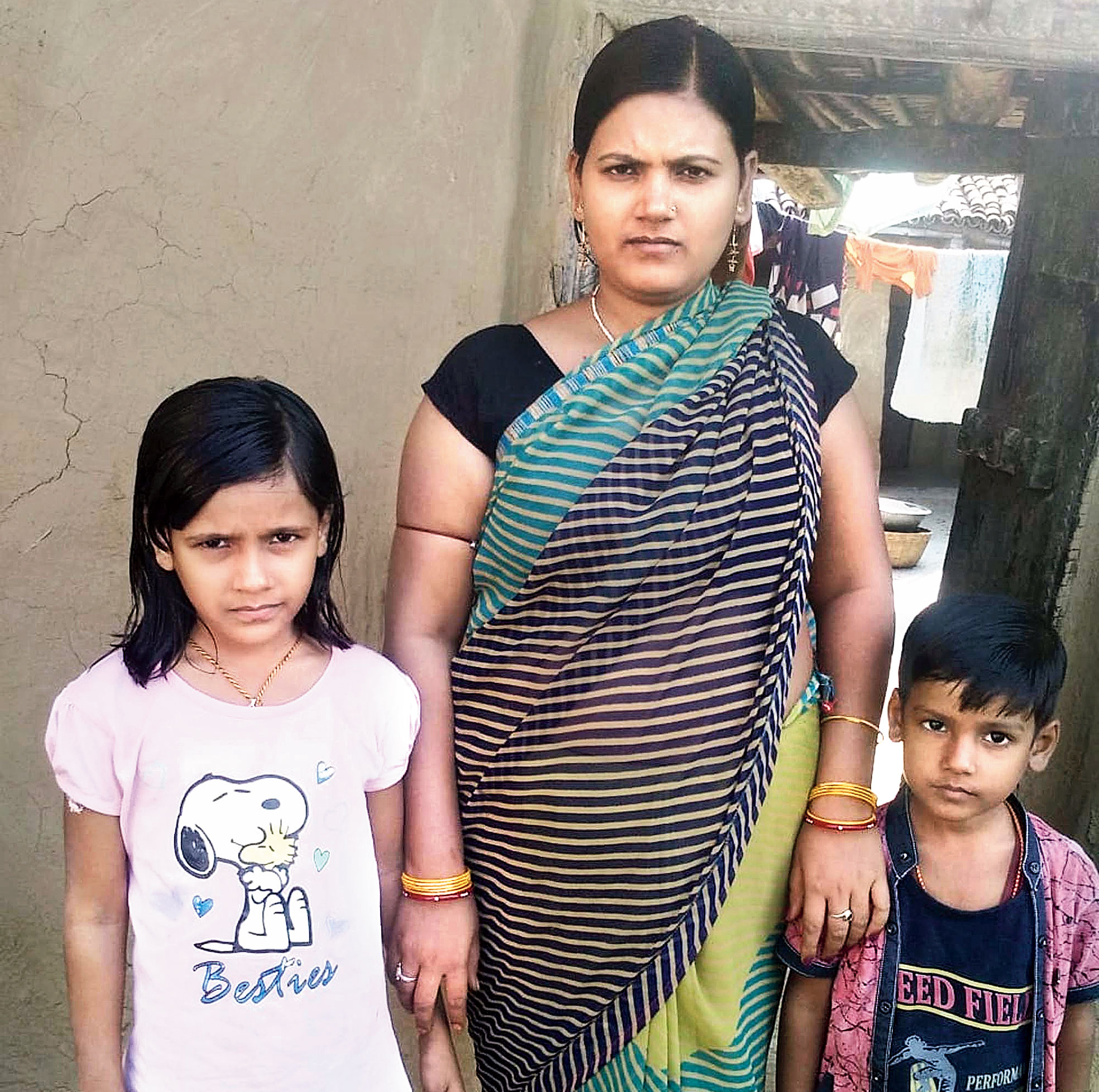 Soni Kumari with her kids at Pratapur in Chatra.
Telegraph picture
---
Ranchi
|
Published 22.11.18, 07:24 PM
|
---
Jharkhand High Court's order of a CBI inquiry into the 2015 Bakoria encounter in Palamau has lifted the morale of victim Ashutosh Yadav alias Santosh's widow Soni Kumari (25) who has been struggling to lead a dignified life along with her two children.
Sharing her story with The Telegraph, Soni said her world came crashing down on June 9, 2015, when she was informed that her husband was shot dead with eleven other Maoists in an encounter with the security personnel.
"My husband (23 at the time of death) had left house around 2.30pm on June 8 with his cousin Yogesh (24) and driver Ezaz Ahmed (28) to see a prospective bridegroom for his sister Savita Kumari at Manika on the invitation of para teacher Uday Yadav. Around 9am on June 9, I came to know through television that Ashutosh was killed in an encounter the previous night along with his father Dr R.K. alias Anurag Ji, Yogesh and Ezaz besides eight other alleged Maoists, including Uday," Soni said.
Soni said the news was a double blow for her. "I was finding it difficult to believe that Ashutosh was no more. The second shocking news for me was the Maoist tag on my dead husband. He was a driver of Mamta Vahan (a vehicle used to carry pregnant women to hospital) at Pratappur Primary Health Centre," Soni said.
She said her daughter Sakshi was around four years then while her son Aryan was just over a year old. She didn't know how to answer her kids when they asked why their father was killed.
"Somehow I did my graduation from Magadh University in Bihar but the Maoist tag on my husband used to hurt me a lot. However, ever since the high court ordered a CBI probe into the encounter suspecting the genuineness of the case, I have began to feel hopeful and am being able to face the society more confidently," Soni said.
Currently, Soni is dependent on the produce from her husband's ancestral land at Majhgawan village in Sidhki Panchayat under Pratappur police station of Chatra district. "Now, I will try to find some suitable job for me and bring up my children properly to make them responsible citizens of the country. I will also take care of my husband's mother, brother and sister, who now depend on me," she added.
Soni's father Sitheshwar Yadav said how important the high court order was for him.
"I knew my daughter's father-in-law Dr R.K. alias Anurag Ji had a Maoist background, but I was confident that Santosh was not like his father. I married off my daughter on June 15, 2009 and they were leading a happy life till the encounter. I was worried about my daughter who was depressed after the incident. Now, the HC order has boosted her morale and I am feeling happy about that," Yadav said.