Dhanbad: Civic body raids water ATMs selling non-permissible items
Special drive meant to tighten the noose around miscreants with nefarious designs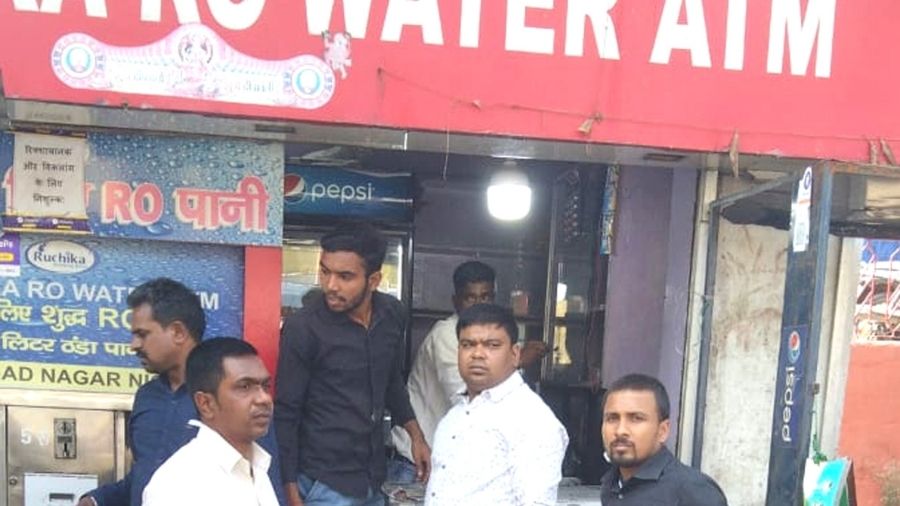 Officials of Dhanbad Municipal Corporation during the raid
Gautam Dey
---
Dhanbad
|
Published 04.03.22, 10:43 PM
|
---
A team of Dhanbad Municipal Corporation (DMC) led by Anil Kumar, Sanitary and Food Inspector on Friday conducted raids on its seven water ATM counters situated across the town and engaged in sell of non permissible items, including packaged food besides tea etc.
The team comprising two junior engineers of water supply department of DMC found the water vending machines non functional and allotees of counters engaged in selling of files, stationeries, and even breakfast items like samosa etc.
Talking to The Telegraph Online on Friday, Kumar said, "The special drive conducted was aimed at tightening the noose against the water ATM counter allotees who were engaged in sell of non permissible items, illegally. In some of counters at Court More and Saradhela, xerox machines and cyber cafés were also operating illegally." 
"We gave stern warning to the allotees during the raid against indulging in illegal act of sale of non- permissible items and removed the illegally stocked items," said Kumar adding that the raid began during the morning at around 11.30 am and continued till 3 pm.
All the seven ATMs situated at Court Road, Station Road, Rangatand Chowk, Steel Gate, Park Market, Bus Stand Bartand and near SNMMCH emergency had functionless water vending machines while non permissible items were lying stocked.
Two out of total nine ATMs of DMC including one at DMC office at Luby Circular Road and other at Jharia however are lying closed since long.
Notably, DMC launched the process of installation of water ATMs with the help of agency Ruchika in April 2017 and the first water vending machine was installed in the campus of Dhanbad Municipal Corporation (DMC) office at Luby Circular Road.
The water vending machines were used to provide water at the rate of Rs 5 per glass through Rs 5 coin. The then mayor, Chandrashekhar Agarwal conceptualised the idea of installation of water vending machines with the aim of proving clean and safe drinking water at cheaper rate as instead of pesticides used in packaged water the water provided through the vending machines is safer as it acts as simple water purifier.