Cry of 'Ayodhya, Kashmir… fine, but we need jobs'
Rebel-hit seats unimpressed by Rhetoric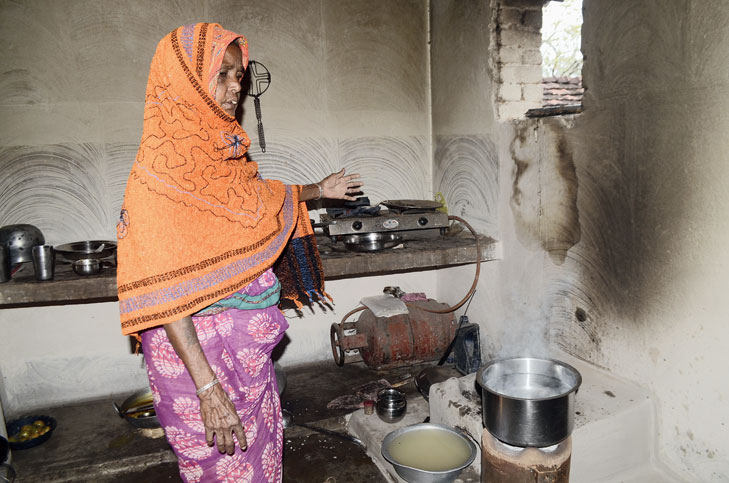 ---
|
Dhanbad
|
Published 16.12.19, 07:17 PM
---
Twenty-five-year-old Rahul Roy holds a Plus Two degree and is a farmer of Parbatpur village in Tundi Assembly seat, some 25km from Dhanbad district headquarters. Rahul, who voted at his village government school on Monday morning, shrugged his shoulders after casting his franchise. "I've done my job, now it is up to the leader who gets elected."
As 15 Assembly constituencies spread over four districts voted in Phase IV, The Telegraph went to two rebel-hit seats from Dhanbad district, Tundi and Sindri, to see how they fared these past five years in terms of basics such as housing, water, electricity, health facilities, jobs and access to flagship government schemes such as PM Awas Yojana, Ujjwala Yojana, toilets under Swachh Bharat Abhiyan.
Rahul said they had roads and power in their village. "But less than 20 per cent people of around 800 families got concrete houses under the PM Awas Yojana. It's the same if you look at Ujjwala Yojana. Only around 30 per cent families got LPG connections. The rate of toilet construction under Swachh Bharat Abhiyan is better, around half the houses have toilets now. But they're unused as there's no water," the educated young farmer smiled.
Rahul farms maize and paddy, but is dissatisfied. "I'd hoped to study further or do a vocational course. Many of us wanted to work in an office, have a salaried job. But here there are no avenues here. Farming is the only option."
His 60-year-old neighbour Dargan Murmu echoed Rahul. "Our generation grew old without having basic amenities, hope they (Rahul's generation) will be luckier," he said. He added: "So what if the PM says the government has repealed Article 370, resolved the Ayodhya issue and made the Citizenship Amendment Act. We need homes and gas connections."
Farmer Aghnu Mahto, 76, a resident of Begnaria village of Tundi, about 30km from Dhanbad district headquarters, said: "Our village lacks all basic facilities such as water, healthcare, toilets, college, jobs…Toilets that are built are used to stack coal, wooden logs."
He added that half of those who had procured gas stoves and cylinders under Ujjwala Yojana can't use them regularly. "The gas filling station is some 15km away at Memco in Dhanbad. Very few can afford the time and expense of commute."
Asked what they do have, he said: "Ghar ghar mein bijli (power connection in each house). Good roads."
Mahto, a science graduate from Rajganj College, said despite being highly educated for his time, he got no other option but to farm. "Tundi never developed industries. It remained under-developed. That's why Naxalites managed to make an entry."
Budhni Devi, 80, Mahto's neighbour in Begnaria, said she got her LPG gas connection around six months ago. "The first cylinder exhausted in 45 days. Now I don't know what to do as the refilling station is too far. We are using coal-fired chullahs again," she said. "It would have been good had the government set up LPG gas filling stations at a distance of 2-3km."
Mangal Barat, 55, a roadside tea shop owner of Nayadih village, Tundi, some 33km from Dhanbad town, admitted that most newly built toilets at their homes were used as storehouses. "Either they're too small or there's no water." Barat's son Suraj, 30, has a BEd degree. "He makes around Rs 4,000 per month as a private tutor in the village," the father said. "He tries his best, but there's no scope for teaching jobs here. Rather than hearing about Ayodhya and Kashmir, we'd rather see our sons getting jobs."
At Garga village in rebel-hit Palani panchayat of Sindri Assembly seat, Mantu Rajak, 37, is a BSC and ITI-trained fitter. "There's not much scope to earn here, even if you are trained" he said. "Look around. Where are the factories?"
In Tundi, MLA Rajkishore Mahto of Ajsu Party is engaged in a quadrangular contest with JMM's Mathura Prasad Mahto, JVM's Saba Ahmad BJP's Vikram Pandey. Vikram happens to be the son of former Giridih MP Ravindra Pandey. In Sindri, MLA Phulchand Mandal who left the BJP to join the JMM ahead of elections after being denied a ticket by the saffron party, is engaged in triangular fight with MCC veteran Anand Mahto and the BJP's Indrajit Mahto.